Site24x7 Advisor
Advisor is a personalized report that helps you adhere to best practices so you can monitor your IT deployments with ease. It analyzes your existing account configuration and usage stats; then suggests unused features and configurations that can help you perform comprehensive monitoring to improve the overall resource availability and performance of your IT resources. You can get our out-of-the box set of basic best practices and recommendations (This is just a start! We'll start rolling out more such suggestions very soon) in this report.
Key Features of Advisor
You can get started with Site24x7 Advisor by following these steps:
Login to your Site24x7 web client.
Navigate to Admin > Advisor.
Advisor helps you:
Receive proactive, actionable, and personalized recommendations for your Site24x7 set up.
Share recommendations with users by exporting it as a PDF document or scheduling an email with the attached report.
Quickly filter recommendations using in-built priority filters (High or Moderate) or search.
Get accurate suggestions with proposed actions inline.
Get information about your subscription license and recent product announcements.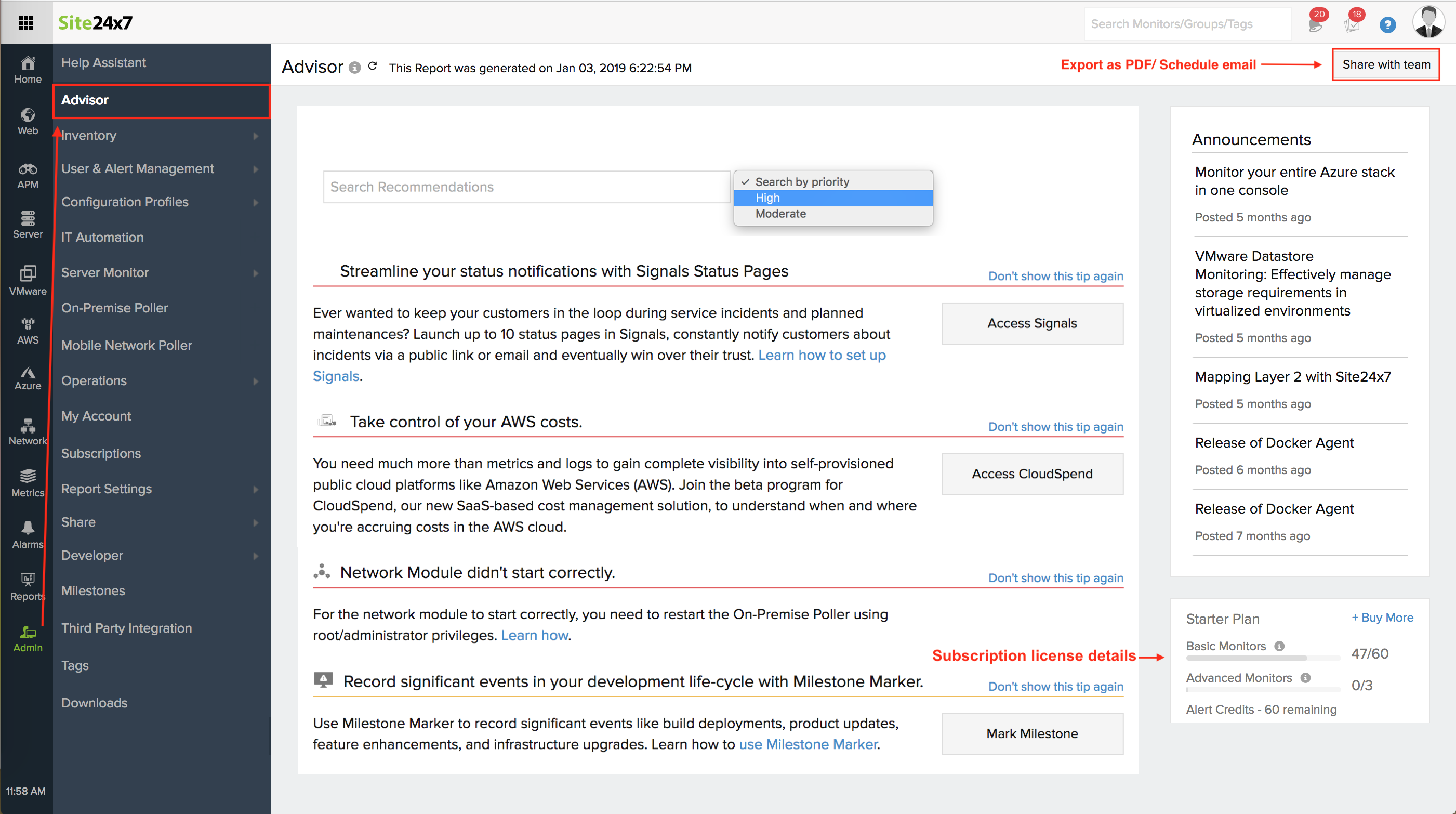 Recommendations
Frequently Asked Questions (FAQs)
1. What permission do I need to access the Advisor?
Only Super Admin and Admin users will have read and write permissions in Advisor. Additionaly, users with Operator and Read-only roles will have read access. For Operator and Read-only users, all the links and buttons will be hidden by default.
2. How frequently will the report update?
For Evaluation and Paid users, the Advisor report will be generated in different ways.

Evaluation Users: The report gets regenerated once every day.
Paid Users: The report gets regenerated once every week.
Free Users: The report gets regenerated once every month.
3. How frequently will the default scheduled Advisor report be delivered via email?

For Evaluation User, the default scheduled advisor report gets delivered once every week. For Free and Paid Users, the email will be triggered once every month.
4. What could be the probable reasons for not being able to receive the Advisor Report via email?
If you haven't been receiving an Advisor Report via email, please check if you've configured an Advisor Report in Scheduled Reports. Also, check if you have suspended/deleted the Scheduled Advisor Report. In the first case, configure a new scheduled Advisor Report and for the second case, activate the suspended scheduled Advisor Report.
5. Can I dismiss a recommendation from Advisor?
Yes. You can instantly dismiss a recommendation by accessing the link "Don't show this tip again > Ignore" shown against the Advisor recommendation. The recommendation will resurface again after a period of 90 days.