Users and Alerts
Setup other users who can login to Site24x7, individually customize the way each contact interact with Site24x7 account and receive notifications about outages. Once an account is configured, you'll be able to view the new account listed under Users & Alerts in a List View. You can also export all your Users & Alert details in a CSV file.
How Can I?
Video
Here's a quick video to guide you through adding alert contacts:
 Add Users/Contact and Customize Alert Settings
Log in to Site24x7 web client.
Click Admin > User and Alert Management > Users and Alerts. Click Add User in Users screen. 
Specify the following details to Add User/Contact and Customize Alert Settings:

Contact Name: Enter the name of the user.
Job Title: Specify your job title, based on which monitoring recommendations would be populated and listed in Site24x7 Advisor. Learn more.

Email

: Specify the email address of the contact. You must verify your email address to be able to receive Site24x7 alerts and reports on your alert contact email. 


Even if you've a Super Admin role in your Site24x7 account, you'll still not be able to add a user to your Site24x7 account, until you have the Organization Account Admin rights. Learn more about

User Roles and Privileges

.




If you're an Org Admin with Site24x7 super admin rights, you can add users (with the same email domain as yours) to your account.

Learn how to create User Alert Groups.

Mobile Number: Choose the country code from the drop down list and enter the phone number of the contact. Alerts will be sent to this phone number via voice calls or SMSs.

The phone number should be set up and verified to receive any alerts. To receive the verification SMS, you've to choose a required SMS or Voice Call provider from the available list of providers. After a number is verified, you'll be able to send Test SMSs and Voice Calls to that number. If you've shared your mobile number while signing up to Site24x7, you won't receive any alerts until you verify the mobile number. After verification, this number will be automatically treated as your primary number.




Based on the alert configuration, user will receive SMSs via providers like

BulkSMS, Clickatell, and Twilio

. Voice Call based services are handled via

Twilio

. As part of our

GDPR compliance

, we've got into specific agreements with

our sub-processors (all supported SMS and voice providers) to ensure they address the pressing needs of the current security and privacy trends

.

Instant Message (IM)

: Configure your UP, Down or Trouble alerts using Google Hangouts. To register your Google IM with Site24x7, provide the following:

Click Configure IM Account to register and add an account.
Enter the IM ID in the IM Account field name.


For example: zylker.admin@gmail.com

Add Site24x7 IM account to your buddy list. To add a new buddy contact in GMail account, enter Site24x7 chat ID in the chat bar and click Invite to Chat.
 

User Role: Select the desired role from the drop down list for each product; Site24x7, StatusIQ, and CloudSpend. Then provide the appropriate access permission for this contact. 


Once the contact (outside Site24x7 organization) is added, he/she will receive an invitation from noreply@zohoaccounts.com to join the Site24x7 organization. The sub user needs to follow the instructions in the email to create an account.
A user having an account with another organization under Zoho, must delete his/her account from that organization first, to be able to acccept the invitation from Site24x7 organization. Contact Site24x7 support for the same.


Site24x7:

For each role, you can choose to allow the access permissions to all monitors or specific monitor groups.
Admin user has access permissions to all monitors.
To add a sub user to your account, you should have the organization admin privilege or the new user should be in the same organization.
Learn more about different user roles and their corresponding access permissions.

Admins with Group-level permission: Admins with group-level access can not edit / modify profiles created by other users, but will have read-only permission.

Associate to User Groups: Associate the user created to one of the user groups from the drop down list. If user group has not been created, see User Group.
Notify Medium: Mention the medium through which your contact wishes to receive the alerts. The different medium available for notifying are Email, SMS, Phone, and IM.


Alert Settings- Specify the following details to configure Alert Settings:

Down, Critical, Trouble, Up: Configure the preferred mode of alerting for Down, Critical, Trouble and Up alerts. Choose from different alerting mechanism viz Email, SMS, Phone, and IM.

There is a cap of 500 alert emails per day to prevent your mailbox from flooding with alerts. However, this restriction is only for one day; it would be reset to the default value at midnight and you would start receiving the alert emails until it overshoots the set threshold of 500 emails the next day.




This option is applicable only for Site24x7 users.

You can always customize your notification mode of alerting by clicking on the preferred notification mode boxes. Incase you wish to learn more about the common "Alerts" related queries and solutions, read our

Kbase articles

on this topic.

AppLogs: Similarly, you can choose different modes like Email, SMS, Voice call, and IM to receive your AppLogs alerts.
Anomaly: Choose different modes like Email, SMS, Voice call, and IM to receive your anomaly alerts.

Alerting Period: You can move the slider to choose the time window for receiving SMS/Voice alerts. The option is not applicable for email or IM based alerts.
Don't Alert Me: Define the days of the week when you wouldn't want to receive SMS/Voice alerts. It is not applicable to email or IM based alerts.
Although you'll not receive any SMS/Voice alerts during this period, you will still be able to view the performance log details in the web client.
Email Format: Choose the format of the alert email which you want to receive from Site24x7.



Click Save.
The new user added will be automatically listed in Users screen along with other users already created.
Edit User/Contact
Click the profile in the Users screen which needs to be edited.
Edit the parameters that need to be changed in the Edit User window.
Click Save.
You can't edit/change the email address you've provided in Add user form.
Delete User/Contact.
  To remove users from a particular product, choose None from the drop-down next to the product. To remove a user from all product accounts choose Delete.
Click the profile in the Users screen which needs to be deleted.
This will navigate to Edit User window.
Click Delete.
Users and Alerts View
View the complete list of Users and their alert configurations in this view. You can view the complete list of users in the account along with their relevant information, such as user role, email addresses, mobile number arranged in a List view. In the list view, you can sort users by User Name, Email, User Role, and User Access. Site24x7 is a service by Zoho Corporation; and use Zoho Accounts as a service for single-sign-on. Hence, by default each Site24x7 Account will be associated to a Zoho Accounts Organization. You can view the Zoho Organization Name and Organization Admin details listed under the Users dashboard. To update the User preferences of a specific user, you've to click on the specific user ribbon. By clicking the download CSV button on the top right corner, you can extract the complete list of users in the Site24x7 account.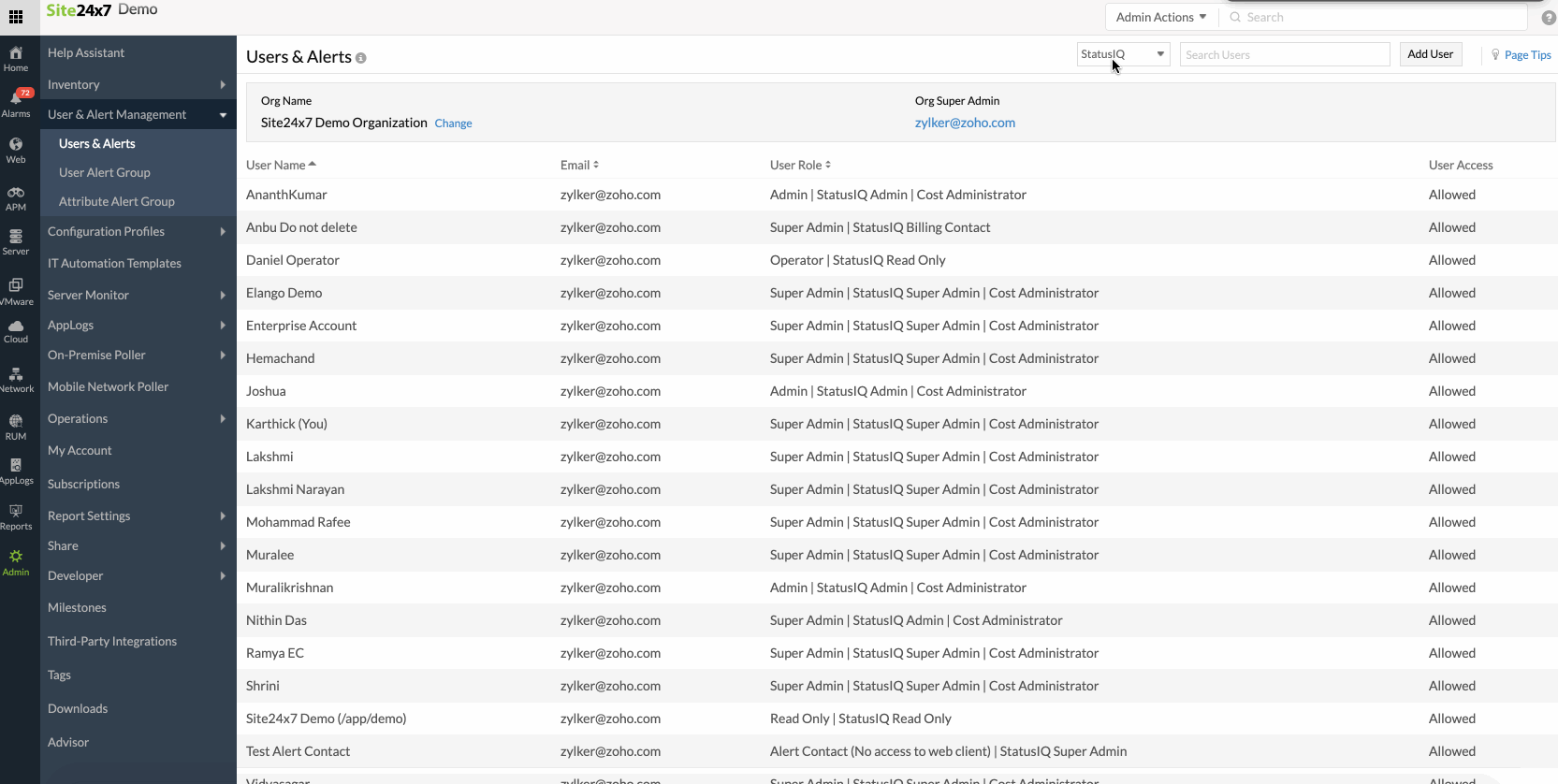 Enable MSP
MSP Edition lets you manage your customers' IT stack efficiently with our secure, scalable, and affordable monitoring suite for MSPs and CSPs. White label your monitoring platform and reports with a custom name, logo, and URL so that you can promote your brand, and customers can identify with it. You can enable MSP Edition during evaluation. However, you must have a Super Admin access.
Learn how to convert Site24x7 eval account into MSP Edition.



Enable Teams Management
Teams Management enables you to segregate and streamline IT monitoring among different teams in your organization from a single console. It lets you organize and administer individual monitoring accounts based on business application, geography, type, and resource ownership. You can enable Teams Management if you're subscribed to any of the following Site24x7 Paid plans: Business, Advanced, Premier, Pro, Classic, Elite, Enterprise, Enterprise Web, Enterprise Plus Web, and have a Super Admin access. Read our Kbase article to learn how to enable Teams Management.



User Roles and Role based Access Permissions
Understanding the key concepts like Zoho Organization Role and Site24x7 Roles is essential to operate and manage your Site24x7 account. Explore more about the various access privileges.

Learn how to view and update your Site24x7 account settings.