Intranet Deep Discovery
Intranet Deep Discovery allows the auto-discovery of all the resources in your intranet. Site24x7's Deep Discovery Engine scans for all available hosts and known application ports. It then auto-discovers, and suggests all probable resources for monitoring in that specific intranet network (i.e the network in which Site24x7's On-Premise Poller is installed). The discovery takes places at regular preset intervals. Deep discovery engine scans for different types of resources based on the hosts and application ports. Get to know the different types of resources that a Deep Discovery Engine scans for. Site24x7 also allows you to discover all your Internet Services. 
Synopsis 
Pre-requisites
The deep discovery engine, which scans your intranet for monitoring potential resources, works only in the presence of an On-Premise Poller. Both Windows and Linux users can add On-Premise Poller.
Intranet Deep Discovery takes place soon after the installation of On-Premise Poller and also at regular configured intervals.
The deep discovery engine takes a few minutes to hours for discovery based on the network size.
Settings
You can configure the settings by clicking here or by following these steps:
Log into you Site24x7 account.
Click Admin > Help Assistant > Deep Discovery Settings.
Select Intranet Discovery from the pop up.
To disable the deep discovery of intranet resources, select No in Discover Intranet resources at regular intervals.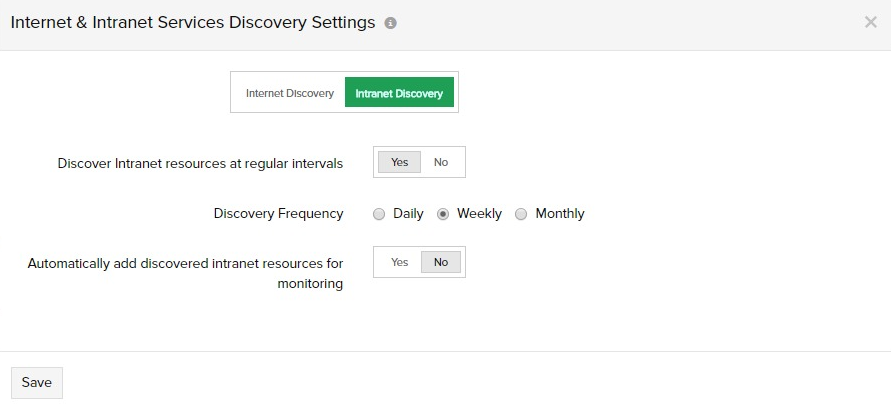 The Auto-add feature
The discovered resources are automatically added for monitoring, if the Auto-add feature is enabled. By default, the Auto-add feature is disabled. You can enable it by using the following steps:
Navigate to Intranet Discovery settings as above.
Select Yes or No in Automatically add discovered resources for monitoring option.
Once Auto-add is enabled, the discovered resources are automatically added for monitoring.
Selecting the Resources for Monitoring
If the Auto-add feature is not enabled, the list of all discovered resources are displayed for selection by the user in a separate page that pops up on clicking the

Setup progress icon available at the top right corner in the Site24x7 control panel. You can mark a ✔ in the check box against the resources that require monitoring.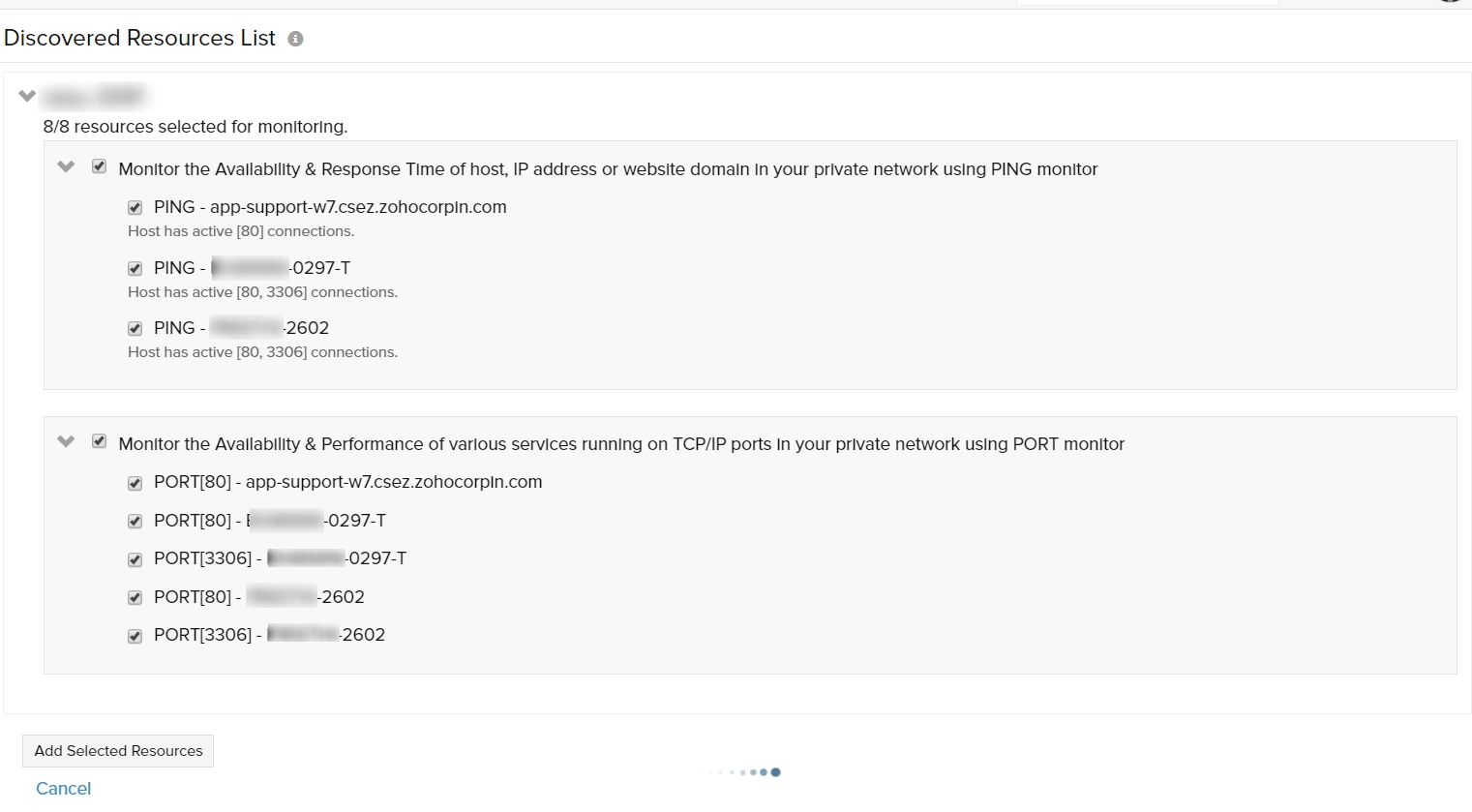 If your monitoring count(as per your plan) is exceeded, you may not be able to select any more monitors. Contact
support@site24x7.com
for further assistance.
Notification of Discovered resources
The resources, once discovered are notified by two means.
Notification in the setup progress icon of your Site24x7 web console.
Notification via e-mail.
Notifications are of two types.
Details on the resources that are scanned and permission to add them (If Auto-add is disabled).
Details on the added resources (If Auto-add is enabled).
The resources that are already monitored will not be included in the list that is prompted.