ManageEngine Pack
Are you a ManageEngine ServiceDesk Plus customer? Haven't you subscribed to Site24x7's ME pack yet? Please do! Site24x7 lets you enjoy uninterrupted health monitoring of your SDP servers round-the-clock. You can leverage Site24x7's ME pack to achieve better visibility into your SDP server's availability and performance; further, get instantly notified via SMS incase of any availability or performance issues. Integrating Site24x7 status page with ServiceDesk Plus facilitates public exhibition of real-time status of various services, sharing comments about why a specific service is down or even notifying customers or help desk teams about an upcoming service interruption due to a planned maintenance. This goes a long way in reducing internal support calls drastically and increasing productivity of staff. Most importantly this monitoring comes free for all ManageEngine customers. Now, if you've furthermore IT resources that you wish to monitor persistently – you just have to upgrade to a paid plan in Site24x7. With any of Site24x7's paid plans, you'll be equipped with a plethora of tools that would assist you to detect and troubleshoot all your pain points in your internal IT.
How can I...
Subscribe to a ManageEngine Pack
How do I get started? We support a one click install workflow experience for Windows installations of ManageEngine ServiceDesk Plus installations. Below steps will guide you through the process.
Login to ManageEngine ServiceDesk Plus client.
Navigate to Admin > Self monitoring service for SDP > Signup with Site24x7.


Provide sign up credentials to subscribe to Site24x7

.




Alternatively, you can even sign up for a ManageEngine pack using the following URL "/signup.html?pack=200&l=en"
What information does Site24x7 collect from my server?
Site24x7 Server Monitoring agent will automatically discover the various ME software processes running in your server. The software agent will gather server metrics such as CPU usage and memory usage and pushes it to the Site24x7 central server. The monitoring is done using WMI (Windows Management Instrumentation) and data is stored in the Site24x7 server. Server passwords are neither collected nor stored. You can login to the Site24x7 web client to view the actual data collected.
View Performance Metrics
With Site24x7, you can critically evaluate the health of your server – it provides a detailed metric breakdown of your server. Gain historical perspective into your Server's availability and performance via a Status/Performance heat map. Additionally, you can also gain insight into critical parameters like CPU utilization and Memory breakup using an intuitive graphical representation.
Performance Heat Maps
The status/performance heat map widget, gives you a color coded representation of the availability and performance status of your server for a pre-selected time period. You can also track the actual outage period and the total outage duration by clicking a specific cell in the heat map widget.
CPU Utilization
Monitor CPU utilization percentage to check if the CPUs are running at full capacity or are they being underutilized. The CPU utilization percentage graph plots a clear picture of your CPU utilization and provides the minimum, maximum and average CPU utilization of your server.
Memory Breakup
Avoid the problem of your server running out of memory. Explore more about your server's memory usage (understand whether memory usage is high or is it dangerously low) instantly via our graphical representation. Know more about the free physical memory (MB) and free swap memory (MB) of your server.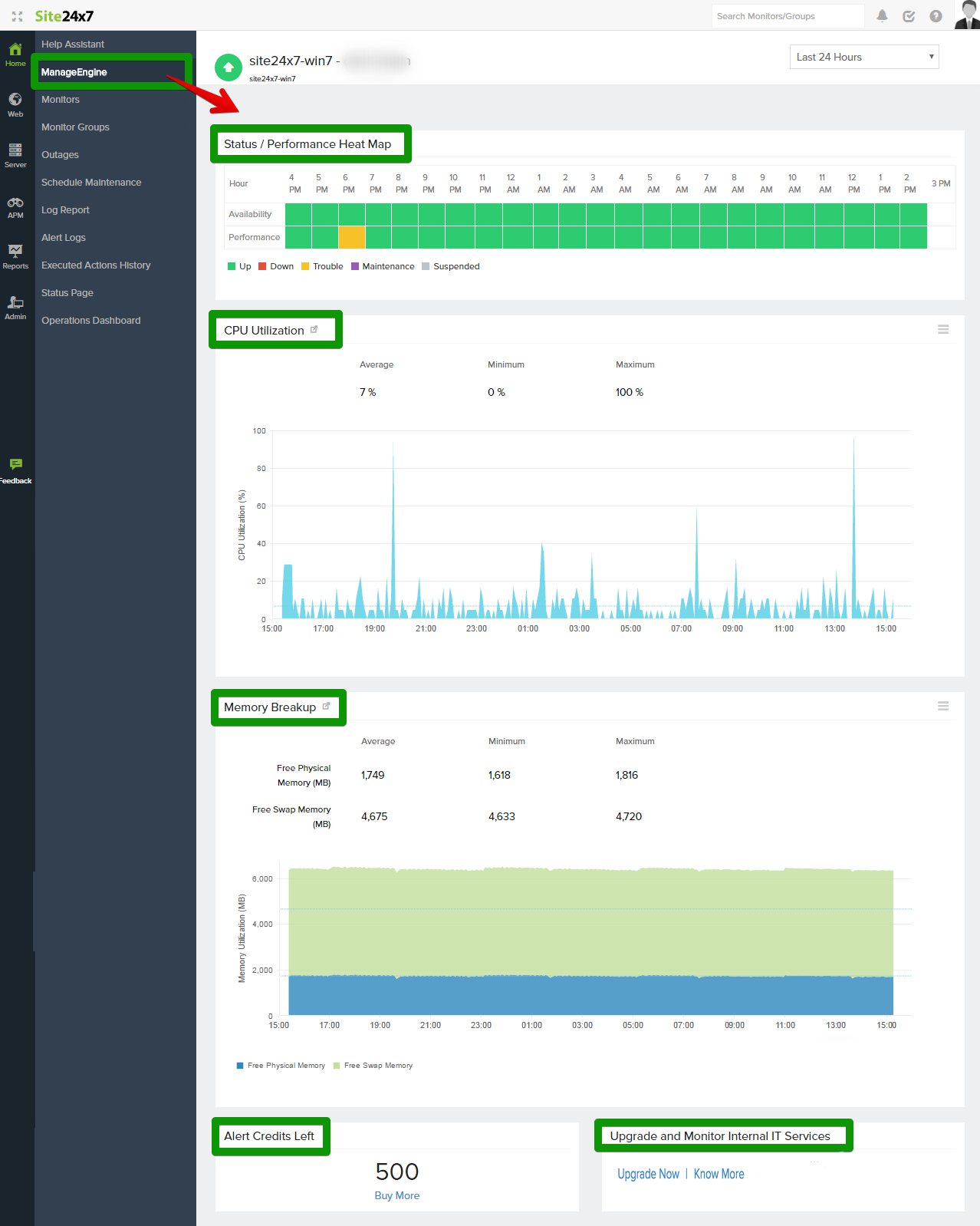 Purchase Alert Credits
Using Alert Credits you can receive critical notification about your SDP Servers health/performance. In addition, ManageEngine Service Desk Plus customers can use Site24x7 as an SMS Gateway to send alert to their technician when a ticket is assigned, various other SMS notification flow is also available with SDP. 50 free alert credits will be added to your ME Pack account as and when you signup for this pack. Incase you've exhausted your free credits, you can purchase additional alert credits as per your need. Follow these steps below to purchase more alert credits:
Purchase via Credit Card
Login to Site24x7.
Navigate to Home > ManageEngine.
Click Buy More listed under Alert Credits left.


You'll be redirected to Purchase Alerts section.

Populate the purchase alerts form. Follow the steps below:

Include SMS Alert Credits: Choose your preferred SMS pack from the drop-down.


Alert Credits and Pricing:

1000 Credits - $50
2500 Credits - $125
5000 Credits - $250




The alert credits under an Alert Pack are valid for both SMS and Voice alerts and will be charged based on the usage of your SMS or Voice alerts.

1 SMS = 1 credit
1 Voice alert in US /Canada = 1 credit
1 Voice alert outside US = 2 credits

Choose your Payment Option: Click the Credit Card radio button to choose the credit card as the preferred mode of payment.
Enter your Billing Information: Update your following Billing details for invoicing purpose.


Company Name
Phone Number
Street Address
Zip/Postal Code
Country

Enter your Card Information: If you've chosen to pay with credit card, you'll have to enter the following details:

Card Type: Site24x7 supports the following credit card types: MasterCard, Visa, American Express, and Discover.
Card Number: Enter your credit card's number. Choose the card expiry date and enter the CVV number.

CVV number can never be left empty. You'll find a three or four digits CVV number printed on the back of your card.

Name on your Card: Enter the Name on your card.
Click the check box "I agree to the terms of service". Read the service agreement carefully before proceeding with this step.
Click Buy to purchase your Alert Credits.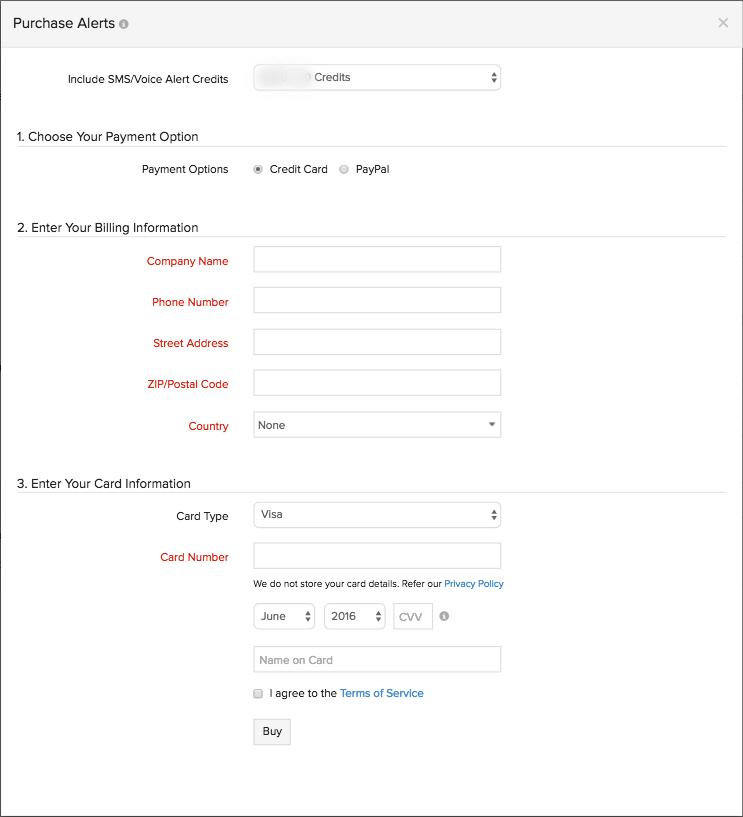 Purchase via PayPal
Login to Site24x7.
Navigate to Home > ManageEngine.
Click Buy More listed under Alert Credits section. You'll be redirected to Purchase Alerts section.
Choose your preferred Voice pack/SMS credits from the dropdown.
Click on the PayPal radio button to make payment using PayPal.

If you've chosen to pay with PayPal, you will be redirected to the PayPal website, where you can complete your transaction using your PayPal account or a Debit or Credit Card payment.

Click the check box "I agree to the terms of service". Read the service agreement carefully before proceeding with this step.
Click Buy to purchase your Alert Credits.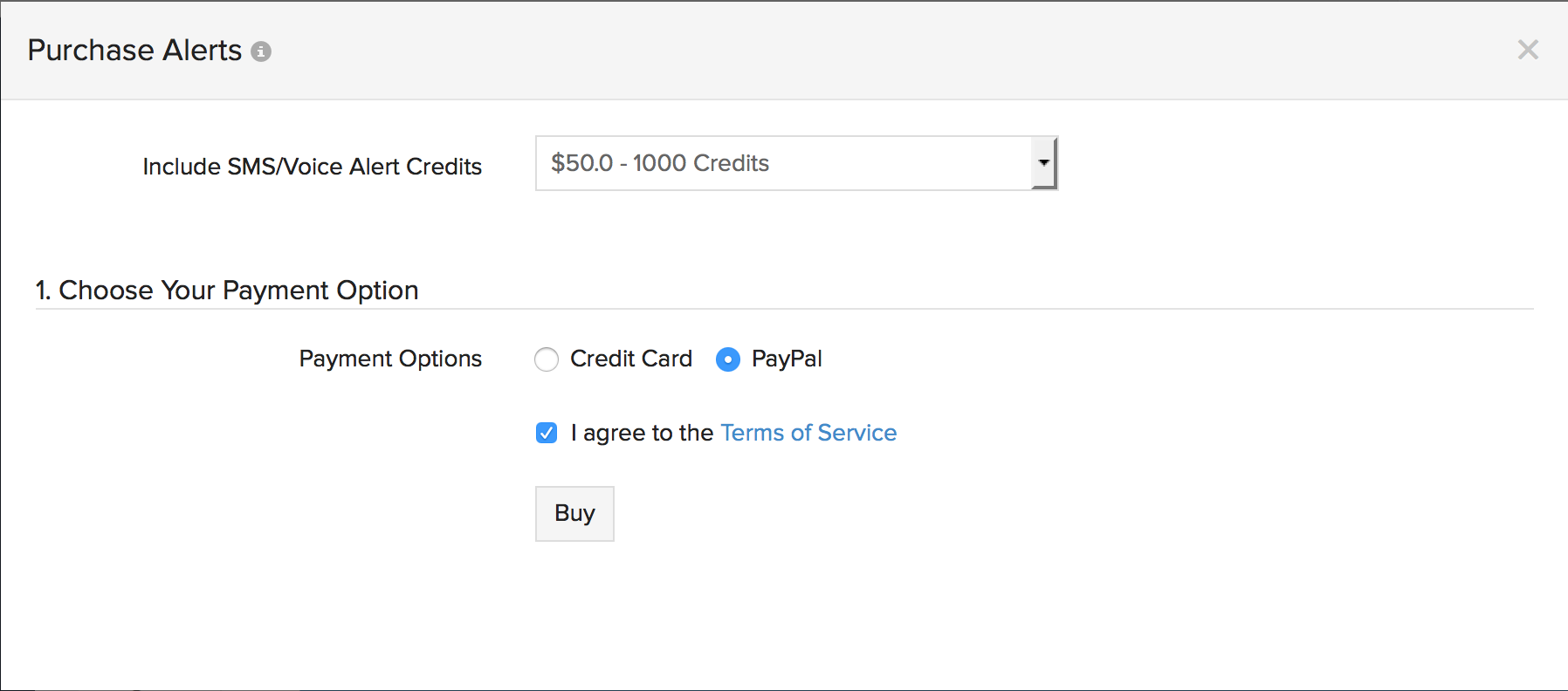 Upgrade to a paid plan in Site24x7
With Site24x7's all-in-one monitoring tool, you can monitor your entire internal IT infrastructure. Hence, you can always go ahead and choose to purchase our paid subscription plans to monitor your entire server stack, network components, internal applications and more.
Follow the steps below to upgrade your Site24x7 account to a Paid Plan:
Login to Site24x7.
Navigate to Home > ManageEngine > Upgrade Now listed under Upgrade and Monitor Internal IT Services.
You'll be redirected to Zoho Stores  page, from where you can purchase your preferred subscription plan, buy unlimited alert credits and add-ons.

Site24x7 is a service by Zoho Corp. Site24x7 uses Zoho Stores, a service for Subscriptions handling. Learn more about

Site24x7 subscription

.