Performance Metrics of Microsoft Exchange Monitor
Add a Microsoft Exchange server and stay on top of performance issues. The Exchange server will be auto discovered once a Windows agent is installed. Know how the Windows server monitoring agent works.
Once the Exchange server monitor is successfully added to your Site24x7 account, add a Threshold and Availability profile to help the alarms engine decide if a specific resource has to be declared critical or down. Configure Downtime Rules to reduce false alerts.
Interpret Exchange Server Monitoring Results
Organizational View
Organizational view gives a structural representation of servers with different roles installed under your MS Exchange deployment and shows a summary their performance status.
Infrastructure view can be accessed under the Infrastructure tab.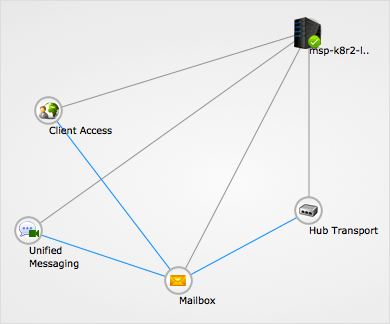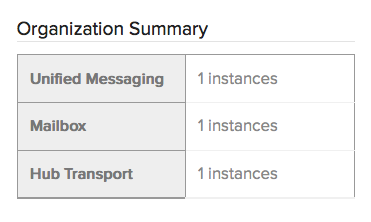 You view the performance data as attributes of the system via reports and graphs. Below are the major metrics.

Role- Mail Box
RPC Response to Client Access - Time taken by the RPC (protocol) to contact Client Access Server.
 
RPC Operations from Client Access - An operation is defined as a set of processes carried out from a particular server. This counter shows the number of RPC operations from Client Access Server to Mailbox.
 
RPC Response to Unified Messaging and Hub Transport - Shows the time taken by Mailbox server to contact Unified Messaging server and Hub Transport server.
 
RPC Operations from Unified Messaging - Shows number of RPC operations from Unified Messaging to Mailbox
 
Communications from the Hub Transport Store - Shows number of RPC requests sent and outstanding and the number of slow requests. 
Information Store
  
Information Store Mailbox
   
Role - Hub Transport
SMTP In and Out bound - Shows data related to the inbound and outbound SMTP messages.
 


SMTP - Shows the data related to the number of SMTP messages sent and received via the SMTP protocol. The total size sent/received as well as the number is also shown.

Transport Queues - Shows counters related to number of messages in the delivery queues, the largest remote delivery queue length, aggregate queue length, unreachable queue length etc.
 
Role - Client Access
Outlook Web Access and Active Sync Response Time - Shows data related to HTTP access (Outlook Web Access) as well as time taken for the request.

Outlook Web Access and Active Sync Requests - Active Sync requests shows the number of HTTP requests from the client per second.

Other counters under this section include


Active Sync
Outlook Web Access Statistics
POP and IMAP 

Windows Services
Shows counters related to different Windows services and associated processes running in the deployment.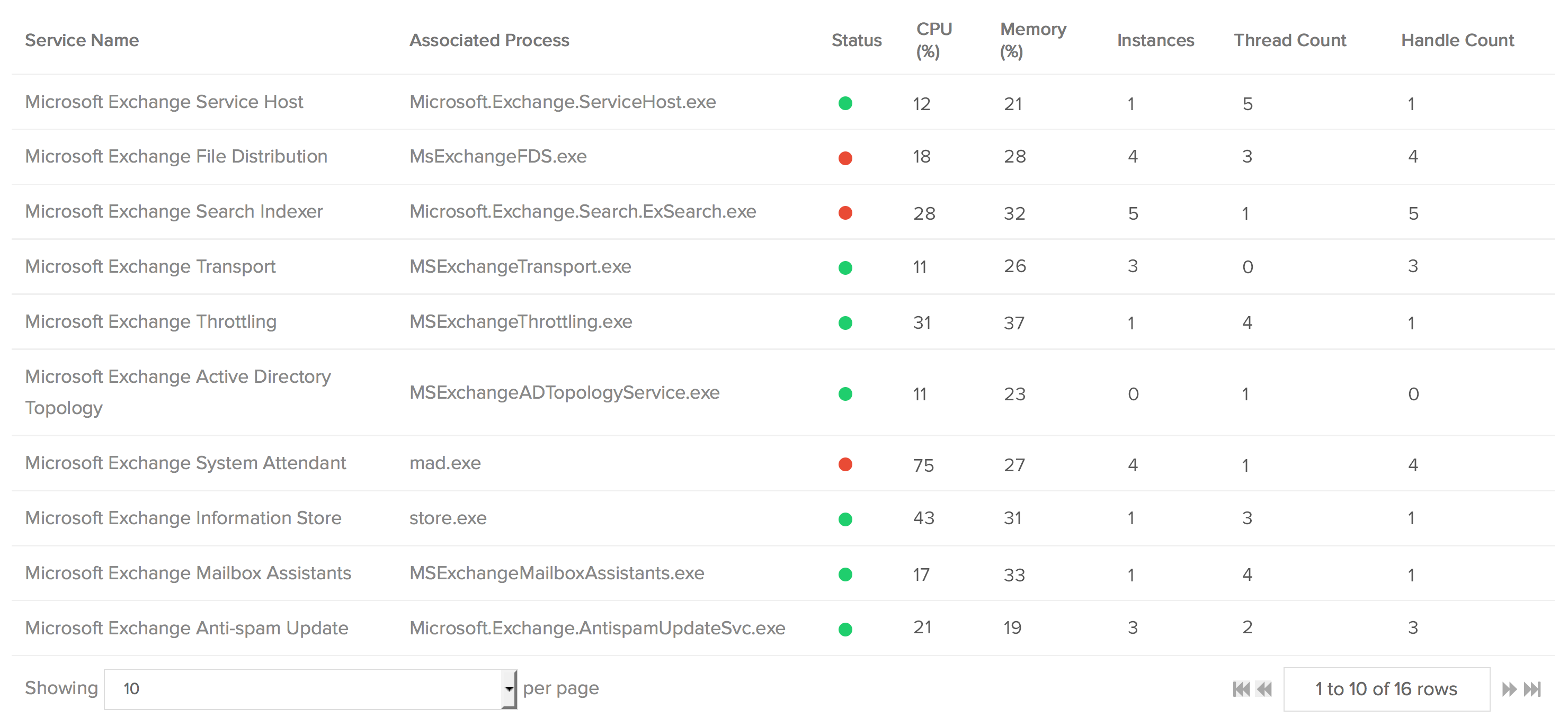 Configuration Details
Includes asset details of Mailbox, Hub Transport and Client Access.
Mailbox Asset Details

Hub Transport Asset Details

Related Articles:
Was this document helpful?
Sorry to hear that. Let us know how we can improve this document.
Thanks for taking the time to share your feedback. We'll use your feedback to improve our online help resources.