Top N Reports
The Top 'N' Reports section lists the top 'N' resources with the highest values in a defined set of data collections. The resultant data is displayed in a tabular format in descending order of the monitored parameter. The unified dashboard provides you detailed insights into the report.
 
How does it help you?
The Top 'N' Report pinpoints the performance degradation of your monitored resources. For example, Top N websites based on response time allow you to consider how well your websites are performing. It lists the top 10/25/50/100 websites that holds the longest response time (the item appearing at the top) for a preset time period.
Generate Top 'N' Report
Login to Site24x7.
Navigate to Reports > Monitor Type > Top 'N' Reports.

You can generate Top 'N' Reports for all your monitor types.

Change the listed parameters to view a customized report.

Show: Choose top 10/25/50/100 results for the selected from the drop down list.
Time Period: Choose the required time period.

The user can generate Top N reports for the following time slots: Last Hour, Last 6 Hours, Last 12 Hours, Last 24 Hours, Today, Yesterday, This Week, Last Week, Last 7 Days, Last 30 Days, This Month, Last Month.

Once the report is generated, click "Share This" button on the top right corner.

Publish Report: Click publish report and populate the form. This creates a permalink that would make the report accessible to customers without a login.
Email: Share the report via an email. Email can be sent to only those verified users who have agreed to receive emails from Site24x7.
Export CSV: Export the report as a CSV file.
Export PDF: Export the report as a PDF file.
Schedule Report: Populate the schedule report form, to create a report task that would trigger Top 'N' report mails to the customer.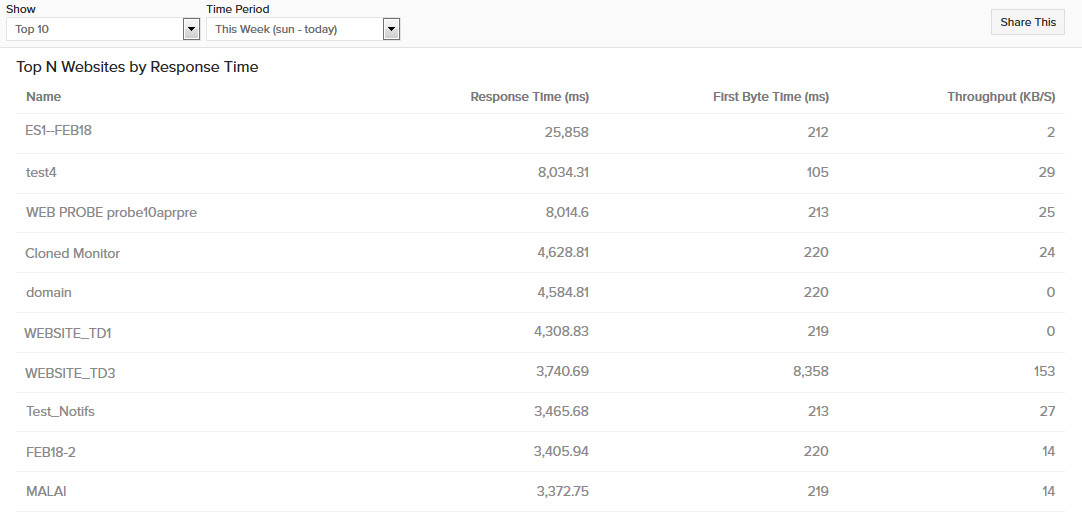 Interpret Top N Reports:
The following table provides insight into the various parameters listed under the Top N Reports.
Monitors

Top 'N' Metric

Other Metrics and Data

 Website
 Response Time (ms)
 First Byte Time (ms)
 Throughput (KB/sec)
 Website Application
(Real Browser)
 Transaction Time (ms)
 Average, minimum, and
 maximum transaction time
 DNS
 Response Time (ms)
 Average, minimum, and
 maximum response time
 POP Service Monitor
 Response Time (ms)
 Average, minimum, and
 maximum response time
 Mail Server RTT
 Response Time (ms)
 Average, minimum, and
 maximum response time
 Ping Monitor
 Response Time (ms)
 Average, minimum, and
 maximum response time
 FTP Service Monitor
 Response Time (ms)
 Average, minimum, and
 maximum response time
 FTP RTT Monitor
 Response Time (ms)
 Average, minimum, and
 maximum response time
 Web Page Analyzer
Response Time (ms) 
 Average, minimum, and
 maximum response time
 Port Monitor
 Response Time (ms)
 Average, minimum, and
 maximum response time
 SMTP Service Monitor
 Response Time (ms)
 Average, minimum, and
 maximum response time
 REST API Monitor
 Response Time (ms)
 Average, minimum, and
 maximum response time
 SOAP
 Response Time (ms)

 First Byte Time (ms)
 Throughput (KB/sec)

 Web Application
(Transaction Recorder)
 Transaction Time (ms)
 Throughput (KB/sec)
 Server  
 CPU Cores
 Average, Minimum, and
 maximum percentage of
 CPU Cores usage
 Memory
 Average, minimum and
 and maximum percentage
 of RAM (MB) usage
 Disk
 Average, minimum and
and maximum percentage
of Disk (MB) usage
 MS Exchange Monitor             
 Page Requests fulfilled by
Cache
 Average, minimum, and
maximum page requests
fulfilled by the cache every
second
 DB Writes Latency (ms)
 Average, minimum, and
maximum DB writes latency
 RPC Requests
 Average, minimum, and
maximum RPC requests/
second
 Slow QP Threads
 Shows the number of query
processor threads currently
running queries that are not
optimized.
 MB Average delivery time
 Average of the number of
 messages delivered
 PF Average delivery time
 Average Delivery Time in
 miliseconds between the
 submission of a message to
 the mailbox store and the
 delivery to all local recipients
 Hub SMTP Outbound
 Shows the outbound SMTP
 messages in the hub
 Hub SMTP Inbound
 Shows the inbound SMTP
 messages in the hub
 Messages sent per second
 Messages sent per second
 via the SMTP protocol
 Messages received per
second
 Messages sent per second
 via the SMTP protocol
 Active Sync Request Per
Second
 Average, minimum, and
 maximum active sync
 requests/second
 Outlook Web Access Request
Per Second
 Average, minimum, and
 outlook web access
 requests/second
 Delayed Calls
 Tells the number of calls
 delayed
 Average Call Duration
 Shows the average duration
 of a local delivery call
 IIS
 Network Traffic
 Average, minimum, and
 maximum network traffic
 rate in KB/second.
 MS SQL 
 Batch Request
 Average, minimum, and
 maximum batch requests
 per second.
 Target Server Memory
 Average, minimum, and
 maximum target server
 memory in megabytes.
 EC2 Instance   
 CPU Utilization
 Maximum CPU utilization
 of a specific EC2 instance
 Network in (bytes)
 Latest update on the
 incoming network traffic
 Network out (Bytes)
 Latest update on the
 outgoing network traffic
 Disk Read Operations
 Number of disk read
 operations per second,
 of the latest poll
 Disk Write Operations
 Number of disk write
 operations per second,
 of the latest poll
 CPU Credits Usage*
Number of CPU credits used
during the measurement period 
 CPU Credits Balance*
Number of unused CPU credits
a T2 instance has earned 
 RDS        
 CPU Utilization
 The total CPU utilization
 across the Instance in
 percentage.
 Free Storage
 The amount of free space
 left in the RDS instance
 Database Connections
 The number of database
 connections in

use

 Disk read Operations
 Number of disk read
 operations per second,
 of the latest poll
 Disk write Operations
 Number of disk write
 operations per second,
 of the latest poll
 Byte Read from Disk
 The average number of
 bytes read from the disk
 per second
 Byte Write from Disk

 The average number of
 bytes written to the
 disk per second

 Read Latency
 The average amount of
 time taken per disk
 read operation.
 Write Latency
 The average amount
 of time taken per disk
 write operation.
 VMware ESX/ESXi   
 Memory Usage
 Average, minimum and
and maximum percentage
of memory (in MB) used
 Disk Usage
 Average, minimum, and
maximum disk usage
rate in Kbps
 CPU Usage
 Average, Minimum, and
 maximum percentage of
 CPU usage
 Network Usage
 Average, minimum, and
maximum network usage
rate in Kbps
 VMware VM   
 Memory Usage
 Average, minimum and
and maximum percentage
of memory used
 Disk Usage
 Average, minimum, and
maximum disk usage
rate in Kbps
 CPU Usage
 Average, Minimum, and
 maximum CPU usage
 frequency (in MHz)
 Network Usage
 Average, minimum, and
maximum network usage
rate in Kbps
 Network (Beta) 
 Response Time
 Average, minimum, and
maximum response time
of your Network device
 Packet Loss
 Percentage of packets
lost. Keep track of average,
minimum, and maximum
values
* Valid only for T2 instances