Amazon Web Services Monitoring
Site24x7's AWS infrastructure monitoring leverages the CloudWatch API as a data source to auto discover all supported AWS resources running in different regions. Once done, Site24x7 starts to collect critical performance metrics and metadata for supported AWS services, like Amazon EC2 instances, EBS volumes., RDS DB instances, DynamoDB tables, Elastic Load Balancer nodes (Classic and Application type), SNS topics and S3 buckets. For each instance of an AWS resource, a monitor will get created in the Site24x7 console. You can drill down into each monitor to find pre-configured, interactive time series graphs and performance charts for individual performance counters. You can also setup a threshold profile where you get to configure thresholds, alert conditions and alerting strategies for each performance counter. So you get out-of-the box immediate insights into the operational heart, performance, and resources for the various AWS infrastructure components that make up your application infrastructure.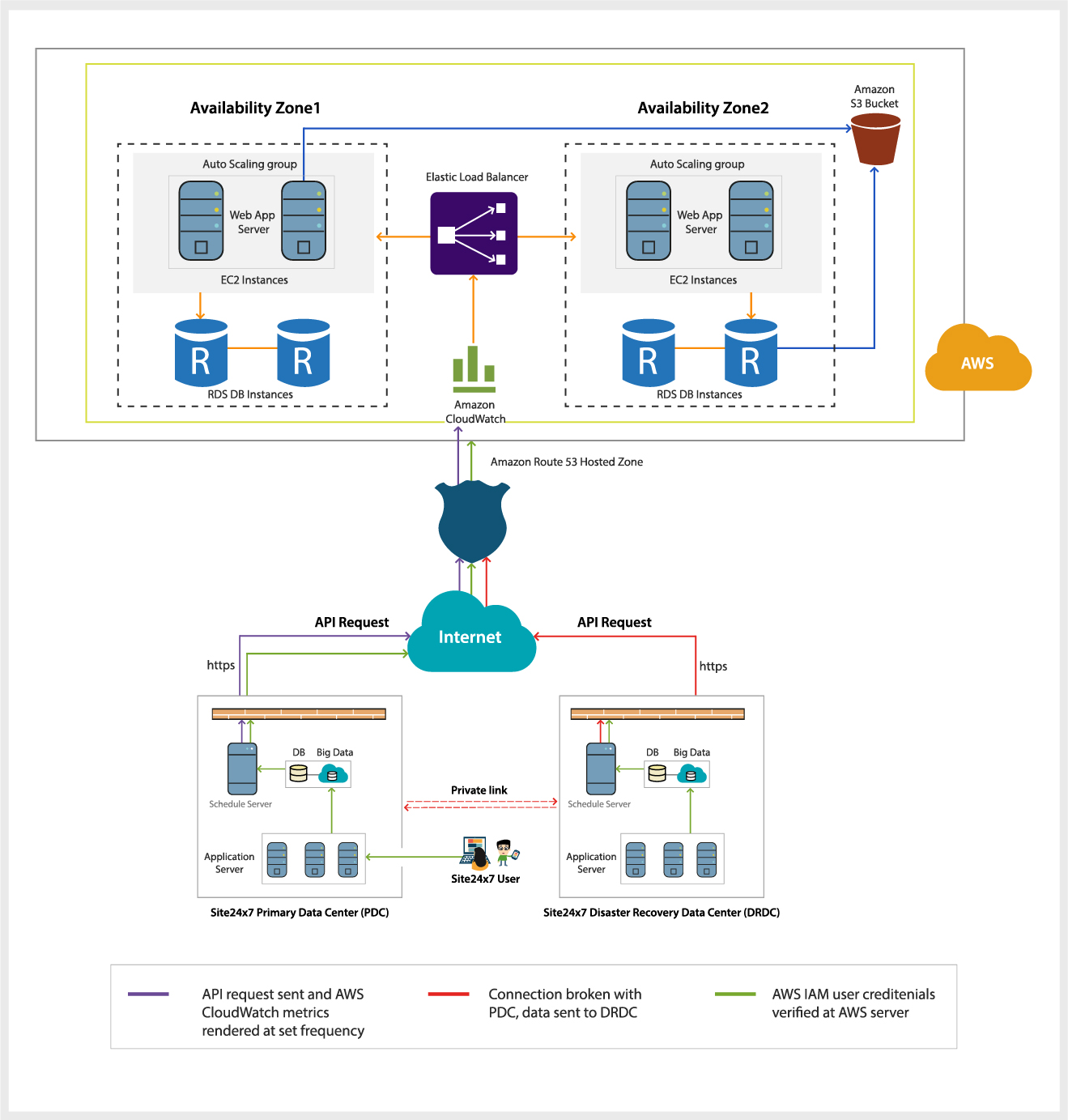 Amazon Web Services Monitoring Architecture
For Site24x7 to monitor your AWS services, you need to create an AWS monitor – For this, you need first to enable access to your AWS account and then connect it with Site24x7. You can allow access to your AWS account, by following either one of the two methods mentioned below:
Enable access to your AWS account
IAM user creation
Create Site24x7 as an IAM user, assign ReadOnly permissions to the said user and generate security credentials (Secret Access Key and Access Key ID).
Cross-account IAM role access
Create a cross-account IAM role between your AWS account and Site24x7s AWS account, assign ReadOnly permission to the said Role and generate a RoleARN.
Connect your AWS account with Site24x7 (Create an AWS monitor)
Once done, you can paste the security credentials or Role ARN in the Site24x7 console. The security credentials will be used to authenticate the API calls made, and the ReadOnly policy will provide Site24x7 necessary permissions to access the various supported AWS resources associated with your account. In the case of cross-account IAM role, Site24x7 will make a request to the AssumeRole API to obtain temporary security credentials every one hour. These temporary security credentials will be used to authenticate the API calls.
We also make sure continuous monitoring service is available to you even in the event of a datacenter failure with the help of a secondary data center - the Disaster Recovery Data Center (DRDC). In case the communication from primary data center does not happen within the set period, DRDC takes over ensuring your AWS resources get monitored without hindrance.
Get started
You can get started with AWS infrastructure monitoring, here.
Supported AWS metrics
Site24x7 collects standard metrics for all discovered AWS resources. An overview of the supported attributes can be found here.
API calls
You can also reduce the number of API requests that gets sent out by making use of our advanced discovery options. To learn more about AWS service selection, rediscovery polling interval and tag-based filtering support, please read our help documentation.
Data collection
Currently, performance metric polling for supported AWS services occurs every 5 minutes. Learn more.
An estimate of 8928 CloudWatch API requests are sent from Site24x7 per metric per month (31 days). Please note, the AWS CloudWatch API has a free tier limit. Learn more.