Threshold Configuration for Amazon SQS
Monitor Amazon SQS queues
Site24x7 leverages the CloudWatch API to auto discover active SQS queues across all regions. When a SQS queue gets discovered and added as a monitor, a default threshold profile get associated with it, it's important to note that this profile doesn't have any pre populated values configured in it. You can either edit the default threshold profile or create yourself a new one.
To create a new threshold profile
To create a new threshold profile for your monitored SQS queue, please follow the below mentioned steps :
Select Admin > Configuration Profiles > Threshold and Availability
In the Threshold and Availability screen click on Add Threshold Profile
Select SQS Queue from the Monitor Type drop down. The performance metrics supported for the SQS service will get listed below. By default only two attributes are shown, you can select more by clicking on the Set Threshold Values drop down. Based on the value of the metric relative to a threshold, alerts will be triggered
Provide an appropriate label in the Display Name field for identification purpose and start configuring values.
You can also configure alert conditions, strategies and map already created automation profiles on an individual metric level basis to reduce false positives and automatically take action in the event of threshold breaches.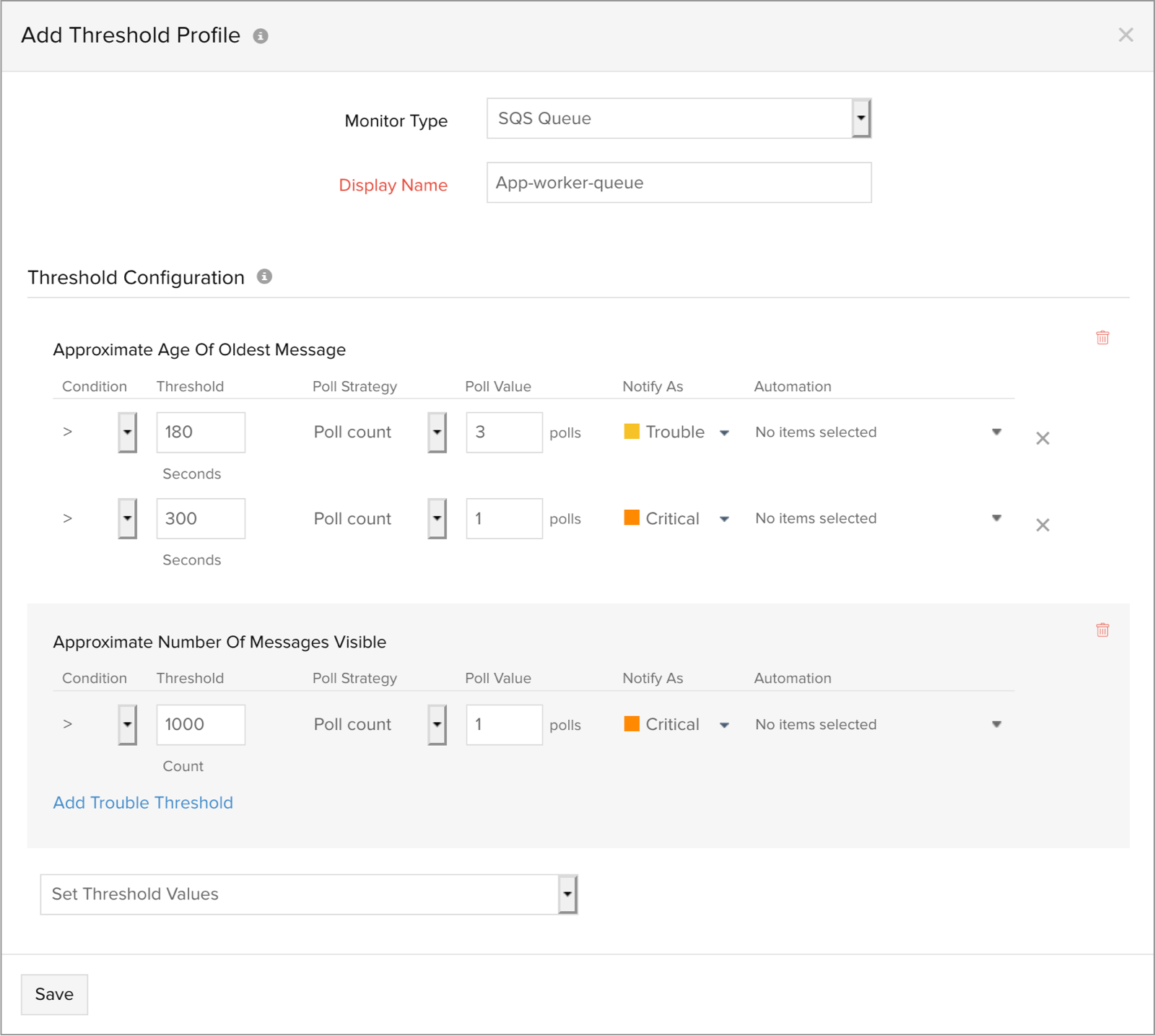 Edit the default threshold profile
To edit the default threshold profile follow the steps given below :
Select AWS > Monitored AWS account > SQS queue
From the list of monitored queues, select the queue for which your want to configure thresholds
click on the icon adjacent to the display name > Edit
You'll find that the threshold profile (Default Threshold - SQS) has already been assigned in the Threshold and Availability field, click on the pencil icon, configure the values and click on Save
To edit a newly created threshold profile
To edit a newly created threshold profile for your monitored SQS queue follow the below mentioned steps:
Select Admin > Configuration Profiles > Threshold and Availability
Select the threshold profile which you want to edit
Edit the configured threshold values and click Save
To delete a threshold profile
To permanently delete a configured threshold profile for your SQS follow the steps mentioned below:
Select Admin > Configuration Profiles > Threshold and Availability
Select the threshold profile and click Delete