Advisor
Advisor contains personalized suggestions that help you adhere to best practices so you can monitor your IT deployments with ease. It analyzes your existing account configuration and usage stats; then suggests unused features and configurations that can help you perform comprehensive monitoring to improve the overall resource availability and performance of your IT resources. You can get our out-of-the box set of best practices and recommendations as part of this.
Key Features of Advisor
You can get started with Site24x7 Advisor by following these steps:
Log in to your Site24x7 MSP web client.
Navigate to Home > Help Assistant.
In the Advisor Dashboard, select the customer account from the drop-down field.
The relevant Advisor Report for the selected customer account gets auto-generated.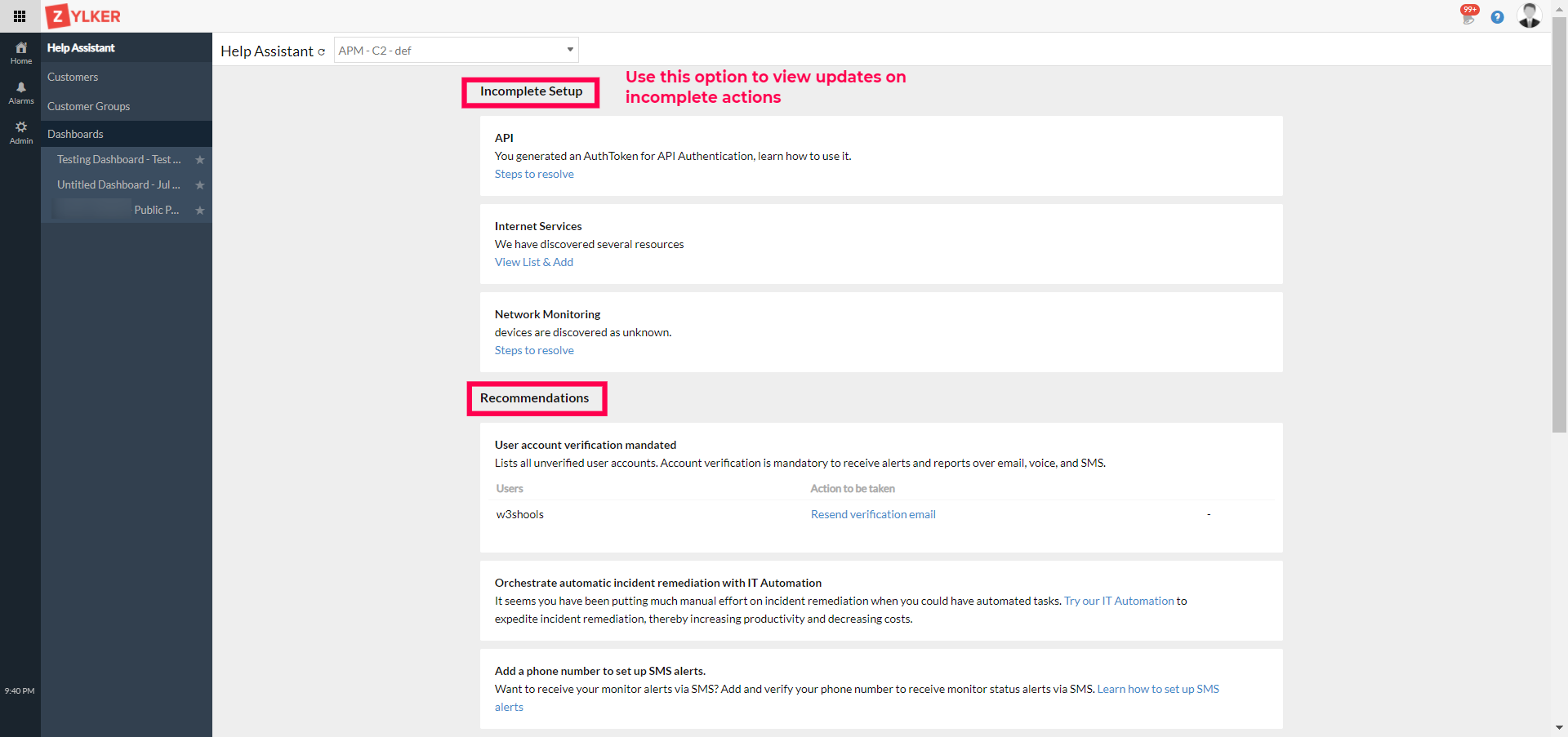 Advisor helps you:
Receive proactive, actionable, and personalized recommendations for your customers' account set up.
Share recommendations with MSP users by exporting it as a PDF document. 
Quickly filter recommendations for a specific customer account using in-built priority filters (High or Moderate) or search.
Get accurate suggestions with proposed actions inline for every customer account. For Paid users, specify your job title to get exclusive recommendations. Learn more.

Fig: Sorting Customer Accounts to view relevant Advisor Report
Incomplete Setup
Incomplete Setup section provides you updates on the actions you're yet to complete in the Site24x7 client.The incomplete actions will be listed, you can click on View List & Add to complete the action, click Steps to Resolve to learn more about completing the action or click Ignore to abort the action.
Recommendations
Frequently Asked Questions (FAQs)
1. What permission do I need to access the Advisor?
Only MSP Admin and relevant MSP User with permission to customer account will have read and write permissions in Advisor. For other MSP Users, the links and buttons are disabled by default.
2. How frequently will the report update?
For Evaluation and Paid users in your selected customer account, the Advisor report will be generated in different ways.

Evaluation Users: The report gets regenerated once every day.
Paid Users: The report gets regenerated biweekly.
3. Can I dismiss a recommendation from Advisor?
Yes. You can instantly dismiss a recommendation for a customer account by accessing the link "Don't show this tip again > Ignore" shown against the Advisor recommendation. The recommendation for that customer account will resurface again after a period of 90 days.
4. Can I get relevant recommendations based on my requirement?
Yes. Set your Job Title in the Add/Edit User form and Save your changes. Based on this, relevant recommendations would be populated and listed for you.
Note: This feature is available only for Paid users.