Go to All Forums
Glad to announce the release of our IT Automation tools!
With an automation in place, you can now provide quick and timely rescue to performance degradation issues, ensuring high availability. Critical functions including releasing jobs, performing backups, ensuring communications and more can also be reliably executed by the automation tool, relieving the operations personnel from hours of tedious, boring and manual tasks. Check out more on our webpage and read our help documentation to know how to set up an automation.
Don't find the automation tool you need? No worries! Let us know your requirements in the Comments section and we will get it done.
Happy Monitoring!
Replies (27)
---
---
Hi Swilson,
As per your requirement, we understand that you would want to start an application in a server with a specified user role and run it indefinitely without killing it.
However, as our server monitoring agent runs under the user role "SYSTEM", the other processes initiated by our agent also would run with the same role.
Thanks for bringing this up. We are in the process of analyzing how to start processes with a different user role. Will update this thread once there's any development on this.
Thanks!
---
---
---
---
---
---
---
---
---
Hi, is there any way to add "send an email" as an automation?
I would like to be able to send an email, and not necessary to an address in the users list.
So, in short.
Add Email witrh a Mail to field
Mikael
---
Hi,
Thanks for bringing this up. We will take this up as a feature request and update this thread once live.
Could you specify if you want the existing users and sub-user emails to be listed in the Add Automation page, or a field to enter emails that are not present in the Site24x7 accounts. This would help us in adding up this enhancement to our existing feature.
Regards,
Muralikrishnan
---
Hi
Why not both possibilities. :)
But my initial thought was a free text field, separated by ; to add email addresses.
Not necessary bound to existing accounts since an email actually can be beneficiary to send to the customer, who hasnt access to our monitoring.
BR Mikael
---
Hi,
Thanks for your suggestion. We will add this enhancement in our upcoming updates and post it here once it's live.
Regards,
Muralikrishnan
---
Hi,
Would it be possible to add Selenium script as a type of IT Automation Tools?
---
Hi,
We don't have the support to add Selenium Script as a new type of IT Automation. However custom scripts can be run using the type Server Script type in IT Automation, which will also show the status of the script run.
Is there any dedicated status that we need to show for Selenium Scripts?
---
It would be great if there was an option to take a monitor OUT of Maintenance with an automation. I'm essentially trying to set up a reverse dependency here. Here's the idea:
When monitor A is up, monitor B is going to go down (monitoring redundant ISP connections on a firewall, so connection B is only up when connection A is down). I'd like monitor B to automatically go into Maintenance mode when monitor A is up. There's already an automation for that, but I have to set a timeframe on that maintenance window. I'd like to have the option so that when monitor A goes DOWN, I can automatically take monitor B OUT of maintenance. That way monitor B would only ever be red/down when monitor A is also red/down.
---
Hi,
Thanks for your valuable feedback. We will take this up as a feature request and implement this option at the earliest. Will update this thread once the feature goes live.
Regards,
Vinoth
---
It looks like there is option to start or stop an IIS web application pool. It would be good to add the popular option of "recycle" the pool as well.
---
Hi,
We already have this added in our road map. We shall update this thread once the feature is live.
Thanks!
---
Please add perl scripting language in automatation script which will run on server when issue .
---
Hi,
Thanks for bringing this up. We will add this in our road map and update this thread once the feature is ready.
Regards,
Muralikrishnan
---
Hi,
Currently, only Admin can execute the list of IT automation tasks for all groups. It is better to make it per group (like admin for Group X) so he can execute action related to his group ONLY.
---
Hi,
Thanks for raising this. We will add this in our feature enhancement list and update this thread once live.
Happy Monitoring!
---
Hi, a kill process, would that be possible?
We have a service that sometimes gets stuck in stopping where we must kill the process before being able to restart it.
Mikael
---
Hi Mikael,
One way to achieve this is by adding a Server Command in IT Automation. Please follow the steps below:
Create a custom script to kill the process and then stop the service.
Log in to Site24x7 and add an automation with Type as Server Command in the Add Automation form.
Mention the path for the custom script in the Enter Command to be Executed field.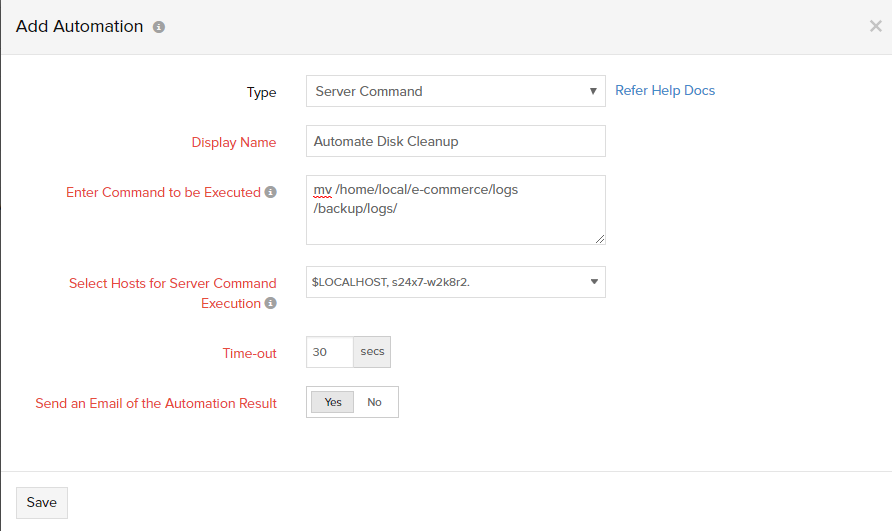 You can then use this to automate your flow. You will also get logs for the script that was executed in the IT Automation logs.
Hope this helps. Please let us know for further queries, if any.
-Jasper
Product Manager, Site24x7
---
Send Email would be great!
---