Get deep visibility into critical Windows server metrics like CPU, memory usage, disk utilization, services and processes and more. Identify and resolve performance or availability issues in no time.
Proactively monitor your Linux and FreeBSD servers and identify performance degradation. Create custom plugins using Python or Shell scripts and monitor the data you need.
Use our 50+ plugin integrations and monitor application, database servers and more including MySQL, Postgres, Tomcat, GlassFish etc. Execute thousands of Nagios plugins without a Nagios server. Perform custom script monitoring to retrieve data specific to your needs.
Monitor operational health for key AWS infrastructure components. Gather performance metrics for EC2 , RDS , DynamoDB , ELB and SNS topics, to ensure optimum resource usage round-the-clock.
Try out our infrastructure monitoring by automatic discovery of devices in your network and monitor the performance of network devices. Analyze performance of routers, switches, firewalls and other critical network devices.
Add Multiple Servers in One Go
For Windows, facilitate bulk installation using Remote Commands, Active Directory via Group Policy Object (GPO), Custom Scripts and Remote Installation. For Linux, bulk installation is done via Chef, SaltStack, Puppet and Ansible.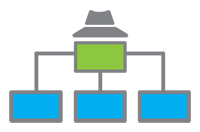 Microsoft Apps Supported: Microsoft Exchange, IIS, SQL, BizTalk, SharePoint, Office 365, Active Directory, Failover Cluster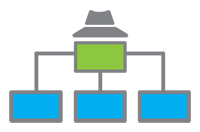 Linux OS Flavors Supported: Debian, Ubuntu, CentOS, RedHat, Madriva, Fedora, Suse, Amazon Linux, Gentoo
Analyze root cause of downtime.
Accurately find the causes of your server downtime. Site24x7 uses event logs, crash reports, CPU, memory and disk utilization, and processes to give you an in-depth analysis of what caused your server to go down.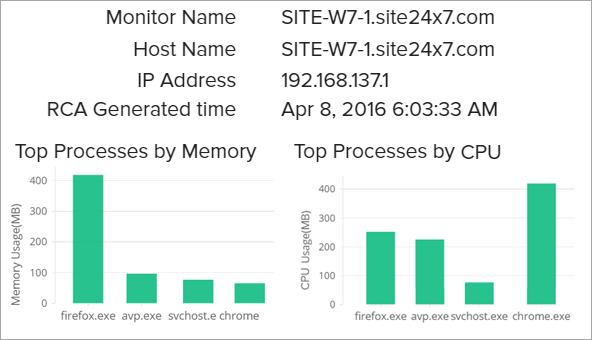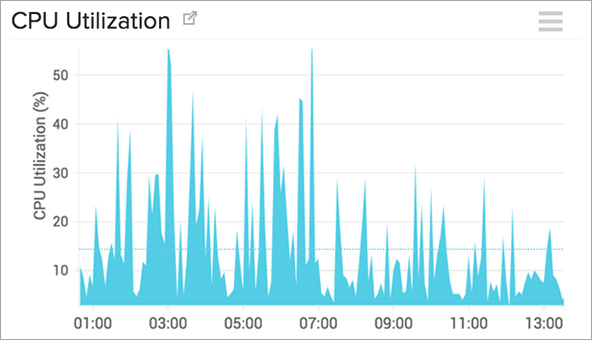 Monitor CPU, memory, and disk usage.
Track key metrics such as CPU usage broken down by processor or by core, interruptions and context switches with Site24x7. Capture critical memory usage metrics by gaining inputs on used and free memory, and memory pages (In/out/fault) to help understand your capacity. Analyze disk utilization and disk (I/O) to help you find the optimal disk capacity and ensure nonstop usage.
Get visibility into network traffic.
Keep a close eye on traffic to determine what capacity your network is running at. Visualize input and output traffic, along with their bandwidth utilization. Gain inputs on:
Data sent/received
Packets sent/received
Error packets
Speed and status of the network interface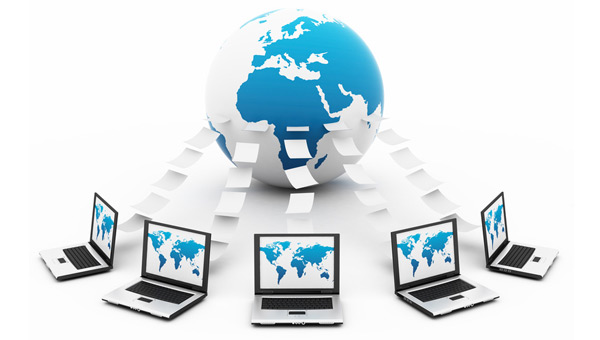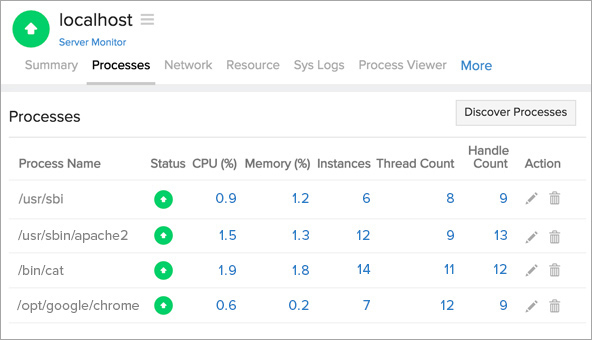 Processes and services monitoring.
Processes and Windows services can be seen in real-time and individually monitored, so you no longer have to wonder which process caused a server spike. Start and stop Windows services from a single console and view all the information in an integrated dashboard.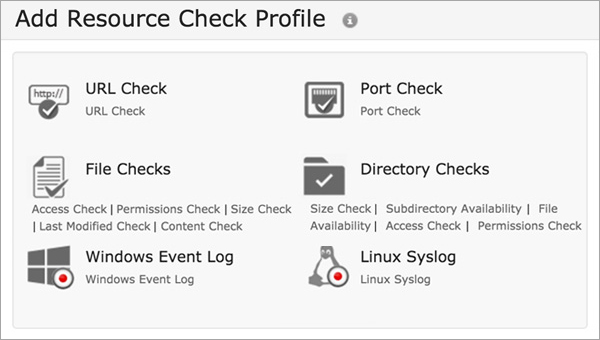 Out-of-the-box support for Linux and Windows plugins with 50+ integrations.
How it works?
Download and install the agent in the server.
The agent will collect critical metrics such as CPU, memory and disk usage.
Configure thresholds and stay alerted during downtime instantaneously.
Start / stop services from a mobile device.
Pricing
PRO INFRA
Best suited for Infrastructure, Server and Cloud monitoring
(paid annually)
Sample pricing
Monitor 55 Servers at $54/month.
Add-ons
(buy multiple units of each add-on)
Basic Monitor Add-ons
Additional 10 Servers/Websites: $15/month
Additional 20 Servers/Websites: $30/month
Additional 50 Servers/Websites: $50/month
Additional 100 Servers/Websites: $100/month
Additional 500 Servers/Websites: $500/month
Network Monitoring Add-ons
Additional 100 Network Interfaces: $50/month
Additional 250 Network Interfaces: $75/month
Additional 1000 Network Interfaces: $200/month
Advanced Monitor Add-ons
Additional 5 Advanced Windows Apps: $50/month
Additional 25 Advanced Windows Apps: $200/month
Features
Windows, Linux, FreeBSD & OS X Servers

Hyper-V, VMware Hosts, VMs and Docker

50+ Out-of-the-box Plugins supported

IIS Server, SQL Server & Exchange Server

Process and Services monitoring

Sharepoint, Office 365 & BizTalk Server

Network Monitoring

Microsoft Failover Cluster Monitoring

Amazon Web Services (AWS)

Microsoft Active Directory Monitoring

Windows Event Log Monitoring

iOS and Android app

Linux Syslog Monitoring

SMS & Voice Alerts

File, Directory & Resource monitoring

SLA Management and Monitor Groups
List of Basic monitors:
Server (Charged based on servers and not individual metrics)
Windows/Linux/FreeBSD/OS X Monitoring (agent based)
Microsoft IIS, SQL, Exchange Monitoring.
Each VMware VM instance (VMWare monitoring using the On-Premise Poller)
VMware ESX/ESXi hosts
Amazon Web Services
Elastic Compute Cloud (EC2) per instance
Relational Database Service (RDS) per instance
DynamoDB per table
Simple Notification Service Topic (SNS)
Elastic Load Balancer (ELB) - both Classic and Application type.
Website
Website (HTTP/HTTPS)
DNS, Ping, FTP Service, SMTP Service
SSL Certificate, Domain Expiry Monitoring
SOAP, REST API
Port, POP Service
List of Advanced monitors:
Advanced Windows Apps - Microsoft SharePoint, BizTalk, Active Directory, Failover Cluster, Hyper-V
Synthetic web transaction monitor (monitor multi-step web transactions in your service)
Web Page Analyzer
Web Page Defacement
Mail Server Round Trip Time monitoring
FTP upload/download Round Trip Monitoring.
Network monitoring licensing is purely based on the number of interfaces that are monitored. It is mandatory to have at least one active interface in order to monitor a device. While ten performance counters per device can be monitored for free, every additional ten is counted as one interface.
Premium support includes email, community, chat and phone.
Every webpage that is loaded in the browser is considered as a page view, irrespective of the number of resources that are loaded behind. For example, for a single page to load, there are various resource calls for images, css, etc, which are not counted in page views. Only the webpage that the user visits is counted as page views.
Credits are auto-refilled every month, however left over refilled credits are not carried forward to the next month.