Full-fledged Network Performance Monitoring Software
Our comprehensive cloud network monitoring tool, a brainchild of ManageEngine OpManager, gives complete visibility into the health and performance of your network. Ensure uptime and fault management of all your SNMP devices with a secure, firewall-friendly architecture.
Obtain port-wise performance stats for your switches, switch stacks, and switch ports.
Obtain insights about VPN latency, session count, and tunnel flaps.
Track the number of pages printed, marker life count, and more.
Analyze memory size, buffer size for proper capacity planning of RAIDs and tape libraries.
WAN Accelerator Monitoring
Optimize WAN performance by monitoring WAN accelerators.
Monitoring made simple with Site24x7 Network Monitoring.
Auto-discovery
Automatically discover all the devices present within a provided IP range, or a whole network (LAN or WAN) using SNMP.
Multi-vendor Support
Over 450 vendors like Cisco, HP, Canon, Juniper, D-Link, and Dell are supported, and you can monitor anything more by just entering the sysOID.
Device Templates
There are over 10000 device templates with custom options that offer predefined attributes, making the configuration easy and simple.
Network Mapping
Obtain complete visibility using maps. Automate discovery and mapping with Layer 2 maps and create your network schema using topology maps.
Health Dashboard
View top devices based on response time and packet loss; and top interfaces based on traffic, bandwidth utilization, errors, and discards.
SNMP Trap Processing
Configure network devices to send SNMP traps to Site24x7, and receive processed alert messages for any trap defined in your SNMP MIB.
How does our network monitoring tool work?
Deep insights using SNMP performance counters.
Monitor SNMP performance counters and tabular performance counters of all your devices. Add new counters and set threshold values to get notified instantly when a particular counter crosses its set value.
Track key metrics, including:
Memory and CPU usage
Undersize packets
Oversize packets
Interface in giants
Drop event statistics
Jabber packets
Backplane utilization
Active session count
Buffer failures
Interface collisions
Disk utilization
Input packet drops
Output packet drops
VPN latency
Track performance of individual network interfaces.
Monitor all interface metrics like out traffic, in traffic, transmitting bandwidth utilization, receiving bandwidth utilization, errors, and discards in a single view. You can configure thresholds for your interfaces so that you receive alerts should any anomalies be detected.
Monitor your entire server and application stack.
Full-fledged server monitoring with more than 60 performance metrics for your physical, virtual, and cloud servers. Not just your servers, get your entire app stack monitored with our 50+ plugin integrations and Microsoft applications monitoring. If you don't find them in our list - build your own in no time, in any of our 5+ supported scripting languages.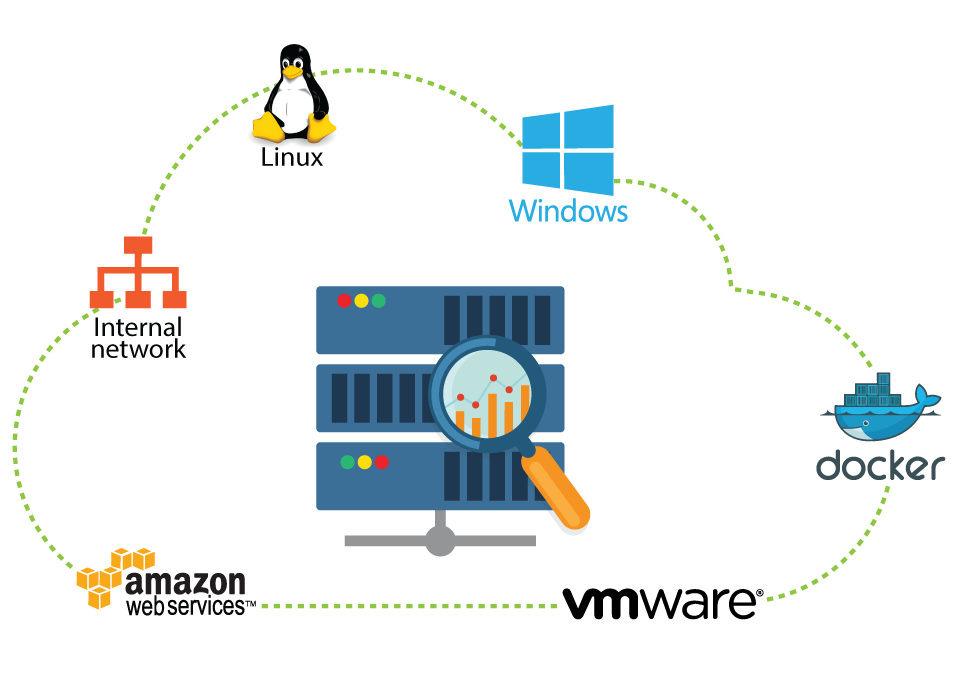 Detect, diagnose, and resolve network performance issues.