My Account
My Account dashboard in your MSP account enables you to view and update your account settings. Based on your user privileges in the MSP account, you can instantly view and modify your account settings. Follow the steps below to easily access the accounts dashboard:
Log in to Site24x7 MSP client.
Click the Admin > My Account icon listed on the dock to view the My Accounts dashboard.
How Can I Update ?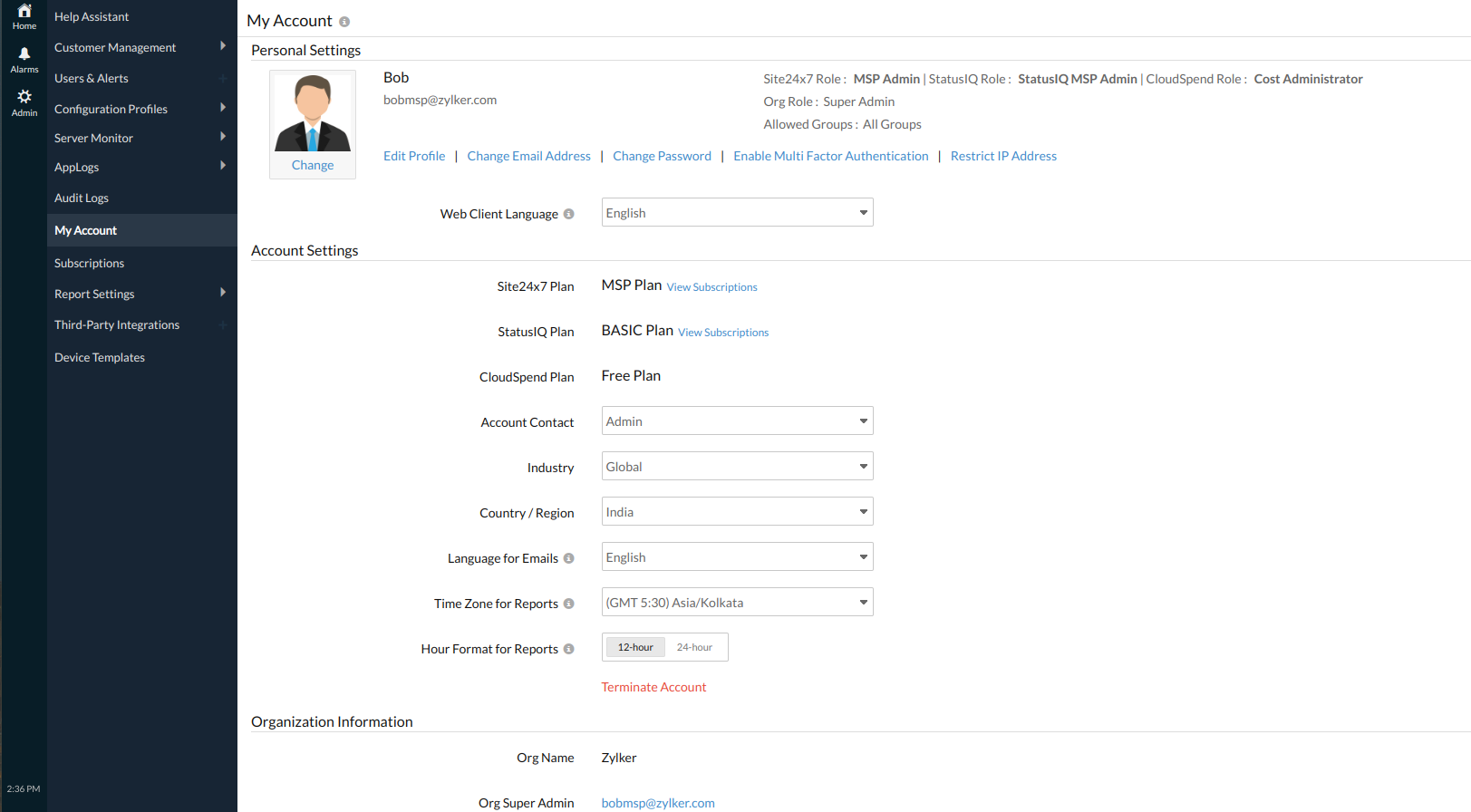 Personal Settings
Site24x7 uses Zoho Accounts, a service for single-sign-on to handle your personal account settings. You can gain insight and modify your personal information like: Site24x7 account name and email address, Site24x7 User role, Organization role, and allowed groups. You can make the following changes as part of your Personal Settings:
Edit Profile: You can modify your user profile. Learn more.
Edit Profile Picture: Update your profile picture.

Change Email Address: Update your email preferences for primary/secondary addresses. If you forget your password, Zoho accounts will send reset instructions to your email.

Change Password: You can reset to a new password to manage your account.

Enable Two Factor Authentication: In addition to your username and password, you will have to enter a unique verification code generated by an app on your mobile device or via SMS.

Restrict IP Adresses: Configure and manage trusted IP addresses/ranges to restrict your account access through those IP addresses only.

Account Settings
Log in to MSP Account.
Click Admin > My Account > Account Settings.
You can view and edit your account settings:
Organization Information
To perform any actions like modifying the name of your organization, inviting new users to join your account, deleting email addresses from your account, or even deleting your organization account requires you to contact Site24x7 support team.
Click Admin > My Account.
You can view and update your organization settings. Your organization name and organization super admin email address are listed here.

Enable Two Factor Authentication
Restrict IP Address
Set up Single Sign On (SSO) with SAML based Authentication
SAML - Security Assertion Markup Language, developed by the Security Services Technical Committee of "Organization for the Advancement of Structured Information Standards" (OASIS), is an XML-based framework for exchanging user authentication, entitlement, and attribute information. SAML is a derivative of XML. The purpose of SAML is to enable Single Sign-On for web applications across various domains and services. Follow the steps below to setup SSO with SAML based authentication:
Log onto

mail.zoho.com

from a new browser tab. Click

Control Panel

on the top-right of the window.

You are navigated to the Zoho Mail Control Panel dashboard. Click the SAML Authentication tab.
Now fill the configuration details for the SAML, provided by the third party Identity provider (IDP) or a SAML supported system like the Active Directory.

The parameters required for SAML configuration includes:

Login URL:

All the Organization users will be re-directed for custom authentication.

Logout URL:

The URL has to be re-directed when users are signed-out from Zoho services under SSO.

Change password URL:

Identity Providers' password reset URL, which will be called when the user tries to reset the password in Zoho.

Public key:

Key used to decode the response message sent by the Identity provider. Save the Key in a text file and upload it to configure the SAML for the organization.

To know more about the SAML configuration and login process, read more.
Customize Settings
You can update your MSP Account's Custom Domain, Company Name, From Email address, and MSP Logo to facilitate rebranding and customization for Customer Report Settings.
Custom Domain: Custom Domain for MSP (along with CNAME mapping) is mandatory for MSP URL-Rebranding. While setting up a white-labelled monitoring console for an MSP's end customer, the Custom Domain serves as the root domain for the white-labelled monitoring console access URL. (Once configured, the MSP's end customers can then directly login using this URL, for example "https://www.custom_domain.com/app/login/customer_login_portal".

Company Name: Provide the MSP Organization's Name.
From Email address: Provide the email address from which the reports will be delivered.
DKIM Status: You can ensure secure delivery of your email reports by enabling DKIM authentication for your From Email address. You must update your DNS zone file with the relevant DKIM records provided by Site24x7 for the domain. Learn how to set up DKIM authentication for your domain. 
Logo: Add a custom logo for rebranding.

Changes made to the Company Name, From Email, or Logo will override the existing report settings across all customer accounts.
Was this document helpful?
Sorry to hear that. Let us know how we can improve this document.
Please describe how we can improve this document.
Thanks for taking the time to share your feedback. We'll use your feedback to improve our online help resources.