Go to All Forums
Hi there!
We have several servers being monitored by Site24x7 and one of them, the smaller one, it has only 30GB of HDD - of course more than 80% is in use for the OS and since we put it on our dashboard we are constantly facing the critical alarm of HDD Usage (more than 90%).
As we have the same rule for all the servers, I cannot modify this variable through the main rule. Due the aforementioned, is there a way to mute this critical alarm only for this server or a way to skip this kind of alarm (HDD usage) only for this specific server?
By now I have duplicated the default rule (Server Monitor) and changed this variable to associate only on this specific server. Is this the only way to solve this? If it's, we will have tons of duplicated rules to refine the alarms on each server.
Thanks in advance! :)
Replies (1)
---
[Updated with Attribute alert group]
Dear Danilo,
Thanks for contacting us here in forum. Having different threshold Profiles for your servers would be the best way to do it currently since each have a different rule that would constitute an alarm. We'll also take in this request and add it to our feature backlog and take your usecase into consideration when we enhance the feature.
Thinking about your case, here are some ways that will help you avoid unnecessary alarms for your team and reduce the mundane task of configuring for large no.of monitors (servers in your case).
1. You can use User Alert Groups and Attribute Alert group (under Admin tab > User & Alert Management) to let you receive alerts only for the configured attributes in a monitor. With this feature you can ensure only attributes that your team is concerned is received. Here, attributes can be grouped across monitor types.
For ex: If your team is interested in getting alerts only for CPU & Memory of a set of servers (like the small one you have mentioned), you can
a) Define an Attribute Alert Group with only CPU and Memory Utilization attributes.
b) Set the attribute alert group your user alert group.
c) Assign the user alert group to the set of servers you are interested in.
Now, you'll get alerts only if CPU or Memory threshold is breached. If other attributes are breached this user group will not be alerted.
2. Organize servers into Monitor Groups (Home > Monitor Group > + button) or tag each of them. Once grouped, you use our bulk actions (Admin tab > Inventory > Monitors > Bulk action button in top right) to filter monitors in a group and apply different threshold profiles to different monitors in that group. This would reduce you work.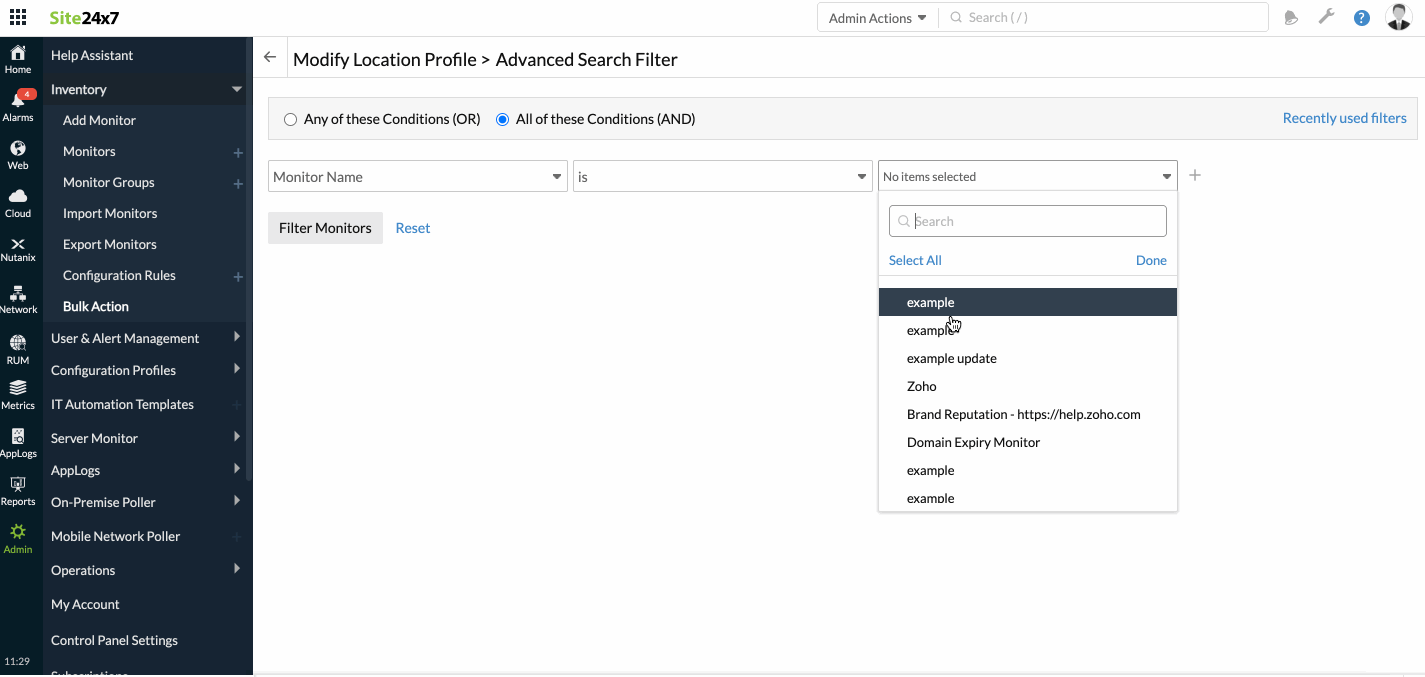 3. If you want to temporarily Mute alerts since you know that there some issues. You can use the Mute alerts option under Alarms tab > Mute Alerts button. On click of the button, you can select the monitors or a group to mute alerts for specific time (max of a day).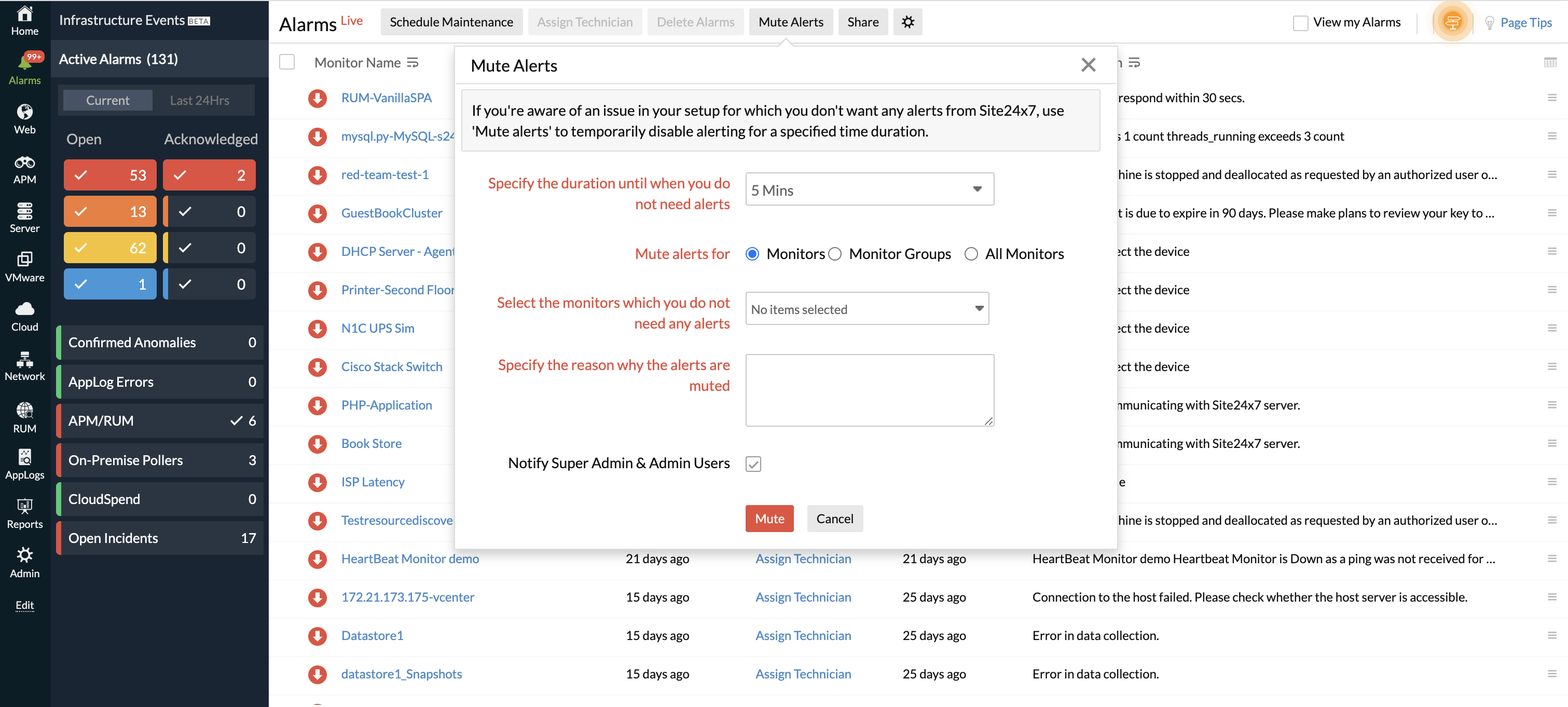 4. The other option is to use our Configuration Rules (currently in finishing stages). Rules will allow you set criteria by tags, 'monitor names' pattern, monitor groups etc and doing an action based on the criteria. The rule will then be executed while adding a monitor automatically. You can also execute the rule manually if you need to change a configuration based on a rule.
Hope you find these useful.
-Jasper
Product Manager, Site24x7
---