Monitor your HP devices from the cloud.
Automatically discover the HP devices and monitor your whole network with detailed stats on the status, availability, and performance of every HP printer, switch and wireless access point. Simply connect to your devices' SNMP MIBs to get started. Track the traffic of any SNMP device at the interface level and monitor all the key performance metrics for effective HP network performance monitoring.
With over 1,000 exclusive device templates for HP, performance monitoring has never been more comprehensive. Stay on top of outages with instant alerts on your mobile device for complete HP network management.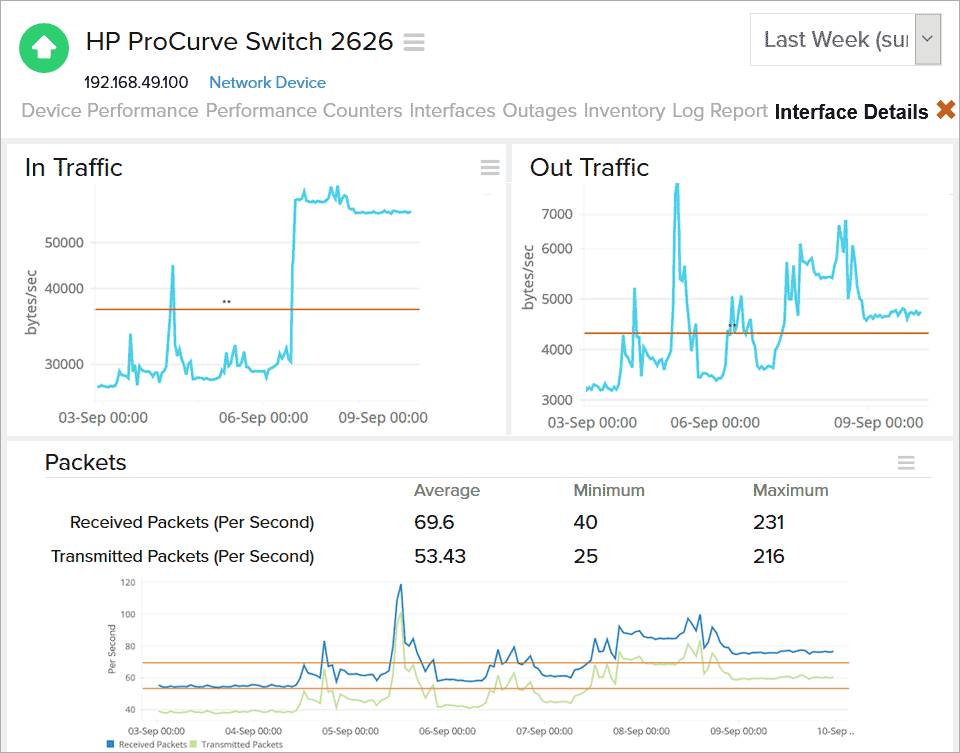 Performance Monitoring Metrics
Bandwidth Metrics
Total number of collisions
Memory Metrics
Disk utilization
Free disk space in GB
Free disk space in MB
Jabber packets
Memory utilization
Memory utilization (UCD SNMP MIB)
Number of fragments
Oversized packets
Packets received
Packets to BC address
Packets to MC address
Undersized packets
Used disk space in GB
Used disk space in MB
CPU Metrics
CPU utilization
Process count
CPU utilization (UCD SNMP MIB)
Partition details of the device (%)
Other Metrics
Associated mobile user (s)
Average marker life count
Out-of-the-box support for HP devices.
In addition to supporting the following HP Devices, you can monitor 'n' number of them by creating custom device templates.
HP-Printer
HP-Hub
HP-Bridge
HP Wireless Access Point
HP Routing Switch 9315
HP Routing Switch 9304M
HP Routing Switch 9308M
HP Routing Switch 6308m-SX
HP ProCurve Switch 5304XL
HP ProCurve Switch 8000M
HP ProCurve Switch 1600M
HP ProCurve Switch 2650
HP ProCurve Switch 2626-PWR
HP ProCurve Switch 3400cl-24G
HP ProCurve Switch 2400m
HP ProCurve Switch 4000m
HP ProCurve Switch 212M
HP ProCurve Switch 2824
HP ProCurve Switch 224M
HP ProCurve Switch 2424m
HP ProCurve Switch 2626
HP ProCurve Switch 3324XL
HP ProCurve Switch 2524
HP ProCurve Switch 4108GL
HP ProCurve Switch 5404yl
HP ProCurve Switch 2848
HP ProCurve Switch 5308XL
HP ProCurve Switch 3400cl-48G
HP ProCurve Switch MF 6400cl-6XG
HP ProCurve Switch CX4 6400cl-6XG
HP ProCurve Switch 2650-PWR
HP ProCurve Switch 2650-CR
HP ProCurve Switch 2626-CR
HP ProCurve Switch 4104GL
HP ProCurve Switch 6208M
HP ProCurve Switch 6108
HP ProCurve Switch 2512
HP ProCurve Switch 3124
HP Switch J8693A
HP Switch J8697A
HP Switch J8698A
HP Switch J9049A