Robust Monitoring for Your Complex Networks
Comprehensive Router Monitoring
Optimize bandwidth allocations, ensure high network availability, quickly resolving WAN problems, and ensure appropriate capacity planning.
Spot Problematic Routers
Quickly identify unusual behavior/performance in your routers and list down troublesome routers which need upgrade/update/replacement.
High Network Availability
Monitor WAN links proactively and ensure high network availability. Analyze link latency & link errors to proactively detect downtime.
Deep Performance Visibility
Monitor the availability and response time of routers and keep tab on the temperature stats of devices.
Monitor Critical Metrics
Monitor critical parameters of router performance like CPU, memory utilization, buffer hit/miss stats and more.
Visibility into Traffic Stats
Monitor In/out traffic stats of individual ports that help in deciding the bandwith utilization.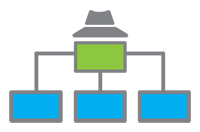 Comprehensive Network Monitoring for critical network devices like Routers, Switches and Firewalls.
How it Works?
Step 1
Download and install the On-Premise Poller
Step 2
Run a network discovery
Step 3
Configure thresholds and get instant alerts in the event of downtime