Monitor your Juniper devices from the cloud.
Automatically discover the devices and monitor your whole network with detailed stats on the status, availability, and performance of every Juniper router, switch and firewall. Simply connect to your devices' SNMP MIBs to get started. Track the traffic of any device at the interface level and monitor all the key performance metrics for effective monitoring.
With over 10,000 default device templates, monitoring is very comprehensive and easy. Stay on top of outages with instant alerts on your mobile device for complete Juniper network management.
Monitor Juniper firewalls and other network appliances for a complete virtual private network (VPN) monitoring.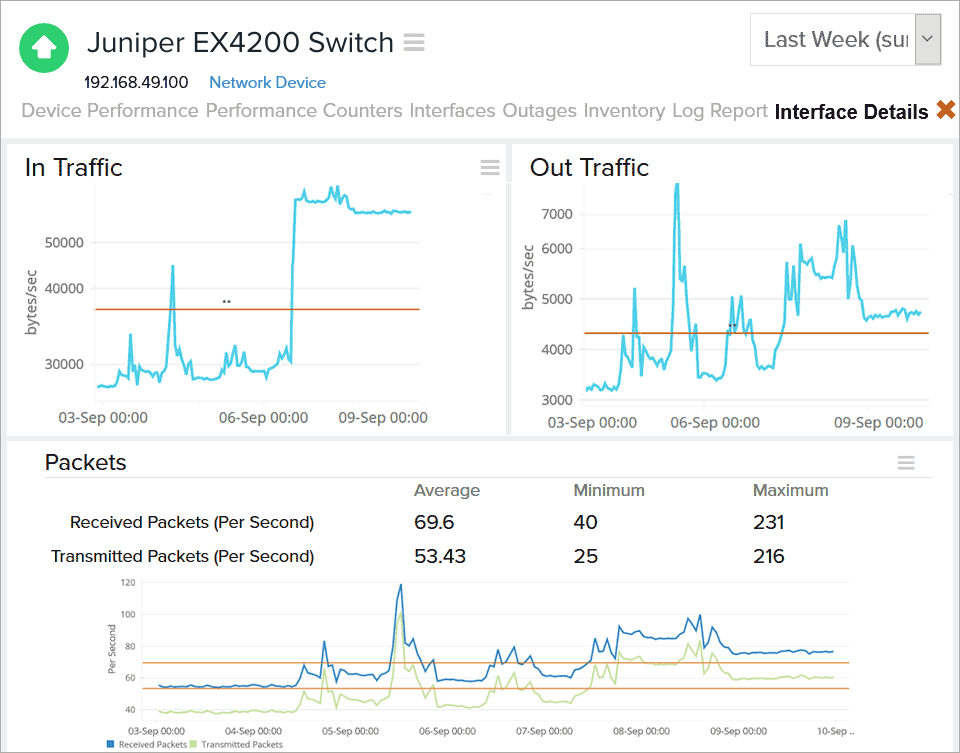 Performance Monitoring Metrics
Bandwidth Metrics
Big buffer hits
Big buffer misses
Buffer create failures
Buffer failures
Buffer utilization
Drop events statistics
Medium buffer hits
Medium buffer misses
Open socket (s)
Outbound counters
Outbound counters for non-ATM
Small buffer hits
Small buffer misses
Total huge buffer hits
Total huge buffer misses
Total large buffer hits
Total large buffer misses
Total number of collisions
CPU Metrics
Component operating status
CPU load
CPU usage (one-minute average)
CPU usage (five-minute average)
CPU usage (five-second average)
CPU utilization
CPU utilization (Last one minute)
CPU utilization (Last 15 minutes)
CPU utilization (Last five minutes)
CPU utilization (WLC)
Firewall CPU utilization
FRU state
Switch CPU utilization (five-minute average)
Interface Metrics
Aborted interfaces in packets
Backplane utilization
Ignored interface (s) in packets
Input packet drops
Interface collisions
Interface in CRC errors
Interface in giants
Interface in runts
Interface input bits
Interface output bits
Interface reset count
Memory Metrics
Disk utilization
DRAM size
Free 1550K buffers
Free 256K buffers
Free 4K buffers
Free 80K buffers
Free memory
Jabber packets
Largest free memory
Memory utilization
Memory utilization (WLC)
Number of fragments
Output packet drops
Output queue size
Packets received
Packets to BC address
Packets to MC address
Rate of tail dropped packets
Router memory utilization
Switch memory utilization
Tunnel in-drop packets
Tunnel in-octet
Tunnel in-packets
Tunnel out-drop packets
Tunnel out-octet
Tunnel out-packets
Undersized packets
Used memory
Other Metrics
Active session count
Associated mobile stations
Associated mobile user (s)
Average delay
Component operating temperature
IronPort temperature
Juniper temperature
Label switched path state
LSP utilization
Mail transfer threads
Outstanding DNS requests
Oversized packets
Pending DNS requests
Redundancy switchover
RSS session failure count
RSS session count
Temperature (WLC)
Total number of octets
Out-of-the-box support for Juniper devices.
In addition to supporting the following Juniper Devices, you can monitor 'n' number of them by creating custom device templates.
Juniper J2300 Router
Juniper J2350 Router
Juniper J4350 Router
Juniper J6300 Router
Juniper M7i Router
Juniper M10i Router
Juniper-EX3200 Switch
Juniper EX4200 Switch
Juniper-EX8207 Switch
Juniper-EX4200-48P Switch
Juniper-SSG-520 Firewall
Juniper SSG 550 Firewall
Juniper-SRX650 Firewall
We do all this and more.
Auto-discover any SNMP device by connecting to its MIB.
Choose from over 10,000 default templates or customize based on your requirements.
Automatically monitor key metrics at the interface level.
Add over 100 performance counters of your choice.
Receive processed SNMP trap messages from your Juniper devices.
Create layer 2 maps and topology maps.
Get prompt alerts about downtime.
View graphs of key performance stats.
Generate predefined and customizable reports.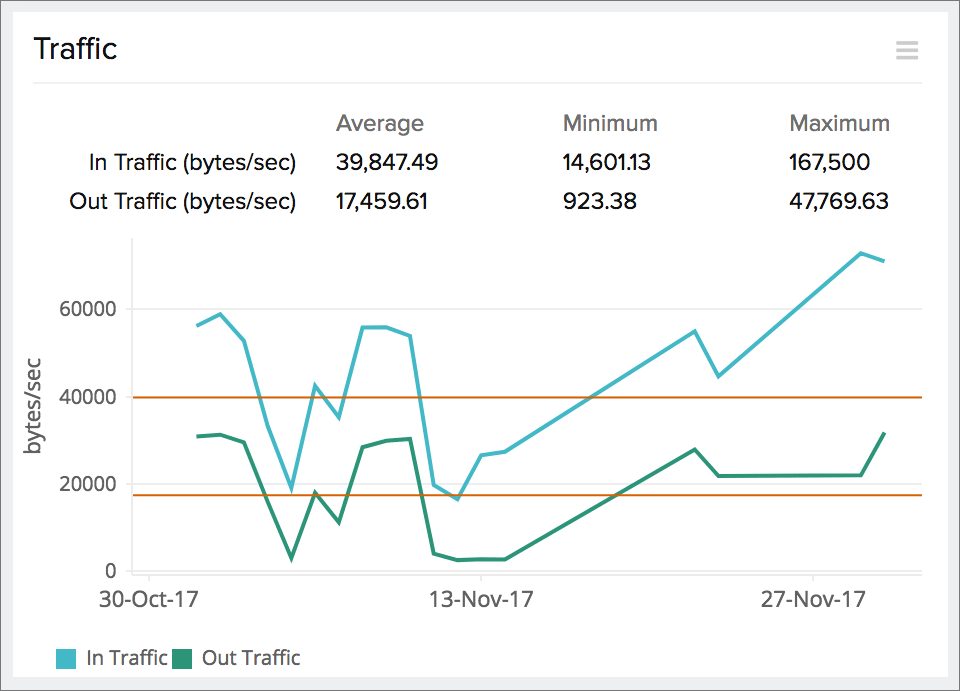 Get more than just performance data.
Scalability
Scales to monitor thousands of network devices
Network Discovery
Add multiple devices at once using an IP range
Alerts and Reports
Get timely downtime alerts, and view reports with graphs
High Availability
Ensure high network availability by optimizing bandwidth allocation