Manage your complex networks with our Fortinet monitoring tool
Be it a Fortigate router or a firewall—monitor it comprehensively with detailed stats on their status, availability, and performance. With the automatic discovery, all you have to do is just connect to your devices' SNMP MIBs to get started. You can oversee the traffic and all the required performance metrics at the interface level.
With over 10,000 default device templates, Fortinet performance monitoring has never been more thorough. Stay on top of outages with instant alerts on your mobile device for complete Fortinet network management.
Monitor Fortigate firewalls and other network appliances with Site24x7's full-fledged virtual private network (VPN) monitoring.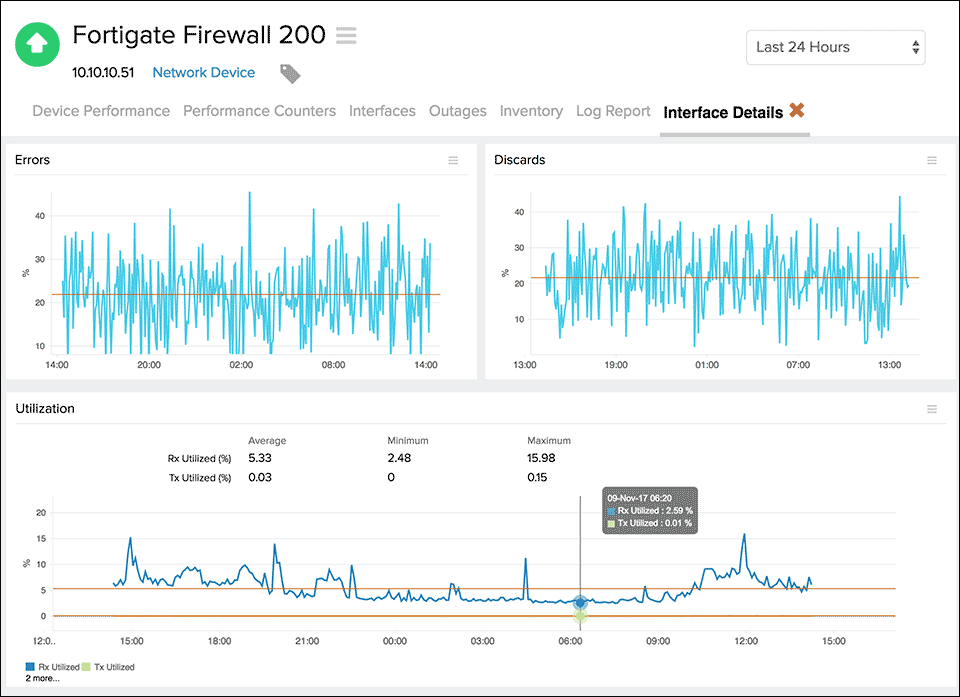 Fortinet performance monitoring metrics
Bandwidth Metrics
Big buffer hits
Big buffer misses
Buffer create failures
Buffer failures
Drop events statistics
Medium buffer hits
Medium buffer misses
Open socket (s)
Small buffer hits
Small buffer misses
Total huge buffer hits
Total huge buffer misses
Total large buffer hits
Total large buffer misses
Total number of collisions
CPU Metrics
CPU usage (one-minute average)
CPU usage (five-minute average)
CPU usage (five-second average)
CPU utilization
CPU utilization (WLC)
Firewall CPU utilization
Switch CPU utilization (five-minute average)
Interface Metrics
Aborted interfaces in packets
Backplane utilization
Ignored interface (s) in packets
Input packet drops
Interface collisions
Interface in CRC errors
Interface in giants
Interface in runts
Interface input bits
Interface output bits
Interface reset count
Memory Metrics
Disk utilization
Free 1550K buffers
Free 256K buffers
Free 4K buffers
Free 80K buffers
Free memory
Jabber packets
Largest free memory
Memory utilization
Memory utilization (WLC)
Number of fragments
Output packet drops
Oversized packets
Packets received
Packets to BC address
Packets to MC address
Router memory utilization
Switch memory utilization
Tunnel in-drop packets
Tunnel in-octet
Tunnel in-packets
Tunnel out-drop packets
Tunnel out-octet
Tunnel out-packets
Undersized packets
Used memory
Other Metrics
Active session count
Associated mobile stations
Associated mobile user (s)
IronPort temperature
Mail transfer threads
Outstanding DNS requests
Pending DNS requests
Temperature (WLC)
Total number of octets
Out-of-the-box support for Fortinet devices
In addition to supporting the following Fortinet devices, you can monitor 'n' number of them by creating custom device templates.
Fortigate Router 3140B
Fortigate Router 500
Fortigate Firewall 1000A
Fortigate Firewall 100A
Fortigate Firewall 200
Fortigate Firewall 200A
Fortigate Firewall 200B
Fortigate Firewall 300
Fortigate Firewall 300A
Fortigate Firewall 3600
Fortigate Firewall 3600A
Fortigate Firewall 400A
Fortigate Firewall 500A
Fortigate Firewall 50A
Fortigate Firewall 60
How Site24x7 monitors Fortinet devices?
Automatically discovers SNMP devices by connecting to its MIB.
Chooses from over 10,000 default templates or allows you to customize based on your requirements.
Thoroughly monitors key metrics at the interface level.
Allows you to add over 100 performance counters of your choice.
Sends processed SNMP trap messages from your devices.
Creates layer 2 maps and topology maps.
Sends prompt alerts about downtime.
Displays graphs of key performance stats.
Generates predefined and customizable reports.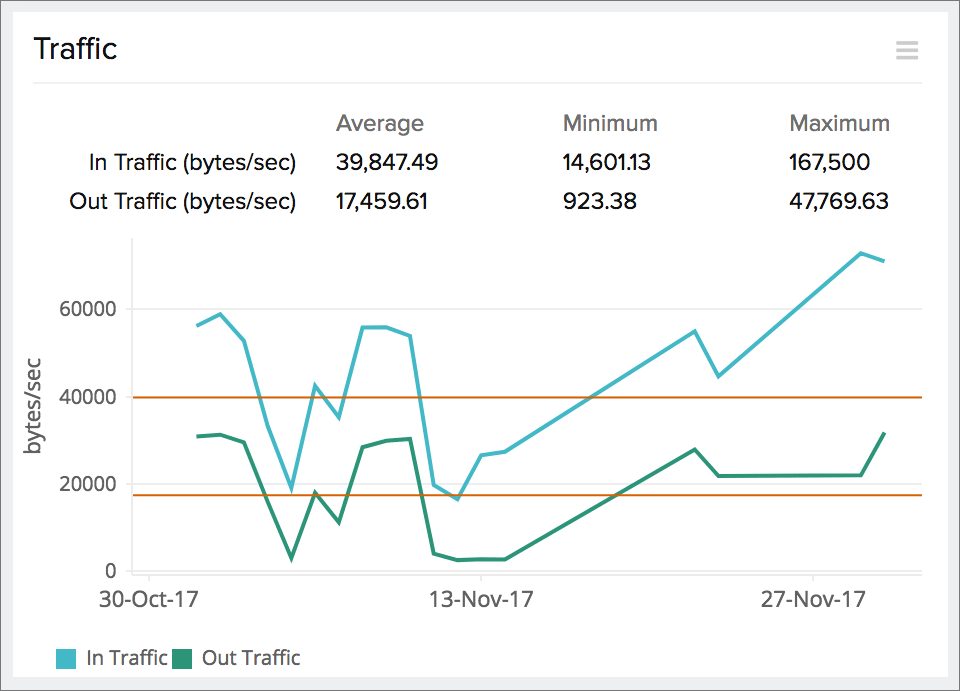 Get more than just performance data
Scalability
Scales to monitor thousands of network devices
Network Discovery
Add multiple devices at once using an IP range
Alerts and Reports
Get timely downtime alerts, and view reports with graphs
High Availability
Ensure high network availability by optimizing bandwidth allocation
Obtain complete visibility into your network infrastructure