Data Center infrastructure (DCIM) solutions are a vital tool for any data center professional, however it can be difficult at times to justify the initial investment to management. ~Fortunately by considering a few key metrics regarding DCIM implementation, you can ensure that the solution you choose is appropriate for your organization.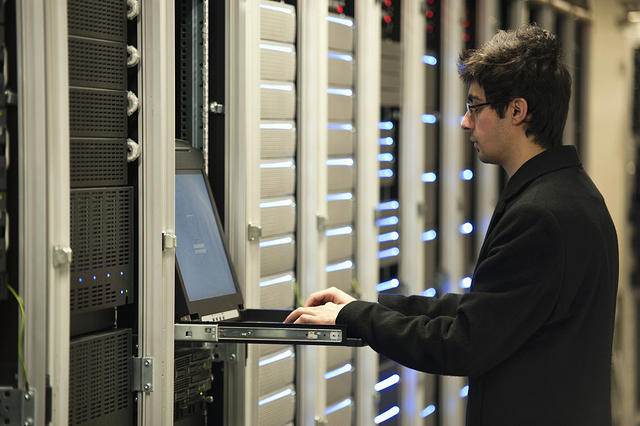 Key Functions of DCIM Solutions
Before going into the metrics used to measure DCIM efficiency, it is important to note the core functionality of solutions on the market today.
Maintenance and Change Control
Once data is effectively collected, having a handle on ongoing maintenance and change control is crucial to the success of your data center. While the capacity of DCIM solutions varies by vendor, at its foundation the software needs to be able to:~ update their own configuration based on operator actions, create a list of actions based on what-if scenarios generated by the operator, and allow generation of work orders in existing systems. Aside from these requirements, one of the most important capabilities is to have the DCIM software communicate with other asset management systems which are already in the workplace.
Data Collection
As mentioned earlier, data collection is crucial to ensuring the long term success of your data center. DCIM solutions need to be able to collect real-time information such as:~ rack and equipment locations, circuit capacities, cooling data, thermal data and much more. Since data centers often have equipment from multiple, often competing vendors, DCIM solutions need to be capable of handling products from a variety of vendors.
Effective Control Interfaces
Alerts, consolidated control panels and the ability to control the entire data center from a central location is crucial. Aside from having a unified control panel, having reliable alerts are vital to ensuring your data center is always operating at maximum efficiency. Due to the volume of data collected, setting alerts is not as easy as configuring triggers for other information technology projects. Data needs to be aggregated, filtered, and sent across multiple sources which can then be used by the operator to make an informed decision. As far as controlling the data center from a central location, different tools provide varying capabilities to streamline data center operations.
Metrics to Quantify DCIM Solutions
Since there are many DCIM solutions on the market, knowing the metrics that matter most for your business will help you ensure that you are getting the most effective solution for your datacenter. Below are some of the most important considerations you should examine before making a final DCIM purchasing decision:
Power Planning based on Actual Usage
Many DCIM solutions simply base their power management figurations based on nameplate energy figures provided by vendor libraries or the users. More intelligent DCIM solutions provide users with actual energy consumption figures which are calculated by reaching into the system and then provider granular energy usage figures. The ease of use when processing energy data is a key differentiator within DCIM software. For more information on energy efficiency calculations, Site24x7 has an article on tools which can be used to simplify your job.
In many cases, the energy savings gained from DCIM software mean the suite can easily pay for itself after a few years of usage.
Improved Efficiency
By using a proper DCIM solution, you can easily identify servers in your data center which are underutilized. According to a survey by a leading hardware vendor as many as ten percent of servers in data centers are "ghost servers" which run no applications but still consume 70 percent of the resources a fully used server utilizes.
Aside from measuring existing energy usage, you can also quantify the effectiveness of DCIM software by allowing you to accurately project the impact of data center changes before they are made. By using a reputable DCIM solution, you can simplify compliance with green energy standards, possibly leading to improved eligibility for tax credits.
Improved Manageability
One of the biggest metrics to keep in mind when evaluating DCIM solutions is the amount of downtime reduction you experience after implementing the DCIM solution.~ Additionally DCIM solutions can lower the cost of compliance with rigorous industry standards such as Sarbanes-Oxley, HIPA and CFR-11 by allowing you to have a single source of data to be used to confirm compliance with the industry.
Aside from compliance with industry standards, proper DCIM solutions also help you to improve revenue per square foot of your facility. Since new or existing data centers are substantial investments, the ability to only build out when needed can save you millions of dollars. DCIM solutions let you reclaim capacity by using actual specification data rather than nameplate data based on vendors.
Conclusion
Although DCIM software can require a significant investment, the initial upfront costs often become insignificant when viewing costs from a holistic perspective. Overall it is crucial for management to not just look at the initial required capital, but also to consider the improvements which are made to the datacenter workflow.
Read more about the importance of DCIM software.