Alerts are an essential element of any monitoring solution, but these tiny, ever working messenger soldiers can become rogue and give your IT folks sleepless nights. If you want to stop chasing around these rogue agents, read further.
Monitoring Home.
You can either select Site24x7's default monitoring location profile or create and manage custom monitoring location profile. Keep in mind the critical nature of your service and your customers while selecting the primary monitoring location. Monitoring will happen from this location based on the poll frequency.
Take, for example, if your web page hosted at New York has a primary target audience in the United States, select primary and secondary monitoring locations of the North American region. Configure your monitoring locations. Go into Admin > Configuration Profiles > Location Profile and select Add New Location Profile. Once you are in, just click and enable multiple locations to monitor.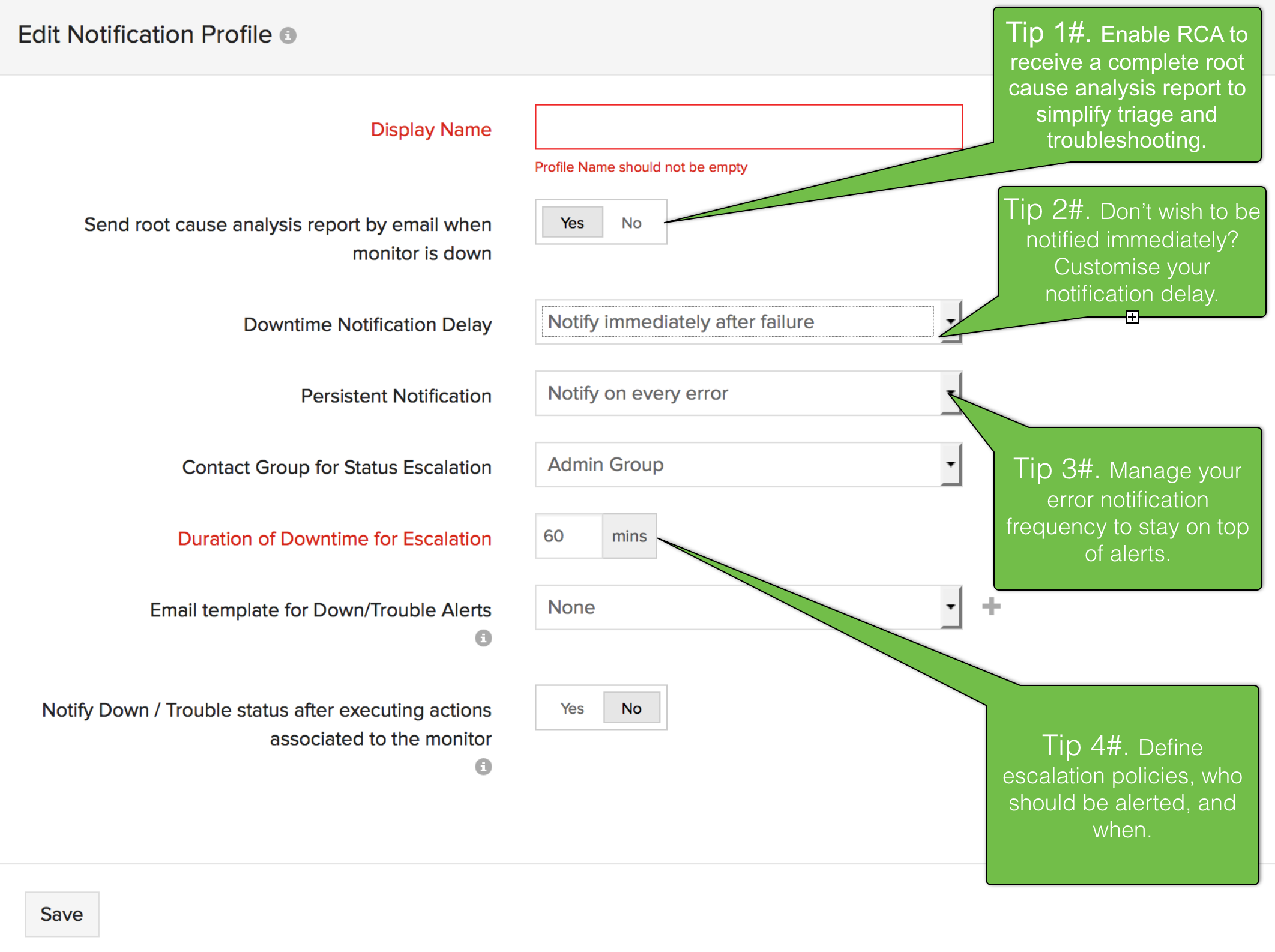 What's in a Name? A lot!
A proper display name will go a long way in reducing ambiguity and providing clarity to the user who reads the notification message, thus helping in reducing the time spent in reading over alerts. Site24x7 recommends you to have a standardized naming policy to provide consistency to your alerts. Some of the suggested best practices include;
Display names based on your resource types.
Display names based on your user groups.
The Right Time.
Customize the frequency of your alerts to stay on top of it. Configure when you want to receive notifications, whether you want to be notified immediately or after a specific number of failures. For high~priority resources, set up to be notified immediately.
Note: Failure will only be determined when the resource is unavailable when it's polled from its secondary location. When a website is down at, say L1 (primary Location), Site24x7 will check from L2 and L3 (secondary locations) and sends notification only when the website is detected as down from both the locations. Additionally, Site24x7 does a re-check of your website?s uptime from two other random locations and takes a screenshot using a real browser; thus nullifying the issue of false alerts. We recommend you to select three locations to minimize false alerts
The Right Person.
User Groups help you to organize individuals and groups so that they receive alerts and reports based on their responsibility. Configure the user group profile to make sure the right person gets the right notification at the right time. Add more user groups for different use cases and facilitate rapid assessment of alerts.
The Right Action.
Create tailor-made actions for individual alerts using the actions profile. Decisive decision making can decrease downtime and improve your team's productivity.
Configure your alerting and escalation policies. Go into Admin > Configuration Profiles > Notification Profile and select Add New Notification Profile.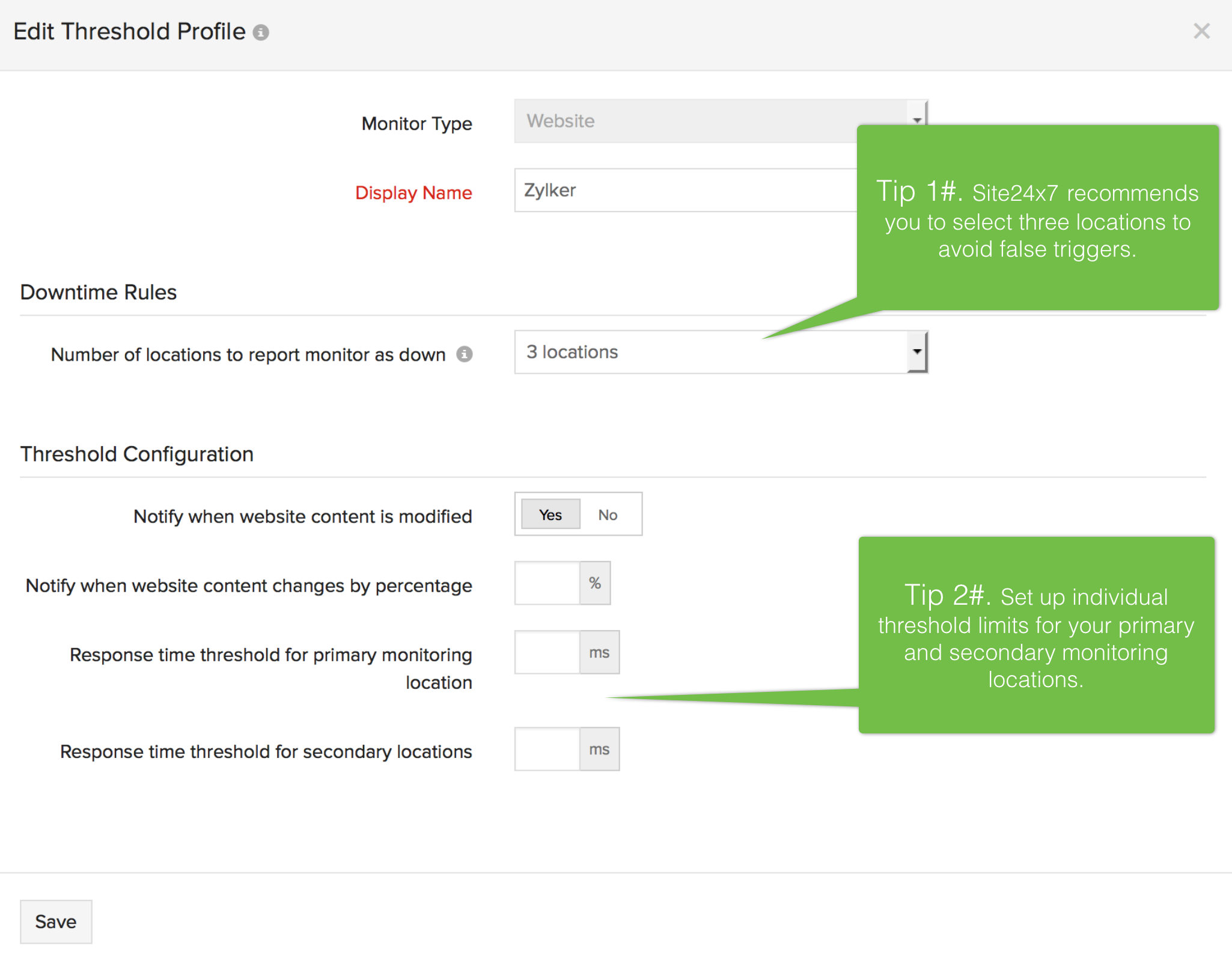 Alerts - Tailor Made.
Configure and manage custom alert conditions for Site24x7's different monitoring products. For example, you can create alert policies catering to critical metrics of your various resources, viz. page load time for a website monitor, CPU usage and buffer time for a Server.
OUCH!
How much pain can you withstand before crying out? Similarly how much can your application, server, or resource endure before triggering an alert? Make sure you take into account round trip delays/network delays when you are setting up thresholds.
By configuring thresholds, you will avoid escalating issues based on temporary network glitches occurring at a single location.Ensure you set up optimum threshold limits to avoid any false alerts.
Configure your threshold policies. Go into Admin > Configuration Profiles > Thresholds and Availability and select Add Threshold Profile.
Dig Deep Down.
Enabling Root Cause Analysis (RCA) will provide you with a detailed downtime report. The automatically triggered report will provide you all the actionable insights required to resolve your issues.
Notification Channel.
Choose the notification channel which best suits your functionality. Select from among the following notification channels, viz Email, SMS, phone, IM, Twitter. Integrate, trigger, and resolve alerts using AlarmsOne or PagerDuty. Our Zapier integration lets you integrate Site24x7 with many other apps to automate your workflow.
Reduce Alert Noise.
 Change alert conditions with time and use case to optimize your alerts. Reduce your alert noise by taking into account the type and nature of the resource you want to monitor. For example, if you are rolling out a new release and want to monitor its performance make sure you set up relaxed alert conditions to avoid triggering false alerts.
 Ready to eliminate false alerts and get the actionable insight that you need to resolve problems faster? Sign-up for a free Site24x7 trial account! Want to share your monitoring tips on how you are avoiding false alerts with Visit our Site24x7 community Forums!
Happy Monitoring with Site24x7!