Troubleshoot poor VoIP performance using our VoIP monitoring tool
VoIP monitoring is the tracking of different metrics including jitter, latency, and packet loss, all of which affect the quality of a VoIP call. Simply put, it is monitoring the quality of service (QoS) of VoIP calls, which combines both fault and performance management. Tracking metrics from the source to the destination and vice versa along with mean opinion score (MOS) and round trip time (RTT) will help to ensure that everything is under control throughout communication and in the connection.
Choppy voices, audio delays, echoes, voice compression, and frequent call drops are common problems faced during VoIP calls. For all these, analyzing the network and the call transmission across the call path will help to troubleshoot and rectify the issues. Site24x7's VoIP monitoring tool monitors the following metrics:
Positive jitter
Negative jitter
Latency
Packet late arrival
Packets out of sequence
Missing managed internet access (MIA) packets
Complete visibility across the call path with Cisco IPSLA-based monitoring
Monitor two-way communication
VoIP call issues can occur at any point in a call path. Monitor metrics from the source to destination and vice versa to locate the exact point of trouble, analyze it, and rectify it.
Obtain the success rate stats
Get insights on your call path availability with the success, failure, error, and busy percentage of your call path. Identify the peak and idle time directly from graphs, and get a glimpse of usage trends.
Pinpoint packet errors
Packet errors are a major cause for VoIP call failures and interruptions. Get deep insights into packet error stats categorized as delayed packets, missing packets, and out-of-sequence packets to help you track the exact cause of the issue.
Avert issues by configuring thresholds
Configure threshold limits for all key metrics, and receive real-time alerts on mediums of your choice. Act before interruptions hinder your call by rerouting your calls over different paths when any network issue is detected and reported.
Single console VoIP QoS monitoring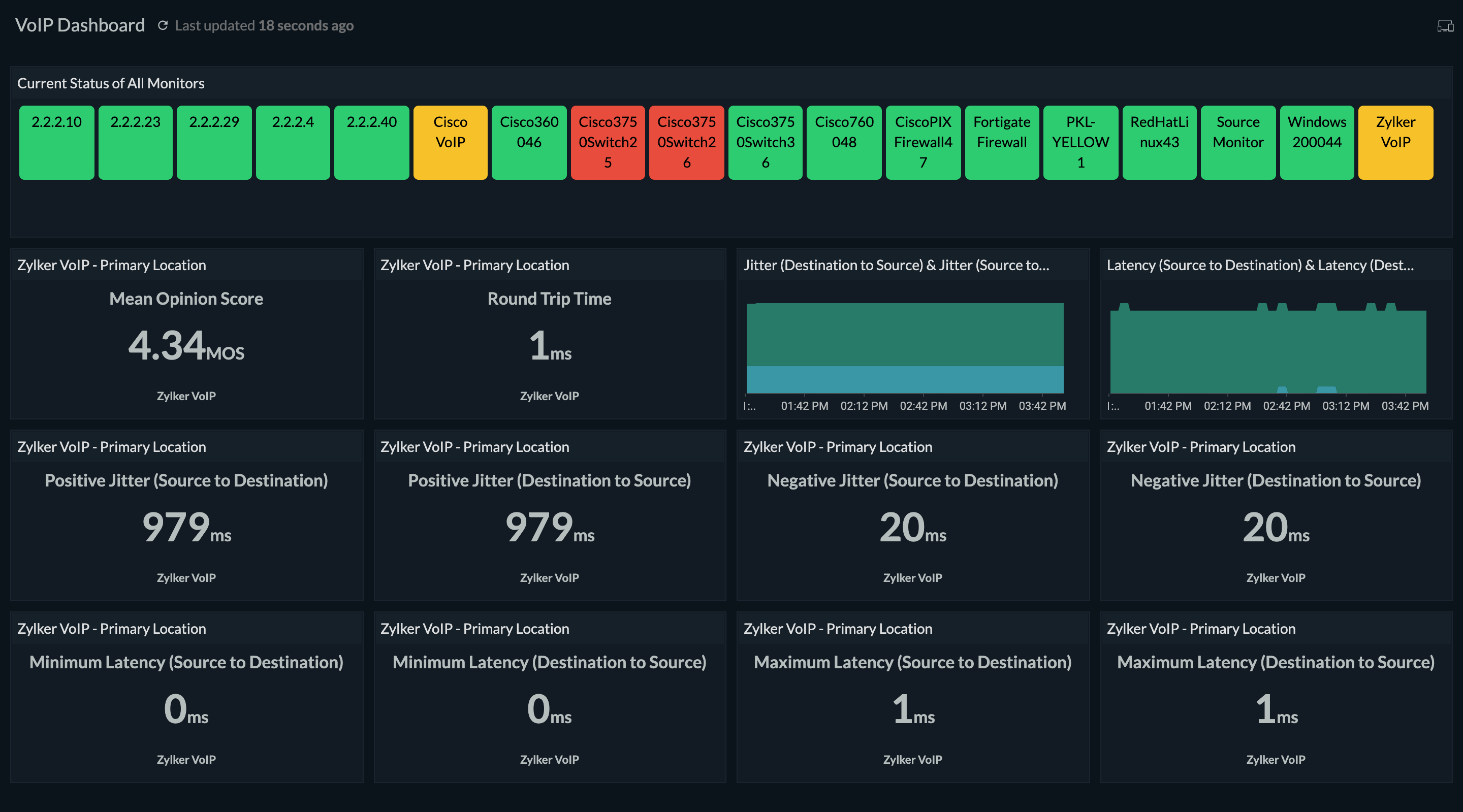 Why Site24x7 for VoIP monitoring?
Versatile alerting
Get SMS messages, emails, voice calls, or push notifications via Android and iOS apps, RSS feeds, and third-party integrations.
Out-of-the-box reports
View top N reports, health trend reports, and create custom reports of your choice.
Custom dashboard
Add widgets of your choice to the custom dashboard, and view key metrics in one place.
Mobile app
Monitor your resources on the go by simply installing our Android and iOS apps.