Out of the box SSL certificate monitoring from the cloud.
Site24x7's out of box SSL certificate monitor periodically checks the validity of SSL certificates installed in your Web server from the cloud and triggers an alert before they expire. Detect certificate revocation, enable SHA-1 fingerprint check for checking certificate tampering and even detect any blacklisted certifying authority. Continuously monitor and manage the SSL certificates of custom and important web services like HTTPS, SMTP, POP, IMAP and FTP from 90+ global monitoring locations. Promote your website's trustworthiness and be sure of providing a secure environment for your website visitors.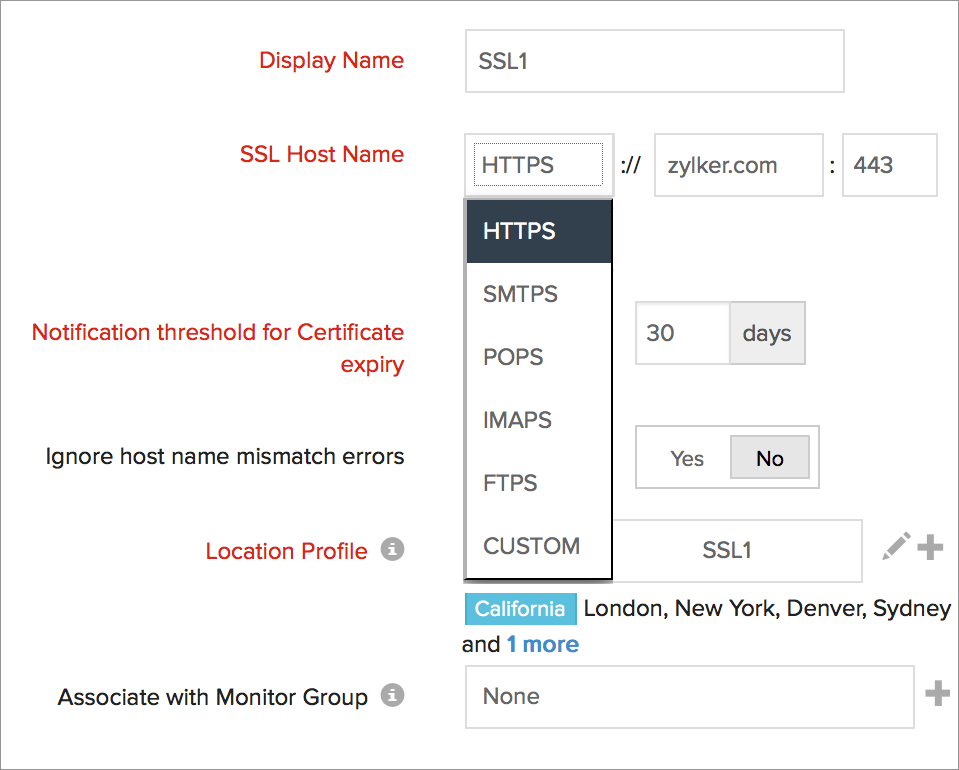 Monitor the SSL certificates of SNI enabled web servers.
When your Web server employs SNI and has multiple SSL certificates on the same IP address it becomes imperative to obtain the correct SSL expiry information. Site24x7's SSL certificate monitoring tool helps you monitor SNI SSL certificate expiration with ease. Capture information regarding certificate authority, certificate owner, date of issue, date of expiry and days left for expiration.

Never risk losing a domain.
Manage your domain names easily with Site24x7's Domain Expiry Monitor. Facilitate easier domain renewal by actively monitoring the expiry of your domain names. Set reminders to get notified before your domain's expiry. Capture critical domain records like:
Domain registration date
Domain expiry date
Days to expiry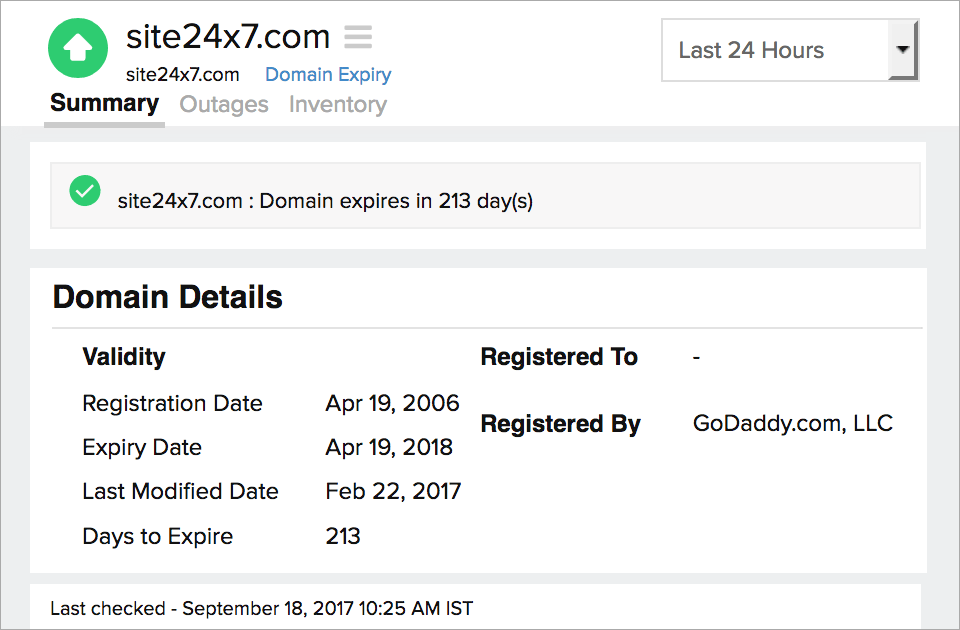 Get notified before expiry.
Keep track of the validity of your SSL certificates, configure custom thresholds on when to be notified, renew your SSL certificates well in advance and negate service disruption, compliance issues and outages. Site24x7's SSL certificate monitor helps you to:
Automate SSL certificate monitoring for all the certificates deployed
Improve website and web application availability
Negate unplanned service disruption and outages
Reduce direct financial impact with lost customers and lost revenue
Build trust and credibility among your customers.