What is serverless computing?
Serverless computing (also known as serverless for short or Function as a Service (FaaS)) is an execution model where the cloud providers (AWS, Azure, or Google Cloud Platform) are responsible for executing a piece of code by dynamically allocating resources, adopting a model were users only pay when the functions are invoked without the need of any upfront payment towards server software or hardware costs. A serverless architecture allows users to write and deploy code without the hassle of worrying about the underlying infrastructure. Applications are broken up into individual functions that can be invoked and scaled individually.
A single platform to monitor your Azure serverless services.
Keep track of the number of the total requests received by Azure Functions, bytes sent and received, and other critical metrics in your serverless Azure infrastructure. Measure performance counters including invocations, internal errors, and memory to ensure smooth app development.
See the uptime status of function apps right from the infrastructure dashboard view with an intuitive widget.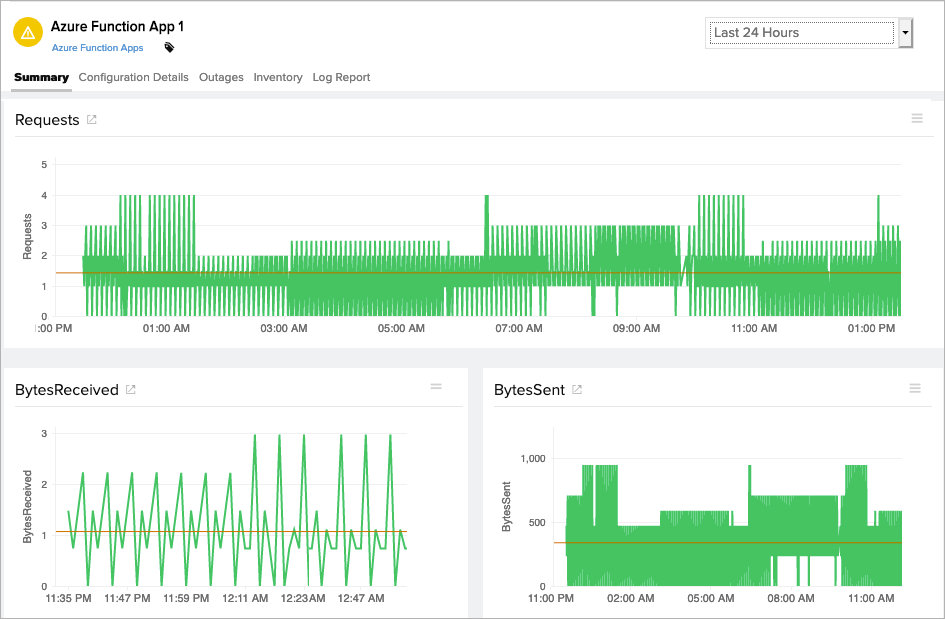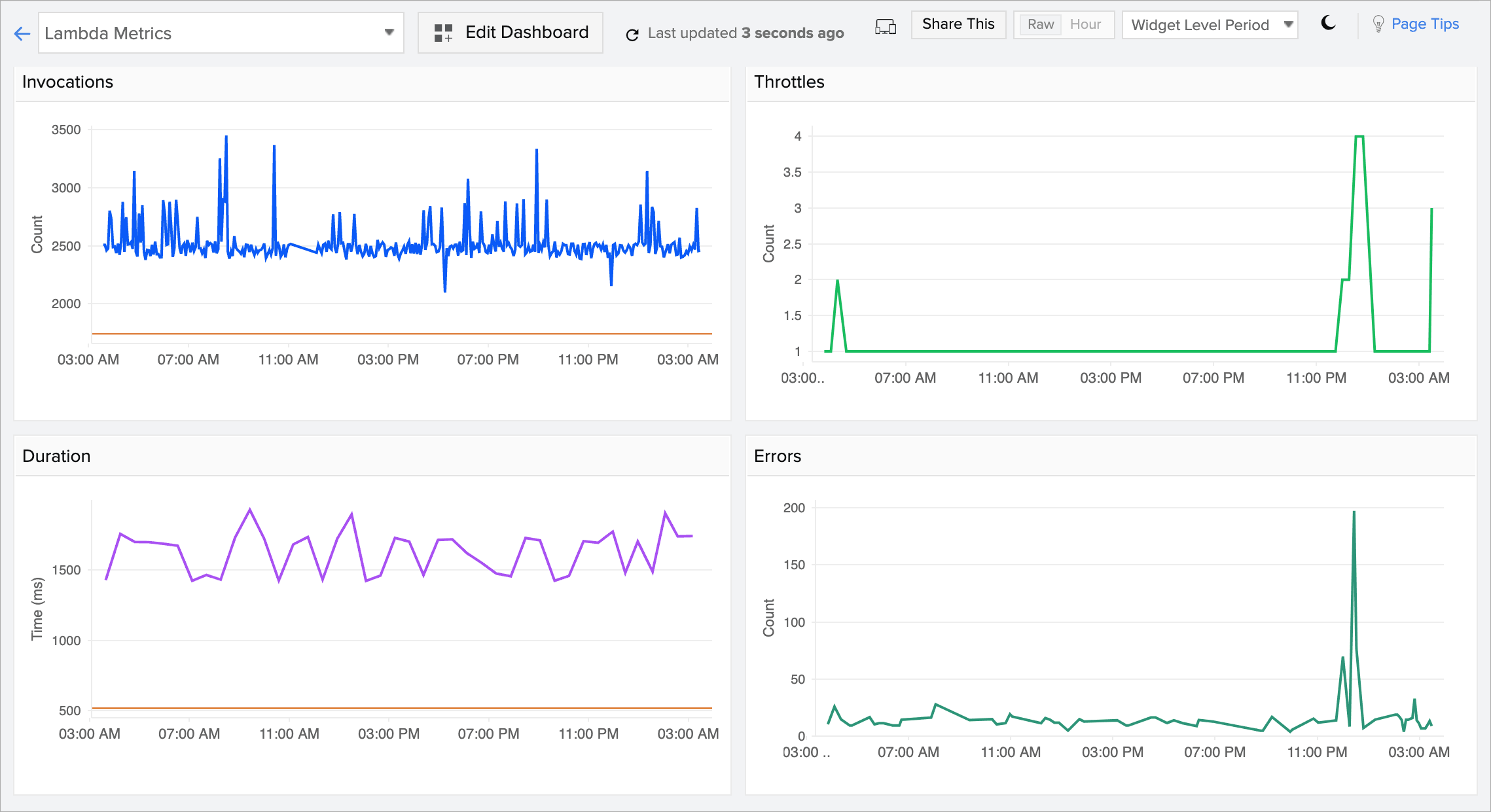 Get insights into your serverless Lambda environment.
Collect metrics on function activity, code execution time, and errors to optimize performance. Monitor and measure key performance metrics including invocations, errors, duration, and throttles. Configure alarms to identify function latencies and code execution bottlenecks, and debug function errors and crashes with log support.
Trigger automatic notifications based on threshold violations for multiple statistics of the same attribute.
Monitor your entire Google Cloud infrastructure in near real time.
Stay on top of the availability and downtime of Google Functions, and ensure peak performance. Analyze the events timeline; pinpoint which function was Down, Critical, or in Trouble during a particular day/time; and get detailed visibility into critical performance parameters like Execution Times, Memory Usage, and Network Egress to ensure all the functions are performing optimally.
Identify and detect the root cause of a problem quickly with our AI engine. Respond instantly to performance issues by auto-resolving problematic resources using Site24x7's IT Automation tools.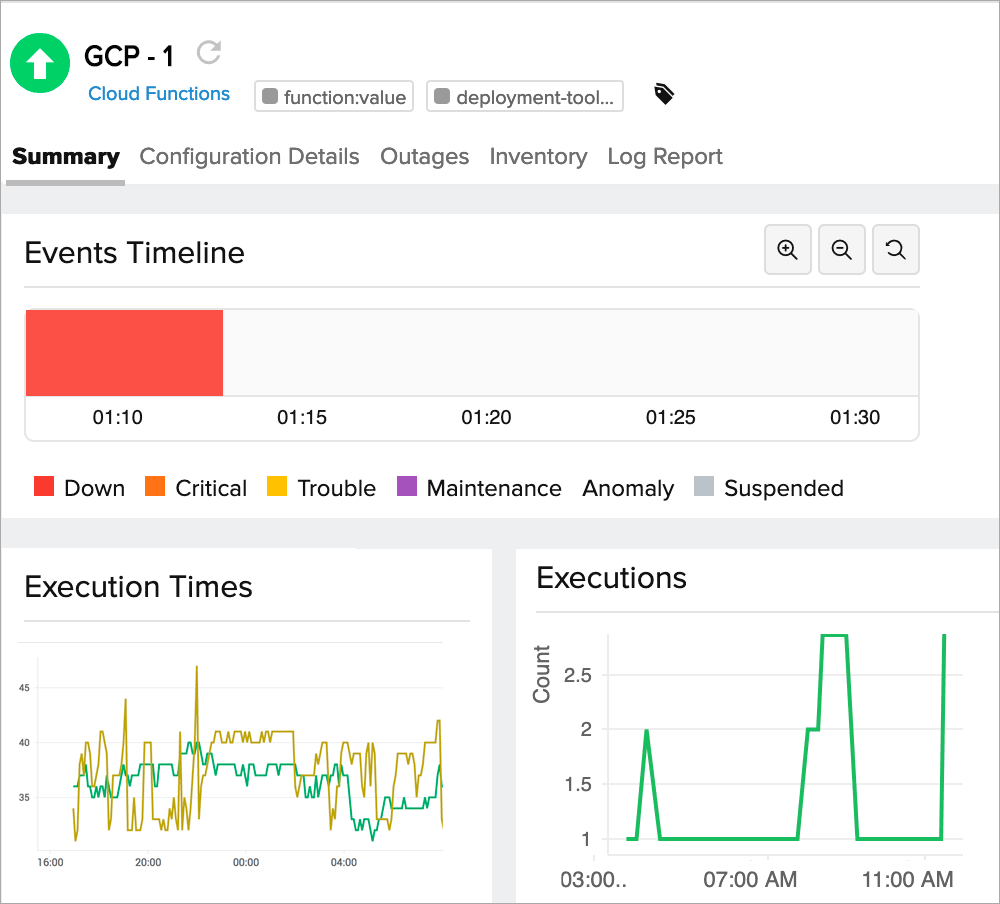 Monitor your hybrid cloud infrastructure from a single unified console
Over 13,000 actively paying customers