View 60+ performance metrics in a single dashboard.
Get in-depth visibility on critical resources to ensure your server is up and running at peak performance.
A Heat Map Analysis to get a quick look on the status and performance of your server over the last seven days
Load Average
CPU, Memory and Disk Utilization
System Busy and Idle Time
And 60+ metrics!
Tired of repeating manual tasks? Add one of our IT Automation tools and orchestrate automatic actions to remediate incidents and events.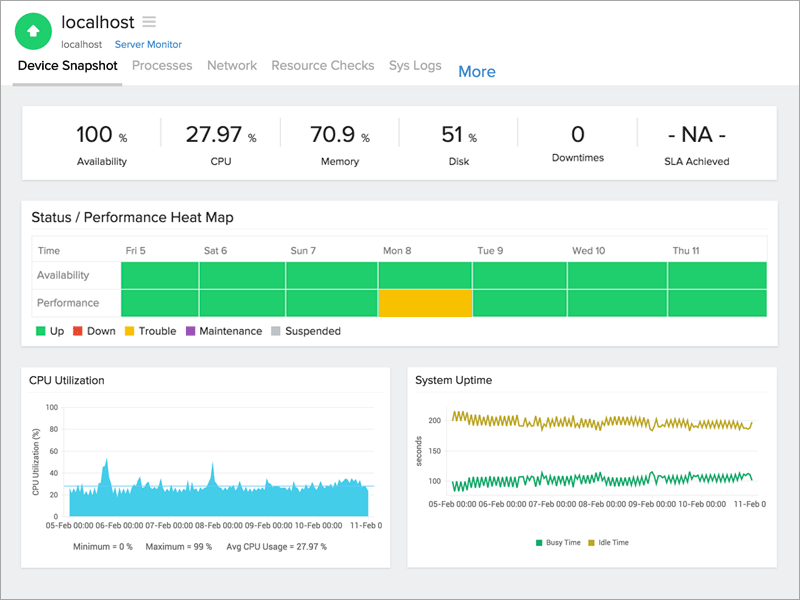 50+ plugin integrations to monitor your entire app stack.
Monitor hosts, devices, services, protocols, applications and resources that matter the most to you. Our Nagios plugin allows you to execute all your existing Nagios plugins and harness the power of the open source community. We support many Linux distributions including Debian, Ubuntu, CentOS, RedHat, Madriva, Fedora, Suse, CoreOS, Raspberry Pi and ARM Processor.
Don't find the plugin you are looking for? Write your own plugin in Python or Shell script and start monitoring!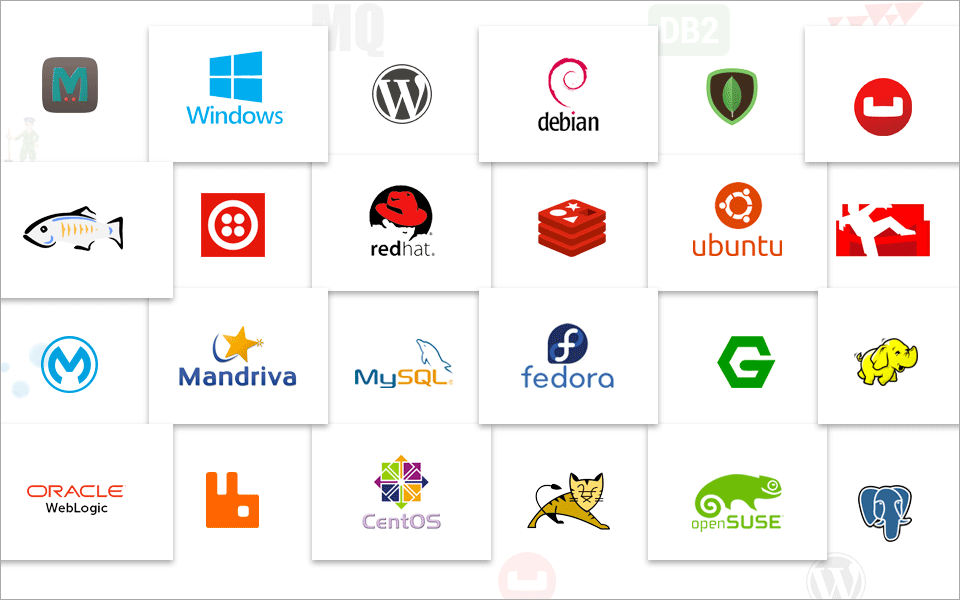 Monitor processes and network traffic.
To completely monitor the performance of your server, it is not sufficient to know just about the CPU, disk, and memory usage. Monitoring each and every process running on the server is equally important to help analyze the system load.
Get process stats like:
CPU and Memory Usage of every process
Occurrence of a particular instance
Thread and Handle Count
The same way, get insights on network stats like:
Input and Output Traffic
Data Sent and Data Received
Packets Sent, Packets Received, and Error Packets
Bandwidth Utilization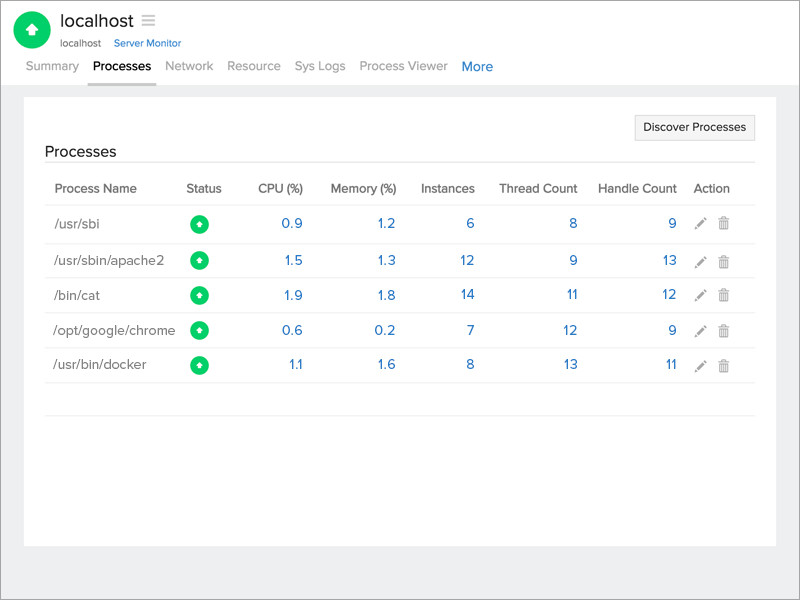 Keep a check on the files, directories and syslogs.
Even a minute change in your files, directories, and syslogs is immediately reported to make sure your server performance is not affected in any way. Set filters by adding keywords, severity level and facility level.
Some of the resources we monitor are: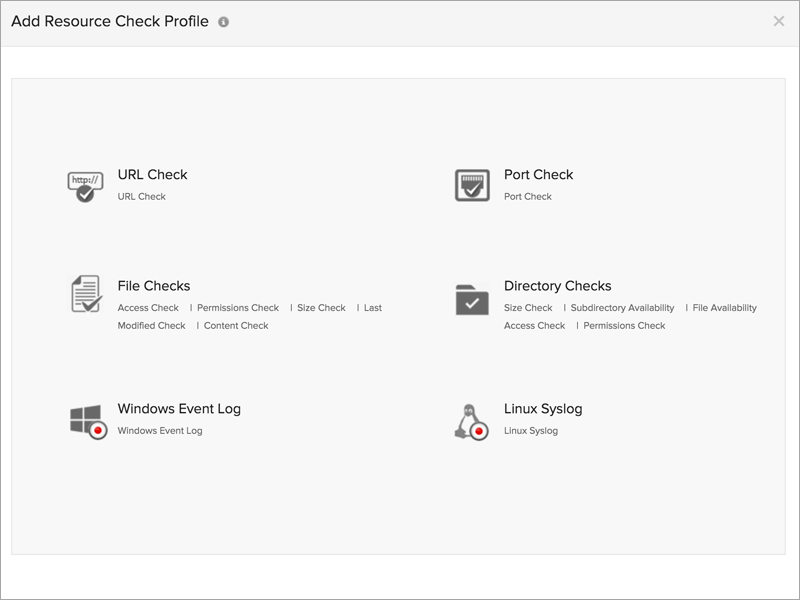 View intuitive reports in an easily customizable dashboard.
Monitoring is not complete without proper visibility of the collected performance data. Generate numerous reports and customize their view based on your convenience.
Drill down and identify various trends along a custom-defined hourly, weekly, monthly or yearly basis.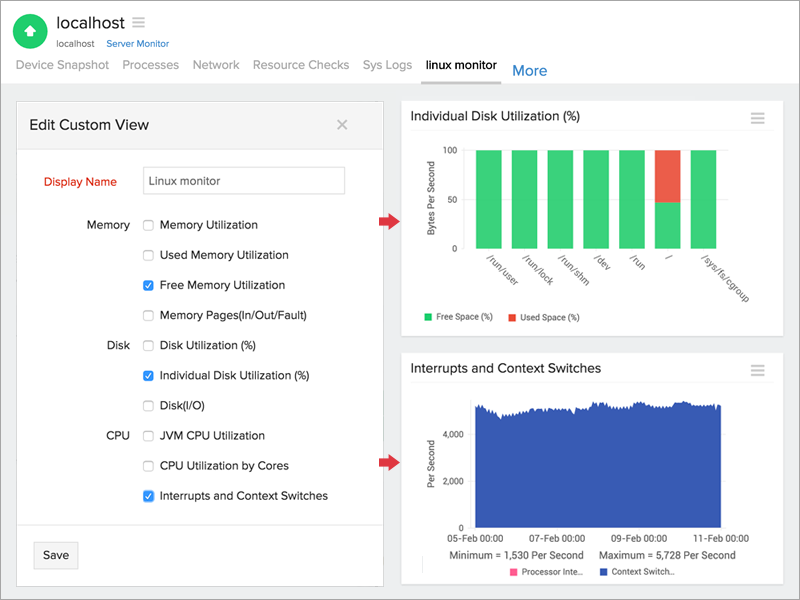 How it works?
A root or a non root user can install the Linux agent.
Download and install the agent in your server. Bulk install using Chef, Puppet, SaltStack, and Ansible.
The agent will collect the system metrics, that can be viewed in our web client.
Set thresholds and be notified instantly of any breach via email, SMS, or any of our third party integration tools like Slack and PagerDuty.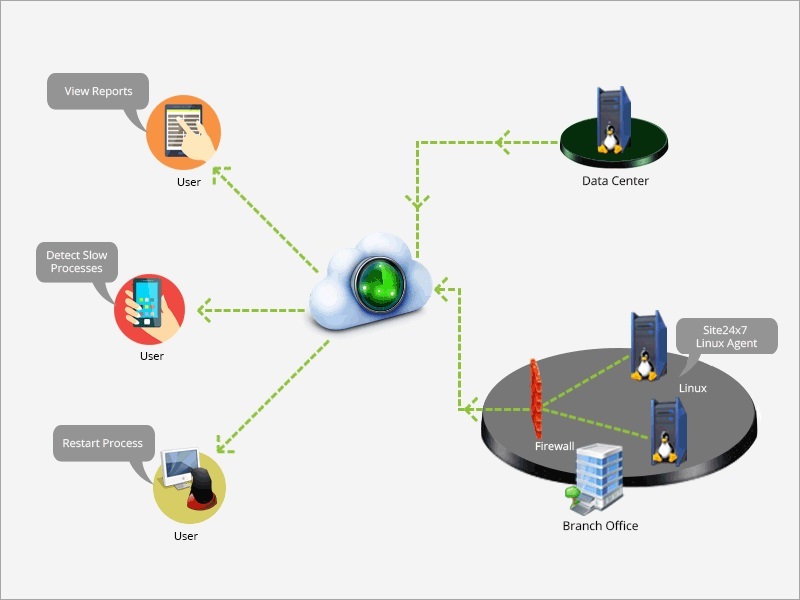 Server Performance Monitoring