Visualize the user journeys with RUM monitoring
Proactively monitor every step of your user journey with our AI-powered RUM monitoring tool. Instantly identify and troubleshoot potential bottlenecks before they affect your users.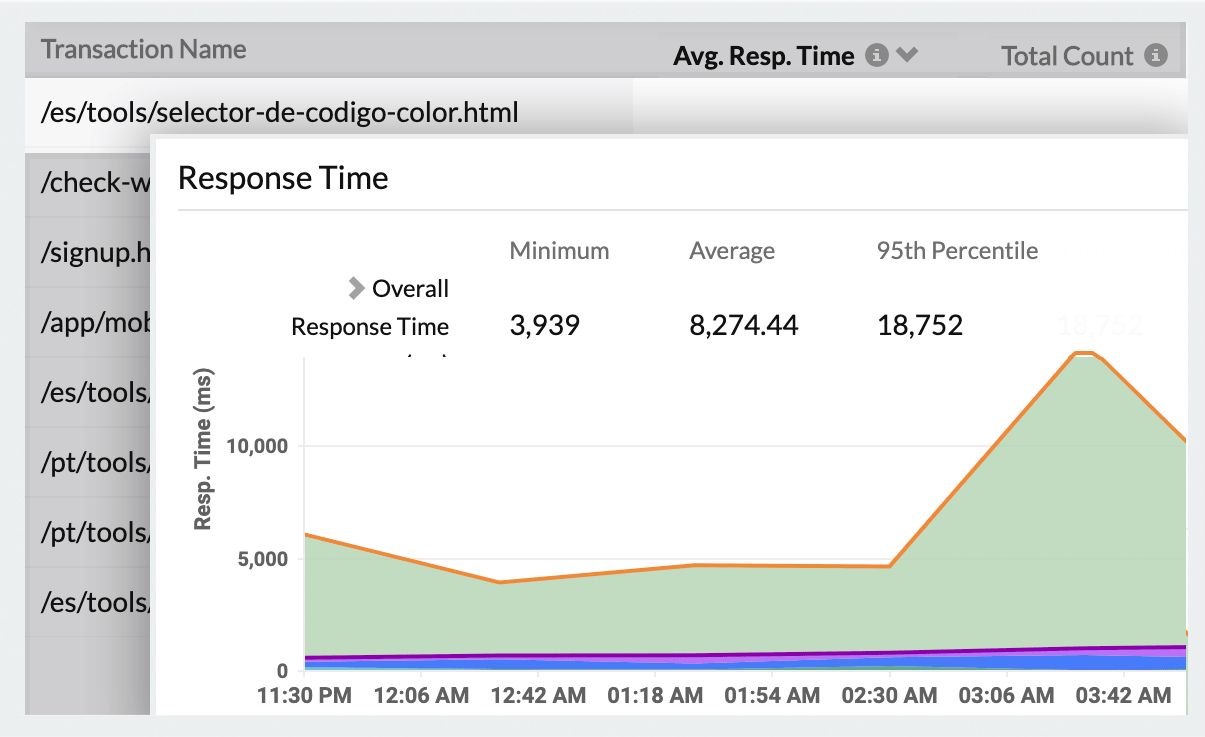 Identify slow-performing transactions
Analyze the response time and throughput of individual web transactions with graphical representations. Obtain performance insights quickly by measuring the response time and throughput of every single web page. Find out if a single URL is slowing down your entire website.
An overview of real user monitoring (RUM)
What is real user monitoring?
Real user monitoring is a technique that involves capturing and analyzing data from user interactions on a website or application. RUM is crucial for monitoring an application's front-end performance and enhancing the user experience. It provides a comprehensive view of the application's front-end and back-end performance, along with potential bottlenecks, as end-users experience them in real time.
How does real user monitoring (RUM) work?
Real user monitoring (RUM) works by collecting data directly from end-users' browsers to provide insights into how they are interacting with your website or application. This method involves embedding a JavaScript snippet directly into the website or application to collect performance metrics. This JavaScript code collects various performance metrics directly from the end-user's browser as they interact with the website or application. The collected data is then sent to a monitoring tool, which provides useful insights into the website or application's performance from the perspective of end-users. By analyzing these insights, developers can gauge the user experience, visualize user journeys, and assess the impact of optimizations.
What are the benefits of real user monitoring?
Real user monitoring (RUM) provides various benefits that help organizations optimize the performance and user experience of their web or mobile applications. Some of the benefits of RUM monitoring are:
Live data capture: RUM monitoring captures data in real-time as users interact with the application, providing organizations with accurate insights on the end-user experience.
Comprehensive metrics: RUM monitoring tools provide performance metrics from different perspectives, such as geographies, operating systems, browsers, devices, and networks. This allows for a comprehensive view of the application's performance and can lead to an improved digital experience.
Precise error detection: Real user monitoring tools can identify anomalies, even at the page level, and provide alerts to help troubleshoot issues quickly. This proactive approach can enhance application performance and increase user satisfaction.
What are the challenges of real user monitoring?
For all the advantages that a RUM monitoring tool comes with, it also falls short in a few aspects. Some of the major limitations of RUM include:
Device speed: Slowness in the end user's ISP or device configuration may pose challenges while rectifying errors captured through RUM.
Minimal data during pre-production stages: It is difficult to provide valuable insights before the application goes into production, due to the lower incoming traffic volume. Combining RUM with synthetic monitoring solves this issue.
High data volume: Sifting through large amounts of data can be a daunting task.
What is the future of real user monitoring?
Real User Monitoring (RUM) is expected to play an increasingly important role in the future of application performance monitoring. With businesses constantly striving to improve their digital presence, RUM technology provides valuable insights into identifying and addressing front-end performance issues. As customer experience becomes a top priority, RUM is likely to evolve further to meet the growing demand for enhanced digital experiences. By utilizing RUM, organizations can improve the overall performance of their applications, enhance customer satisfaction, and maintain a competitive edge in a fast-paced environment.
Why choose Site24x7 as your real user monitoring tool?
Site24x7's RUM monitoring tool helps track real-user data with an in-depth view, allowing you to comb through fine details on the user experience, find issues, and troubleshoot them before they affect the customer. With Site24x7's RUM solution, you can:
Visualize user journeys within seconds of interacting with your website.
Slice and dice across key dimensions of your website or application to drill down on performance bottlenecks.
Optimize your page for a better user experience and to improve your ranking signal.