Despite all the industrial-scale security measures available to counter cyber frauds, government agencies and reputable businesses are still prey to vicious online hacks.
In February of 2017, a flaw in WordPress' REST APIs was exploited by a group of nefarious hackers. The hackers were able to breach the system and modify the titles and content of numerous WordPress pages, all by bypassing the authentication process using simple HTTP requests. The massive amount of web defacement that ensued was unprecedented—attackers were able to successfully breach over 1.5 million pages spread across 39,000 unique domains.
Just imagine if you had a way to identify and resolve defacements on your website before your customers even noticed. Wouldn't that be great? Well, Site24x7's Website Defacement Monitor helps you achieve just that.
Eliminate vulnerabilities and mitigate hacks with best-in-class monitoring.
Hackers will try to compromise the security of websites using all methods of attack, including simple SQL injections to gain admin access, defacement through FTP servers, and exploitation of weak and vulnerable user credentials.
Robust security measures such as making sure CMS systems are updated, good antivirus protection is in place, reliable hosts and SSL certificates are employed, and strong and secure user credentials for login are being used will help you stay protected to some extent.However, having an in-depth monitoring mechanism can further reduce the impact of an attack by notifying you whenever your website gets compromised. Now, let's discuss a specific scenario in which Website Defacement Monitoring can be fruitfully employed to clamp down on website mutilations.
An intelligent baseline engine to detect website mutilations.
Say you're a reputable online publishing house that caters to a huge paid subscriber base. Since the authenticity of the blogs you publish is of paramount importance to you and your subscribers, any unauthorized modification of the content, especially of a blog that's already been proofread by your editorial team, must be scrutinized. For instance, what if a disgruntled employee tries to tamper with your online resources? That would be even more damaging and difficult to track! Site24x7's Defacement Monitor is all you need to derail any such attack.
Once you set up the Defacement Monitor, it quickly baselines the original HTML source and its assets for up to ten webpages under your domain, continually monitoring and validating them against the baseline version during further polls. What you get is a heads-up on any potential attempt to manipulate the content and assets on your webpage. Apart from any textual content modification, it also identifies any defacements with regards to HTML elements like web links, images, anchors, IFrames, and script elements on your webpage. With the help of multiple widgets, Site24x7's Defacement Monitor clearly showcases the elements and instances that were tampered with, allowing you to prevent any unauthorized changes.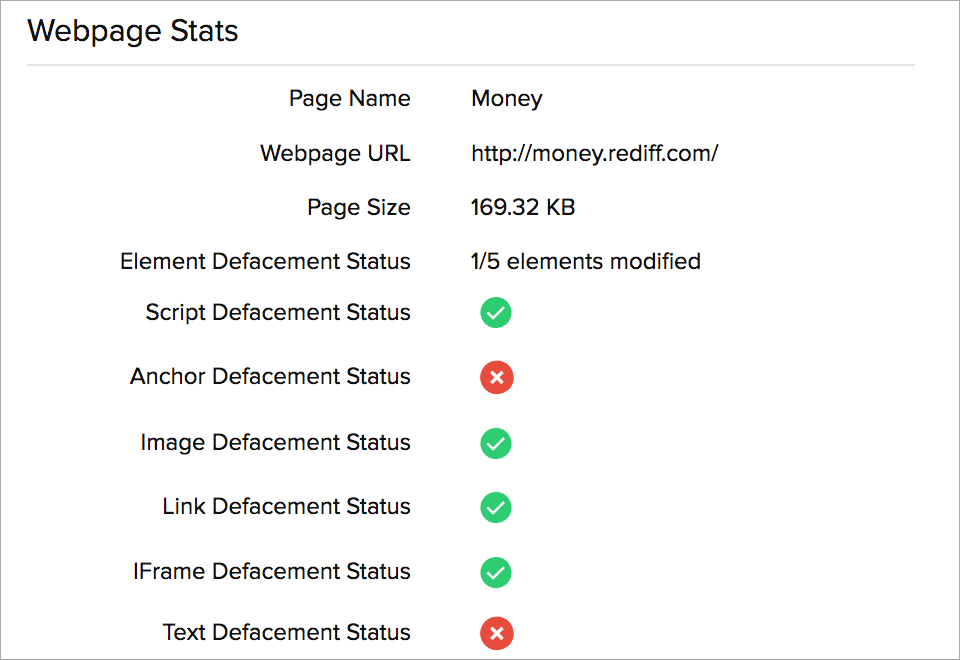 Get rid of pharming attempts.
Even when content and element mutilations can be handled with dexterity, there is still a small gray area that remains unanswered. And that is the threat from active pharming attempts. Using pharming, hackers try to redirect your online subscribers to mirror sites that pose as your official website. Once hackers have plugged hoax href and src attributes into your HTML, your subscribers could be easily deceived with misinformation or exposed to identity thefts. Site24x7's Defacement Monitor can quickly spot and notify you about any unauthorized href or src attributes that redirect your customers to an unrelated domain, squashing any pharming attempts.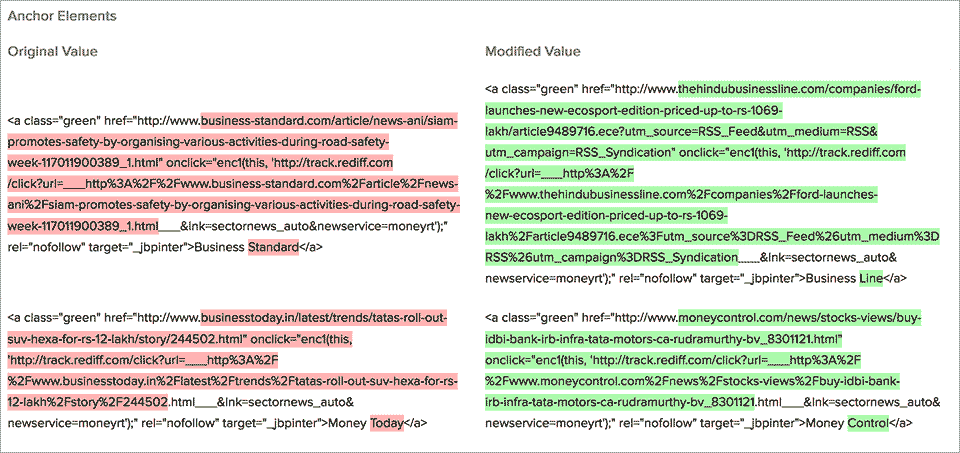 Set flexible thresholds to suppress false alerts.
Hacking or defacement is a real-time threat to anyone traversing the internet. If you're in business with many customers, defacement can turn out to be your worst nightmare when it strikes. However, it's equally important to stay away from false alerts too. Site24x7's Defacement Monitor lets you customize flexible script and content thresholds so that you get alerted only when an event crosses a preset threshold value.
Why wait? Adopt defacement monitoring to keep your website's credibility intact.
Be it government websites or those from reputable companies, it's a fact that website security measures are mostly overlooked. Website defacement has resulted in unrepairable damage and even sparked diplomatic crises among countries. Monitoring websites regularly can automatically reduce the risk of hacking to a large extent. Even a few minutes of monitoring can give you actual insight into your website's status. So why wait? Give Site24x7's Website Defacement Monitor a try to spot any website hacks and identify when unauthorized parties tamper with your website.
Video: Learn how Site24x7 can help you with monitoring a website hack.