Site24x7 and Microsoft Teams
Intelligent ChatOps for DevOps teams
Discuss and carry out remediation plans for critical Site24x7 monitor alerts from your Teams channel.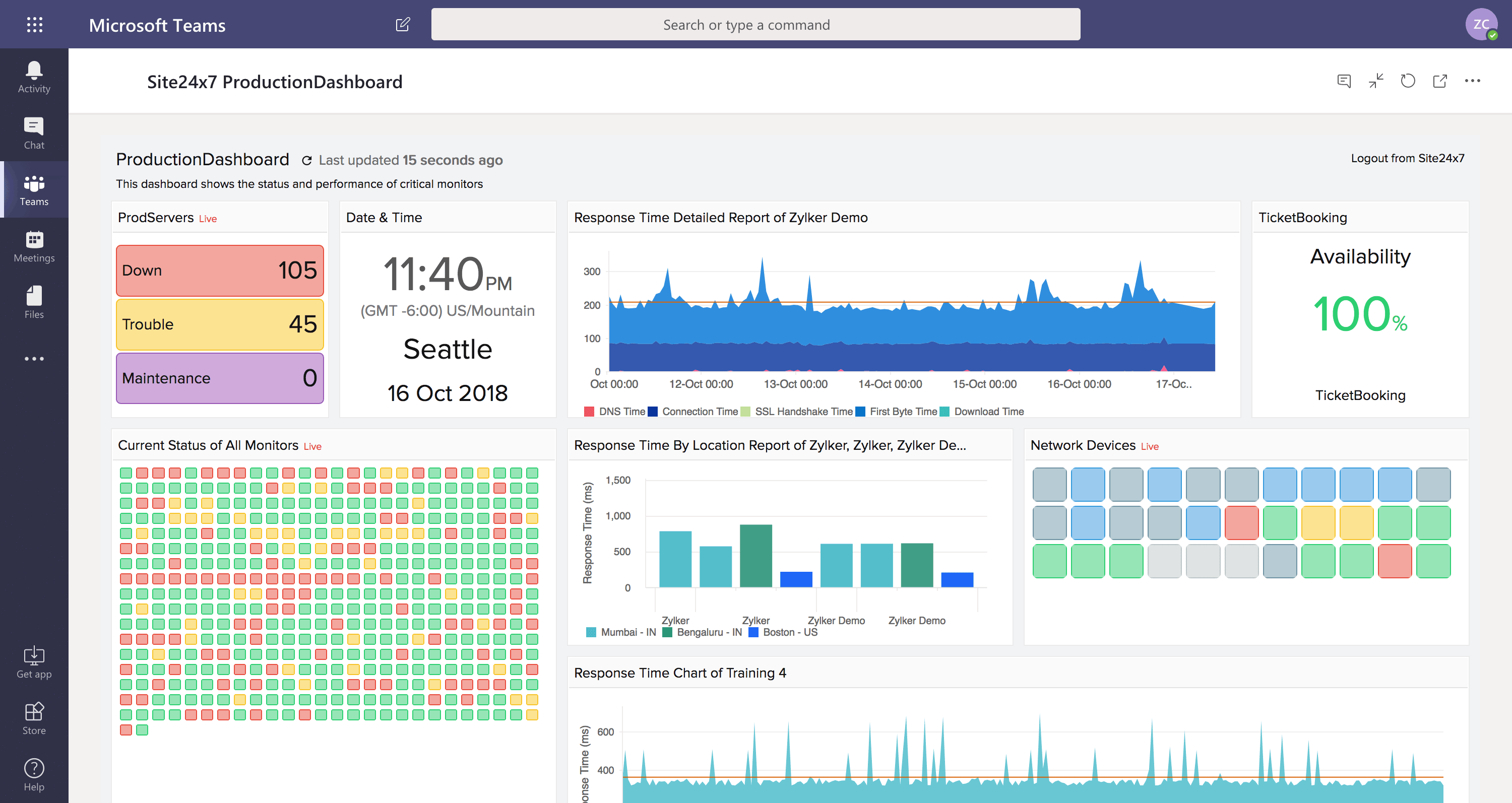 Enhance the DevOps experience by managing Site24x7 alerts in Teams.
Seamless connection: Access real-time alerts and reports in Teams with Site24x7's native connector.
Smart dashboards: Achieve faster analysis and troubleshooting with Site24x7's custom dashboard in Teams.
Intelligent interactions: Ask questions and receive accurate responses on monitored data from our natural language processing (NLP)-based chatbot for Teams.
Integrate with Teams
How DevOps can benefit from Site24x7's integration with Teams.
See how data-driven conversations in Teams help your DevOps team achieve faster incident resolution goals.
Visualize and analyze dashboard data in Teams.
Bring your custom dashboard—a single cohesive interface for analysis and troubleshooting—to the Teams tab. Engage in rich, productive discussions about monitored data in real time, and share troubleshooting tips with peers for faster incident resolution.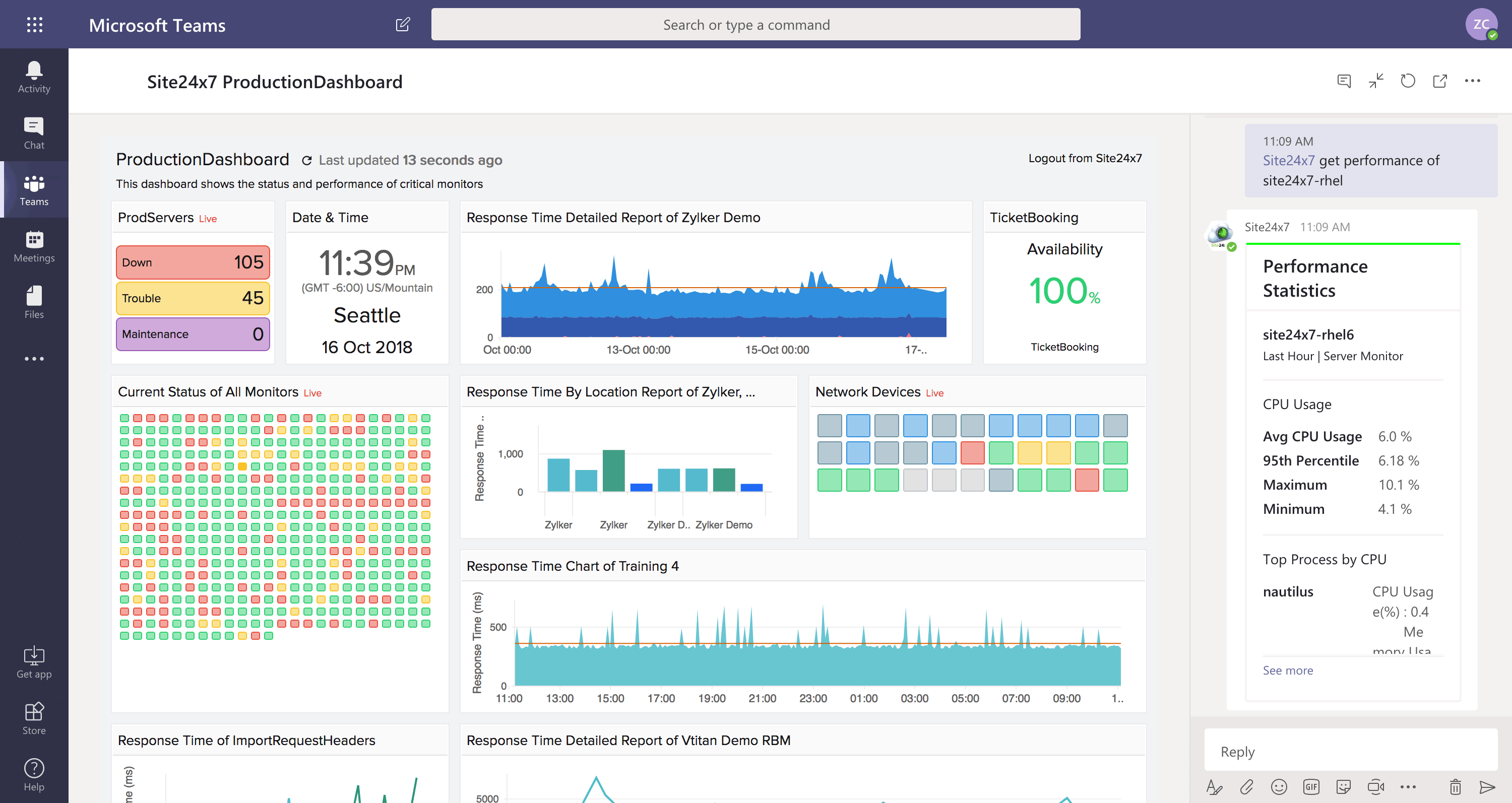 Interact with chatbot for richer ChatOps experience.
Ask our NLP-powered chatbot anything related to Site24x7 monitoring, and get instant responses to reduce your mean time to repair and improve overall productivity.
Connect and receive real-time alerts via Teams.
Have targeted, actionable conversations about potential Site24x7 incidents and root-cause analysis reports in your Teams channels.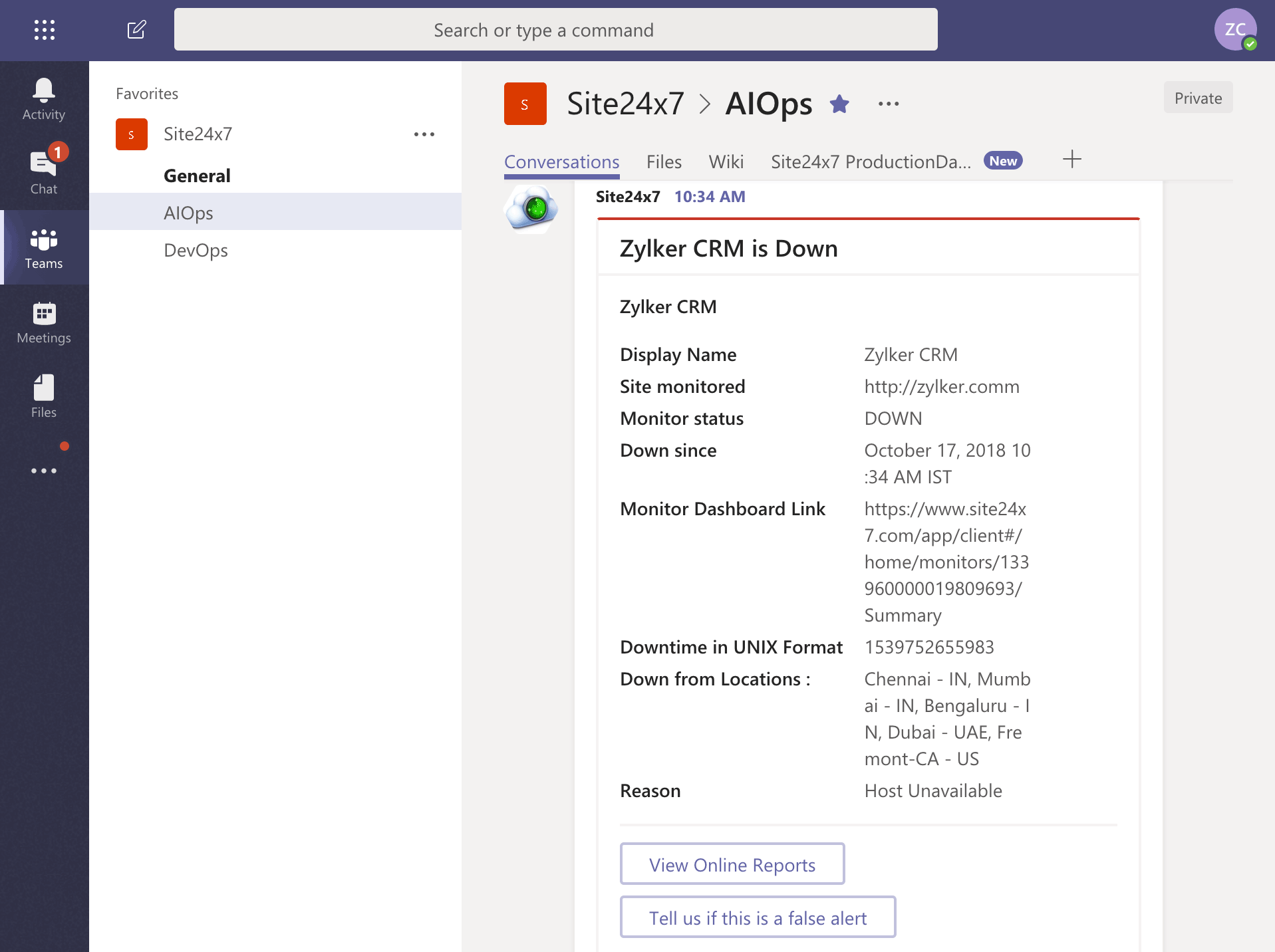 "Site24x7 has always been a versatile and reliable monitoring suite for our online operations. The actionable alerts and in-depth reports have ensured we respond to emergencies promptly. Being a workforce operating on Office365, we found great value from using Site24x7's integration with Microsoft Teams. It has empowered our IT person(s) to stay informed about service outages, collaborate faster, and reduce the overall mean time to resolve (MTTR)."
James Lovegrove
IT and Systems Manager, Original Ltd.
List of Basic monitors:
Website
Website (HTTP/HTTPS)
DNS Server, Ping, FTP Server, SMTP Server
SSL/TLS Certificate, Domain Expiry Monitoring
SOAP Web Service, REST API
Port (Custom Protocol), POP Server
Server (Charged based on servers and not individual metrics)
Windows/Linux/FreeBSD/OS X Monitoring (agent based)
Microsoft IIS
Each VMware VM instance (VMWare monitoring using the On-Premise Poller)
VMware ESX/ESXi hosts
Amazon Web Services
Elastic Compute Cloud (EC2) per instance
Relational Database Service (RDS) per instance
DynamoDB per table
Simple Notification Service Topic (SNS)
Elastic Load Balancer (ELB) - both Classic and Application type
AWS Lambda per function
ElastiCache per node/cluster
List of Advanced monitors:
Web Transaction (Browser) monitor (monitor multi-step web transactions in your service)
Web Page Speed (Browser)
Website Defacement
Mail Delivery Monitoring.
FTP Transfer Monitoring
Each JVM, .NET, PHP or Ruby application instance in Site24x7 APM Insight (a.k.a Application Performance Monitoring)
Advanced Windows Apps - Microsoft SharePoint, BizTalk, Active Directory, Failover Cluster, Hyper-V, SQL and Exchange Monitoring
Network monitoring licensing is purely based on the number of interfaces that are monitored. It is mandatory to have at least one active interface in order to monitor a device. While ten performance counters per device can be monitored for free, every additional ten is counted as one interface.
Every webpage that is loaded in the browser is considered as a page view, irrespective of the number of resources that are loaded behind. For example, for a single page to load, there are various resource calls for images, css, etc, which are not counted in page views. Only the webpage that the user visits is counted as page views.
Credits are auto-refilled every month, however left over refilled credits are not carried forward to the next month.
Premium support includes email, community, chat and phone.