Customize Email Notification
StatusIQ allows you to customize emails sent to your subscribers. This feature is available only for users with a Green status page subscription.
Log in to StatusIQ.
Choose a status page, and navigate to Customize > Customize Email Notifications. 
There are two types of customization:
Simple customization allows you to make limited edits to your email including the footer text, font, and background colors.
Date Format: Select a date format from the drop-down.
Footer Text: Add custom footer text. The editor also allows you to align the text and add tables, logos, and hyperlinks. You can modify the HTML source code of the footer content to edit the Status Page name and URL. For reference, click View Constants.
Simple customization also allows you to customize the color of the primary font, the secondary font, the background of the email, button backgrounds, button text colors, and more. The colors you picked in Customize Colors will be reflected in your emails.
To check your changes before saving, use the Send Test Email option.
Changes made using simple customization will be applied to all subscriber notification emails, such as incident, maintenance, postmortem, subscribe, and unsubscribe email notifications. In case you have configured both simple and advanced customization for an email type, then the advanced customization features will apply for that email type.
Advanced customization gives you additional control over the changes you can make in your emails. For example, you can modify colors, modify email content, add images, and more. Also, you can rearrange the fields and constants in the email body as desired. To view the complete list of constants, click View Constants. Using constants, you can add new fields to your email content.
1. Email Type: Choose among incident, subscribe, unsubscribe, postmortem, or maintenance email formats.
Any customization made using this editor will only apply to the email type chosen in this field. In case you have configured both, the advanced customization changes will apply. 
You can specify date format for each email type separately.
2. Subject: Provide a subject line for your email. You can include the status page name, incident type, time, and other important constants. Click View Constants to see a list of all the supported constants and their descriptions.
3. Body: The default layout is prepopulated, but you can make changes to the text; insert, delete, or move rows or columns; modify alignment; and insert images like logos.
To make further changes to your email, you can edit the HTML source code from the tool bar of the Body section. For example, you can insert your own custom HTML to design a new layout, including new font and background colors.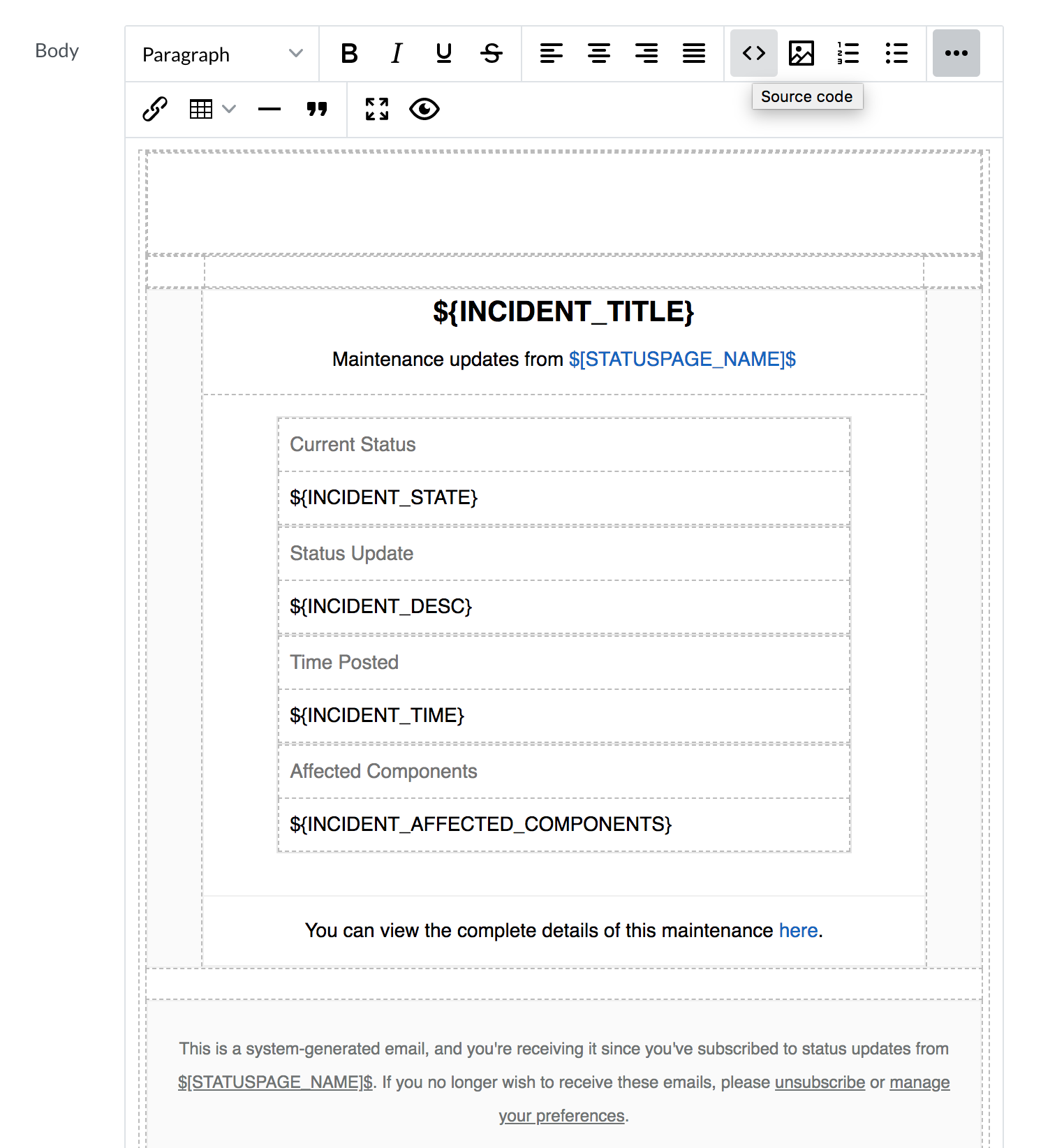 4. Use the Send Test Mail option to send a sample email to your inbox with all the changes in place. Click Save. This will trigger a pop-up where you can choose to apply the changes to other status pages as well.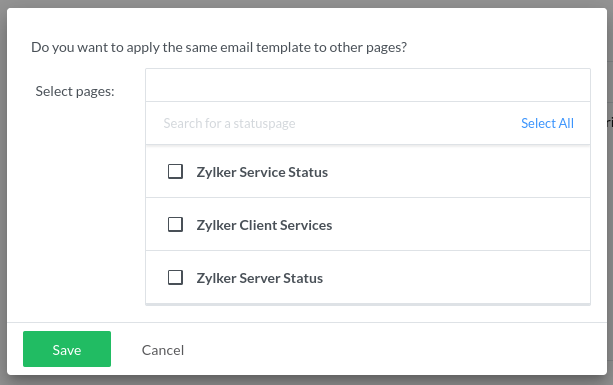 If you want to modify the Sender and the Reply-to email addresses, navigate to Customize > Custom Email.