Monitor Amazon S3 ecosystem in real-time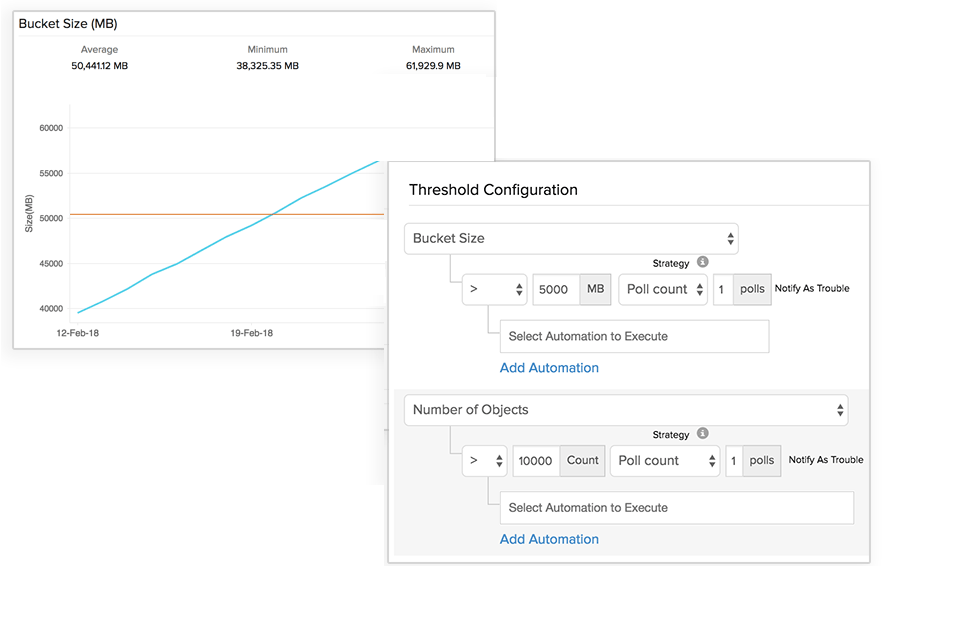 Analyze storage patterns and growth
How much are you storing? Monitor metrics including bucket size and object count to track storage usage and capacity growth. Receive notifications when usage exceeds your specified value.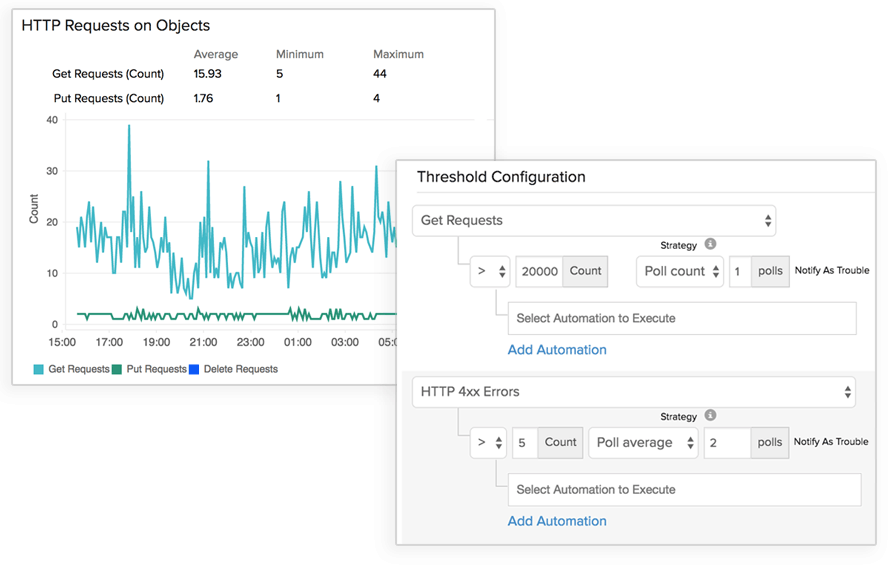 Understand request rate and retrieval pattern
Track the operational health of your storage infrastructure with request and error metrics. Monitor the request rate and analyze data access patterns on a bucket-level basis to choose the appropriate storage class. You can also track client/server HTTP error codes to isolate and act on them.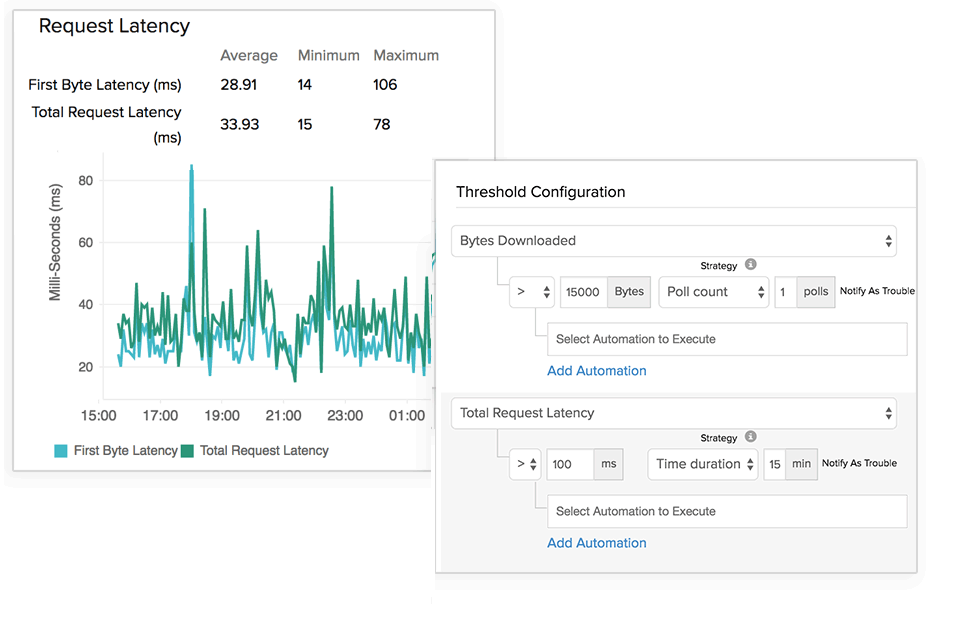 Optimize performance for your workload
Improve the performance of your S3-powered website or mobile app by monitoring critical performance metrics including total request latency and first-byte latency. Track bandwidth usage with the bytes downloaded/uploaded metric to keep an eye on your costs.
AWS S3 monitoring metrics
Alerts
Configure policy-driven thresholds to define optimum usage. Our alarms engine watches over your buckets and alerts you when metric data points exceed your specified value so you can respond quickly.
Visualization
Preconfigured time series graphs to see information on current and historical storage usage, custom dashboards to can keep an eye on critical request metrics, color-coded system dashboard to gain a high-level overview of bucket health and more.
Reports
Schedule reports and share them with your peers. Get basic analysis reports such as health trends, availability summary, and top N reports for each supported attribute, or build a custom report by bringing together metrics from multiple buckets.
Data retention
With one-hour and one-day data points available for three and five years respectively, you can quickly identify monthly trends and storage growth patterns to make more informed decisions about your objects' storage environment.
Other AWS services
Monitor multiple AWS services through one platform. Easily monitor compute resources, serverless functions, SQL/NoSQL data stores, caching solutions, pub/sub systems, and load-balancing services in your AWS platform.
Go beyond AWS CloudWatch metrics. Understand when S3 object endpoint URLs become slow
Periodically run automated checks on the object endpoints powering your static website or mobile app from global locations to identify slow responses, errors, and broken API endpoints so you can get a geocentric perspective on performance.
100% Availability
1.26s Performance
100% Availability
1.00s Performance
90% Availability
5.00s Performance
91.6% Availability
3.80s Performance
100% Availability
1.80s Performance
100% Availability
1.50s Performance
100% Availability
2.00s Performance
89% Availability
6.00s Performance
Natively integrated
S3 endpoint monitoring is natively integrated with our AWS monitoring capabilities and can be enabled anytime at no extra cost.
Rapid configuration
Select the S3 bucket, discover object URL endpoints, configure checks and add multiple monitors in one single go, all in minutes.
Signed requests
A signature is computed using the AWS secret access key and is passed as a parameter for every HTTP call made.
Features of AWS S3 monitoring
Discovery filters
Configure multiple prefix or suffix-based filters to discover the object endpoint URLs that you want to monitor.
Check frequency
Run periodic checks on a continuous schedule. Configure checks to run once per minute, every two hours, or any frequency in between.
Select locations
Monitor your object endpoints from around the world. Choose from a list of more than 90 geo-distributed locations.
IPv4 and IPv6
Monitor your dual-stack endpoints from both IPv4 and IPv6-supported locations to identify possible connectivity issues.
Request method
Selecting a request method is straightforward: just choose between GET or HEAD request types.
Validate requests
Leverage failure checks to ensure your API responses are correct. Get notified when the response body does or doesn't contain a particular string.
Monitor groups
Create a logical grouping of S3 object endpoint URLs and monitor their status as a whole.
Dependency monitors
Create monitor dependencies and effectively trigger alerts without producing a lot of noise.