Website Uptime Monitoring with zero false alerts and actionable reports.
Proactively monitor the uptime and performance of your IPv4/IPv6 enabled websites from more than 110+ locations globally. Undertake in-depth monitoring of all the resources that support your website using advanced monitoring tools like Domain Expiry Monitor, SSL/TLS Certificate Monitor, and checking errors on the website using Website Defacement Monitor. Get notified on your phone as and when an issue is detected.
Get visibility into website response time split up like DNS time, connection time, first byte time, download time, SSL Handshake time and more. Analyze how the website responds when accessed from various global locations and take swift corrective actions incase of downtime. Gather indepth information on specifics like SSL/TLS protocol version used, Cipher suite details like Key Exchange, Bulk Encryption, and Hash Function from the Poll Now Report. Fetch critical information like Traceroute output from your monitoring locations.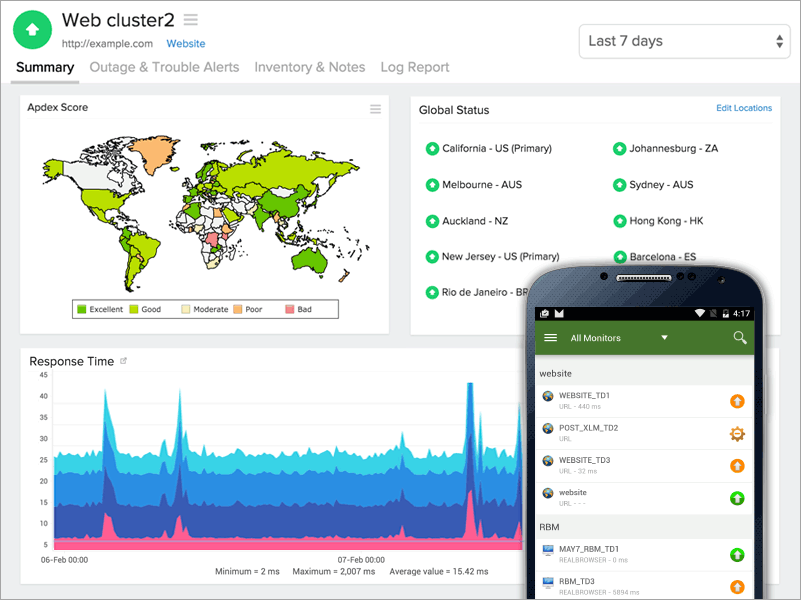 Track performance of critical internet services.
Track the performance of websites and internet services from more than 110+ locations around the world.
Web Transaction Monitor
REST API Transaction Monitor
Domain Expiry Monitor
POP, IMAP and SMTP Server
Port (Custom Protocol) Monitor
Ping Monitor
Monitor your internal network.
Complement Site24x7's global monitoring network of servers by installing a lightweight, stateless, auto-updating software component in your internal network or private clouds and monitor your mission critical resources along with internet facing websites. Monitor resources behind the firewall like application and database servers, intranet portals, ERP systems, and payroll.
In addition, get complete visibility on your entire infrastructure with our server monitoring solution.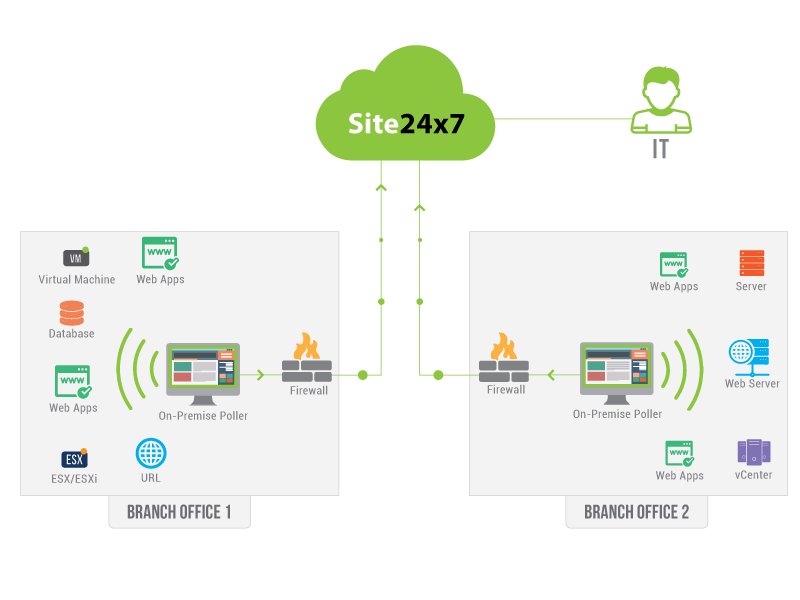 Analyze webpage components using a real browser.
Analyze individual website components like images, CSS, JavaScript that slow down your website and test website performance using a real browser (Mozilla Firefox).
Render your website using the real browser in real-time, find and troubleshoot website components that affect customers end-user experience.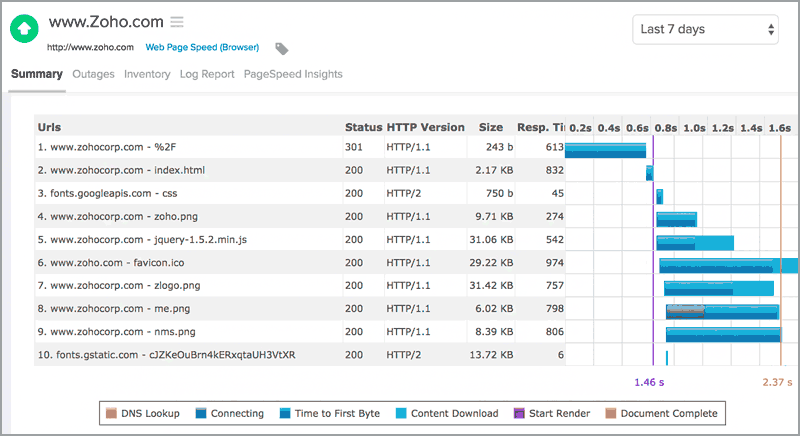 Measure multi-step user interactions within your web apps.
Perform synthetic monitoring using a real browser and proactively monitor and measure multi-step user interactions within your web applications using a powerful recorder tool.
Monitor web applications like shopping carts, web registrations forms, HR portals, etc. and analyze response time and content accuracy from start to finish.
The powerful recorder tool lets you simply point, click and record the steps you want to monitor on a browser-based interface to automatically build your monitoring scripts. Additionally, import your existing selenium IDE test cases to perform synthetic monitoring.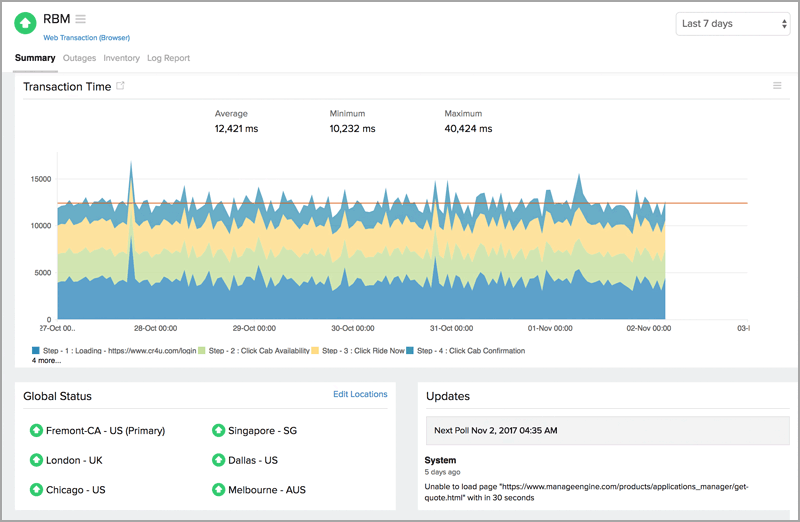 Real User Monitoring (Web) - real user browser stats.
Gauge application experience of real users. Analyze and segment performance by browser, platform, geography, ISP and more.
Get complete visibility into the web page life cycle and analyze response time from a network perspective like redirection time, Domain Name System resolution time and connection time. Also measure the back-end and front-end response time such as page rendering, document processing and document downloading time.
Monitor asynchronous calls in your Angular and Single Page Applications and enhance end user experience. Also track performance of individual web transactions by monitoring the response time and throughput.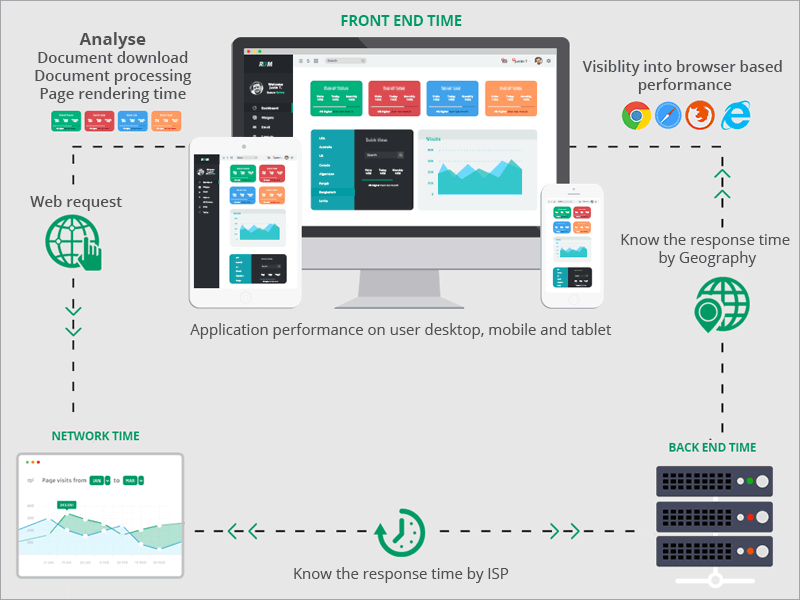 Create powerful public status pages.
Create public status dashboards to communicate downtime and promptly notify customers about your service status.
Site24x7 hosts the status pages using a separate subdomain pointing to a server in a different data center accessed by a unique ISP. This ensures high availability of the status page independent to the fact of your main domain being down due to problems with your DNS, firewall, or ISP.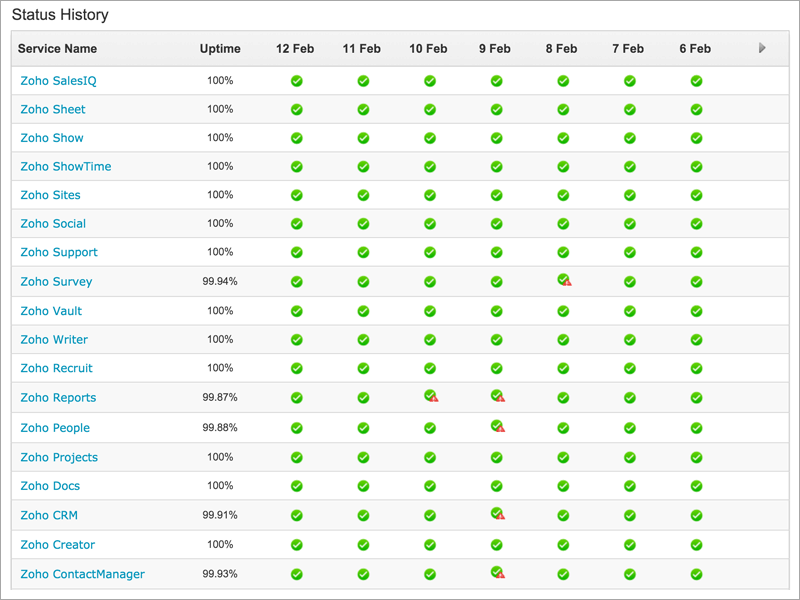 Alerts management and customized reporting.
Receive instant notifications via email/ SMS/ voice/ instant messenger/ RSS/ push notification whenever your website or server goes down.
Get access to various sets of reports like the Summary report giving you details about the average response time, overall availability and number of downtimes–SLA reports for ensuring your hosting provider meets your SLAs. View indepth and exhaustive reports that shed light over the availability and performance metrics that matter the most. Generate reports for a custom time period. View required metrics in clear intutive graphs and heatmap widgets. Measure your competition with inbuild benchmarking widget. Furthermore, define SLAs and proactively monitor its compliance. Reports include:
Availability summary report
Busy hours report
Health trend report
Performance report
Top N report
SLA report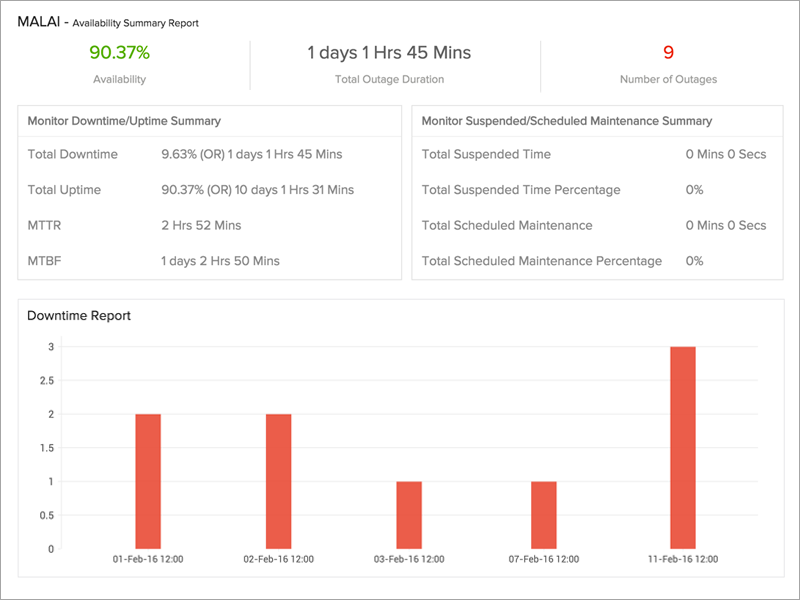 Proactively monitor your website experience globally.
Highlights
Zero false alerts as we recheck from 3 locations and even take a screenshot from a real browser before notifying you!
Make sure you always stay on top of downtime. Monitor the availability of your websites with check frequency as low as once per minute.
Monitor websites, API endpoints and SOAP web services secured with OAuth, client certificate or Basic/NTLM authentication protocols.
Setup Webhook integrations and invoke corrective actions on failure by posting event data to your OAuth secured Hook URL.
Integrate with multiple third-party applications like Zapier, PagerDuty, Microsoft Teams, HipChat, Slack, ManageEngine Service Desk Plus & On-Demand, and ME AlarmsOne. In addition to this, setup web hooks based integration with any third-party application.
Identify the actual reason behind a downtime with Root Cause Analysis (RCA) that includes detailed dig report, DNS analysis, traceroute, ping results and a screenshot from a real browser showing the errors.
Specify the version number of the SSL or TLS protocol (TLSv1.2, TLSv1.1, TLSv1 and SSLv3 supported) that's used by the client to establish a secure communication with the target server.
Measure end-user satisfaction with Apdex Scores and identify any performance bottleneck in a specific region.
Perform detailed content checks in a website and get alerted when specified keywords are present or not in the website.
Try out our IT Automation tool to automate your process workflows and stay ahead of potential problems.
Monitor your mobile websites and other online services via wireless carriers (3G, 4G) and enterprise Wi-Fi networks.
Easily track the availability and performance of your websites on the go with Site24x7 iOS and Android apps.
Our monitoring capabilities comprise of Website monitoring, Webpage Speed (Browser), Web Transaction, Web Transaction (Browser), SSL/TLS certificate, DNS Server monitor and more. Compare various monitors.