So you own a website that is optimized for SEO and quality content. You have third party scripts to keep your customers engaged. These sure do go into the making of a successful website, but if you think you've covered it all, pause and think again. You need to make sure that the load time (or response time) of your web pages is as low as possible.
How is it going to help your business?
Let's say you own an online retail store. You have optimized your website for SEO and you host quality content that will keep your customers engaged once they visit it. But what if your website takes more that a few seconds to load?
A widely quoted study by the Aberdeen Group found that, "A one second delay in page load time equals 11 percentage fewer page views, a 16 percentage decrease in customer satisfaction, and seven percentage loss in conversions." That is why maintaining a low response time is extremely crucial. Site24x7 helps to monitor the page load times and provide timely reports to keep track of the website performance.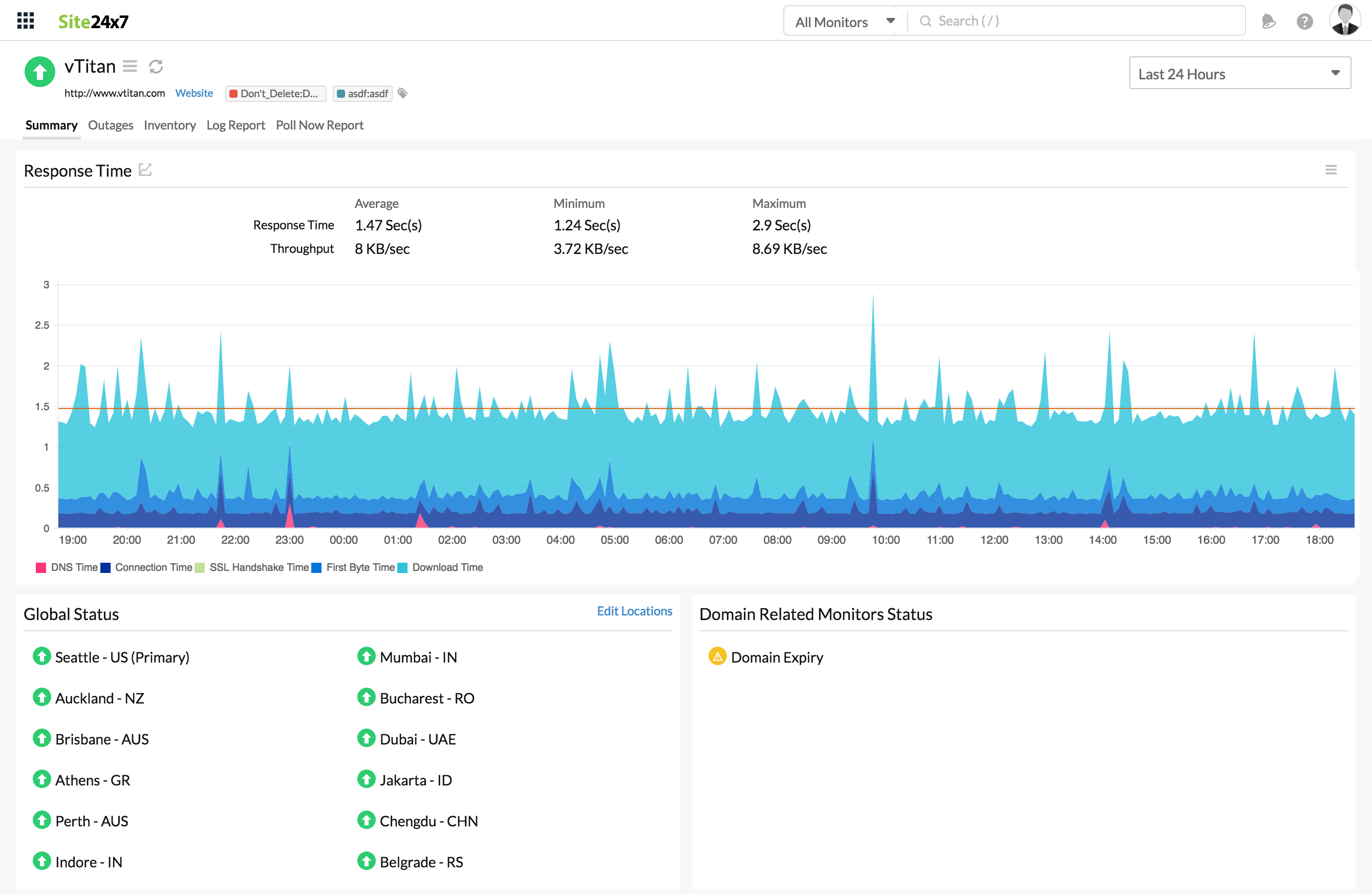 What should you do to ensure a low response rate?
Monitor the DNS resolution.
Check if the main domain DNS and the sub domains referenced by your main site resolves properly around the world. A DNS maps your domain name to its corresponding IP address and directs you to the intended website. The improper working of a DNS server will lead to slower loading of your website.
Periodically inspect the CDNs.
If you have a Content Delivery Network (CDN) set up, make sure there are no nodes in the chain that are behaving differently. In a CDN, the pages of the website are copied to a network of servers distributed across different geographical locations. To access these pages a request is first initiated. The CDN directs the request to a server that is geographically nearer to the origin of the request. This ensures that the time taken to retrieve web pages is reduced.
Keep throughput in check.
The processing done by a system in unit time is called the throughput of that system. Check if all sub-domains give you acceptable throughput, i.e, an optimal processing speed. If you have lots of content to be downloaded, the throughput of your server should not be the bottleneck.
Make your website mobile friendly.
Google started rolling out its mobile friendly algorithm update on April 21, 2015, which boosts mobile search rankings for websites that are mobile friendly. Test if the mobile site for your website works as expected. This will result in a better SEO.
Monitor the website uptime.
Test uptime (the amount of time the webpage is working without any disruption) as frequently as possible in order to bring the site back up before too many customers notice it and begin to complain on social media. Site24x7 provides consistent uptime checks at regular intervals and notifies through alerts if the website is down. Sign-up for a free 30 day trial.
Optimize images.
Optimize the images used in your website without compromising on the image quality by compressing them using tools such as: JPEG–Optimizer, JPEG–Reducer, Yahoo! Smush It, PunyPNG, Compress PNG, Compress Image.
Collect downtime reports.
Ensure your IT Team has sufficient data to troubleshoot if there is an outage. Ping stats, DNS reports, trace route results, digg reports, root server output are some of the most needed immediate results. Track best practices by adding notes to outages in the web client.
Configure your server to recover immediately.
Set up agents on the web server to restart a process on the server from the convenience of a mobile device so that you keep the Mean Time Taken to Repair (MTTR) very low.
Monitor your website from multiple locations.
Carry out web status checks from across different geographical locations and data centres to identify and isolate the areas where the response time is more and take counter measures. Site24x7 offers web checks from across 120+ locations around the world to ensure your website is up and running at all times and at all places.
Build your business.
Site24x7 gives you detailed metrics for host throttling:
Share reports about previous performance with stockholders to gain their trust.
Publish a report of how your website has a faster load time than that of the competitors to drive customers to your website.
Showcase the uptime and performance statistics of your website to customers via a public status dashboard because transparency breeds trust.
Yahoo! found that a 400ms improvement in load time translated to a nine percentage increase in traffic. Mozilla mapped a 2.2s improvement to 60 million additional Firefox downloads. At peak traffic times, more than 75 percentage of online consumers left for a competitor's site rather than suffer delays. Statistics show that response rates are too important to be ignored while optimizing your website for your business. The following tools can be used to perform web checks:
Now that you know the effect of load delay of the websites on businesses, optimize your website accordingly and enable continuous monitoring. Good luck to building your business on the path to success.