Site24x7: The answer to your IT monitoring questions
Simply scalable
Site24x7 is cloud-based and can easily scale to accommodate the IT monitoring load producing by students, infrastructure, technology, and lecture notes.
Customizable dashboards
Ensure that your IT team is productive and has time for other projects. View a centralized dashboard with all servers, network devices, and digital experience metrics captured in one place.
Instant alerts
Receive alerts immediately via your preferred media when your website or a server goes down, or when your virtual machine (VM) or cloud storage space hits the configured threshold.
Incident remediation
Avoid spending time on fixing common issues. Use simple scripts and configure IT automations to be executed when an issue is detected.
AI-powered insights
Identify anomalies and unusual spikes in performance, and forecast future trends with AI- and ML-powered insights.
Security seal of approval
Site24x7 complies with all major security standards and regulations, including ISO/IEC 27001 and SOC 2, along with regional data center security standards.
Cost-effective
Jam-packed with features for all your IT monitoring needs, Site24x7 is priced at just $9 for 10 servers or websites.
They gave Site24x7 an A+ grade
Utilize transaction monitoring for critical workflows in your application
It's inconvenient when the whiteboard application a teacher uses for online classes or a student's assignment submission portal is down or slow, and payment portals are even more critical. Monitor the important workflows of applications accessed by parents and students to ensure that they're available and load quickly using Site24x7's transaction monitoring. Use the Transaction Recorder and browse through the flow to record events and create a transaction script. Our intelligent playback engine will discover small page changes and adjust the script automatically, making script maintenance simpler.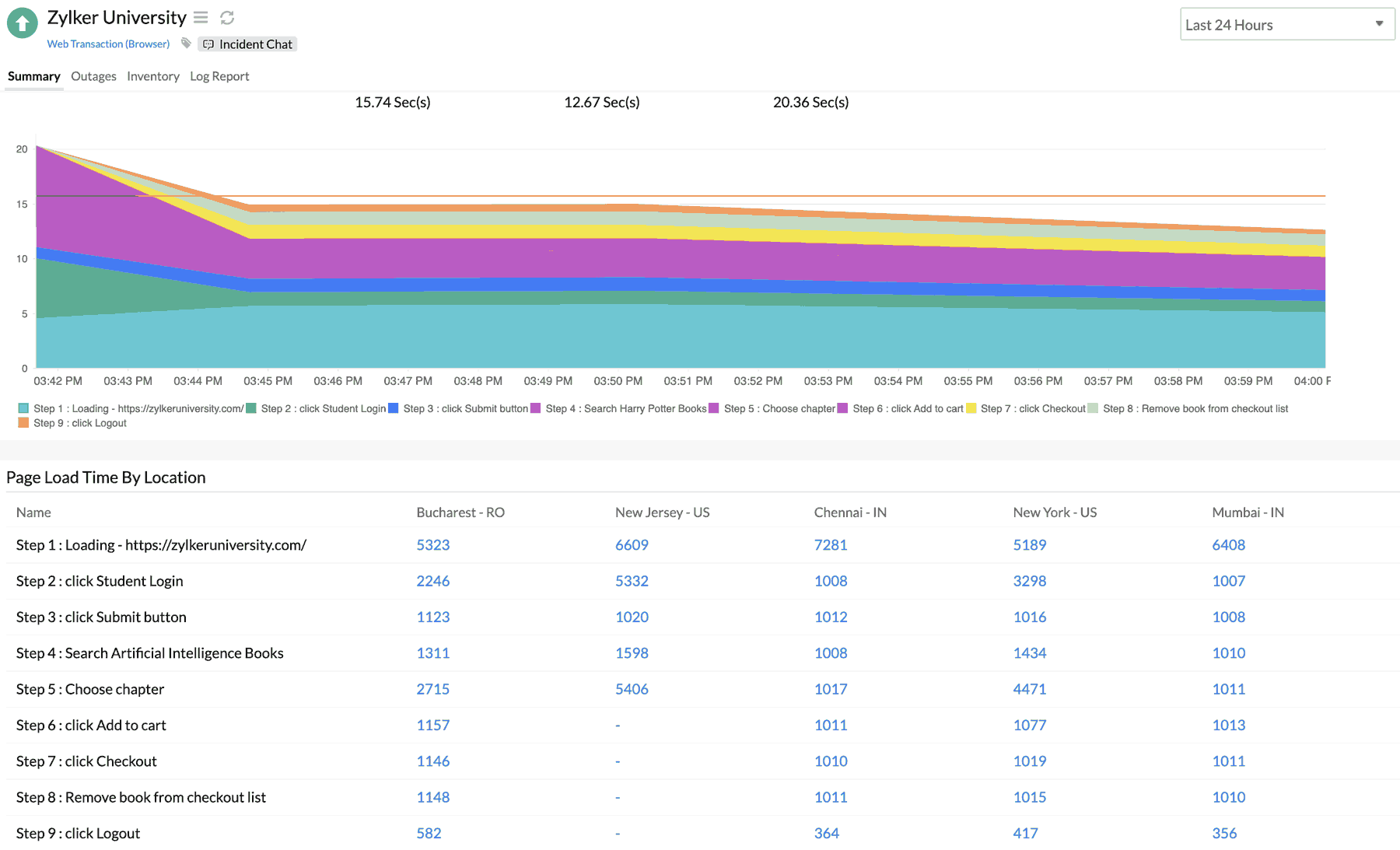 Ensure seamless network connectivity across the campus
Students and teachers require uninterrupted network connectivity across the campus for their classes, exams, and other extra-curricular activities. You need to understand your network infrastructure to troubleshoot and fix network hardware issues that can impede your day-to-day operations. Use Site24x7's Topology Maps to monitor the availability of all the devices in your network including routers, Wi-Fi devices, switches, switch stacks, printers, and CCTV cameras on campus. Analyze traffic flows, identify bandwidth hogs, and generate daily reports on bandwidth consumption.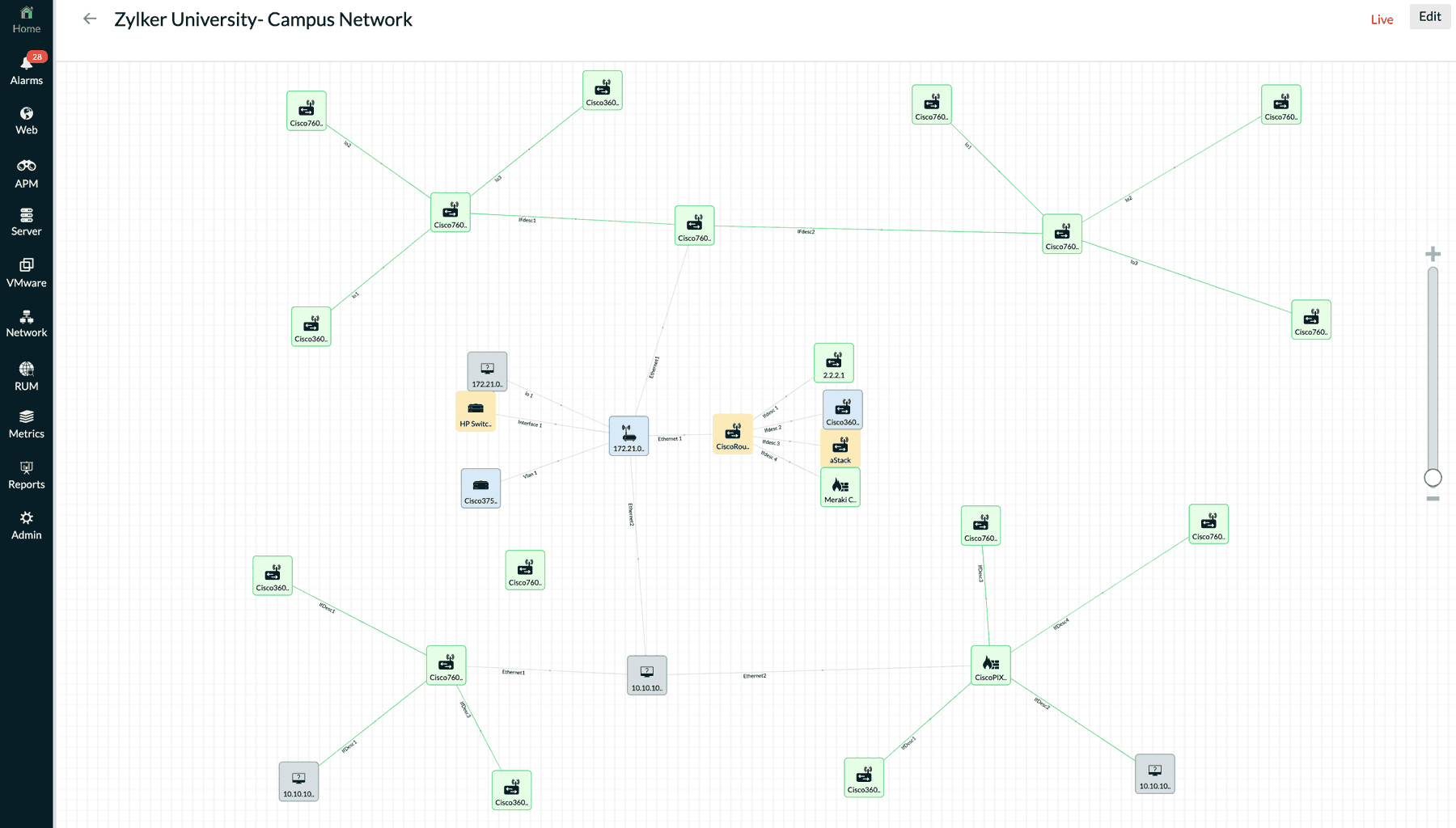 Monitor storage across platforms
Online classes and distance education require a huge amount of storage space for their libraries and reference notes. Be it network-attached storage, RAIDs, tape libraries, or the data stores that store your VM data, monitor their performance, configure thresholds, and receive alerts before you run out of space. You can also monitor your Amazon S3, Amazon Elastic Block Store, Azure Blob Storage, and Google Cloud Platform storage services to optimize storage.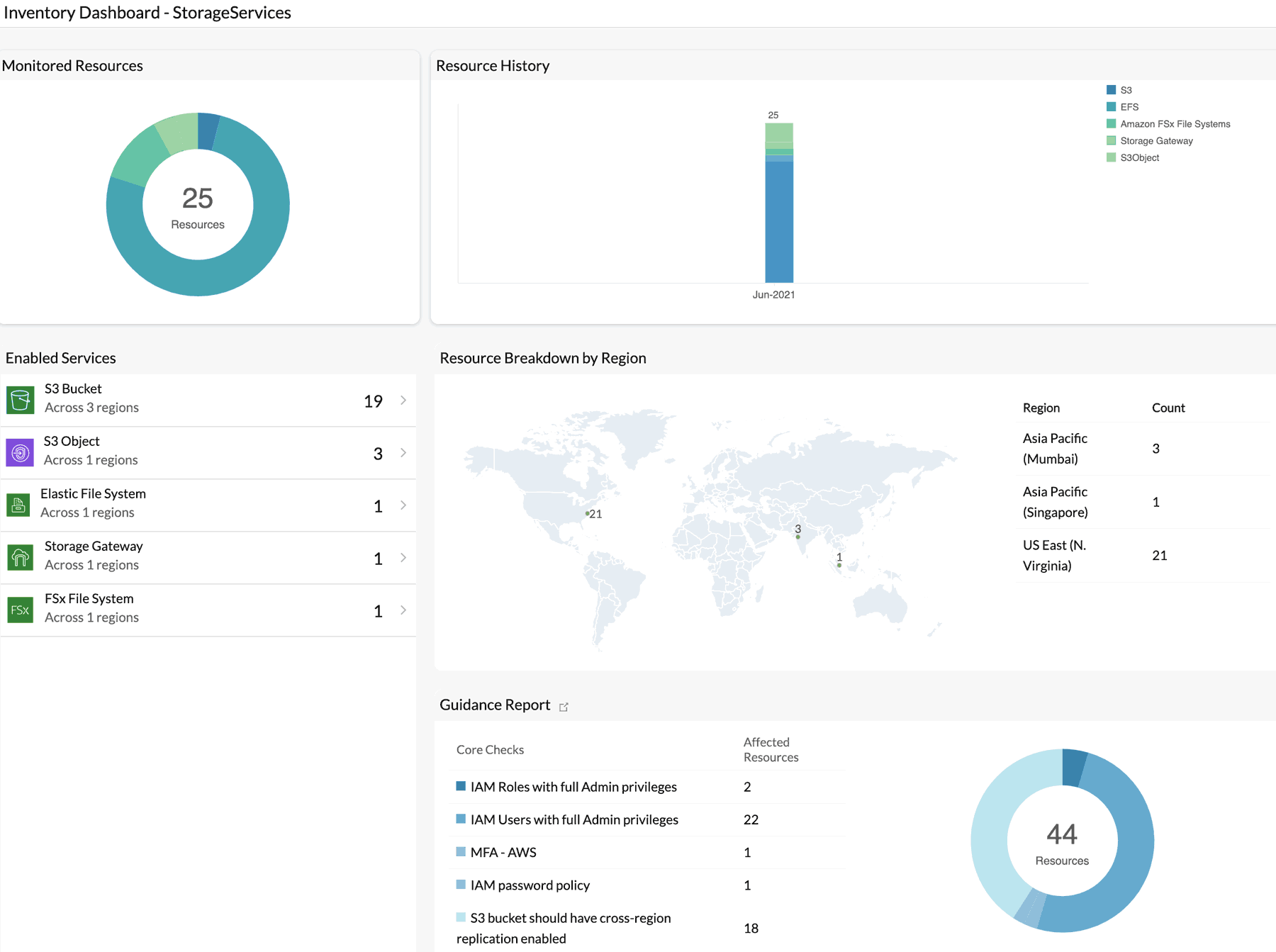 Ensure continuous server uptime for uninterrupted access to your applications
Web apps used for admission and fee collection are crucial as they support voluminous amounts of data during peak seasons. Small issues at the infrastructure or application server level can impact the performance of the application. For instance, CPU steal time in one VM can result in a response time spike in an application hosted in another VM. It's important to monitor all the server and application server metrics proactively to take corrective actions before they impact the end-user applications. Ensure the uninterrupted availability of all web apps by tracking the performance of web servers, like Microsoft Internet Information Services and Apache Tomcat, that host them.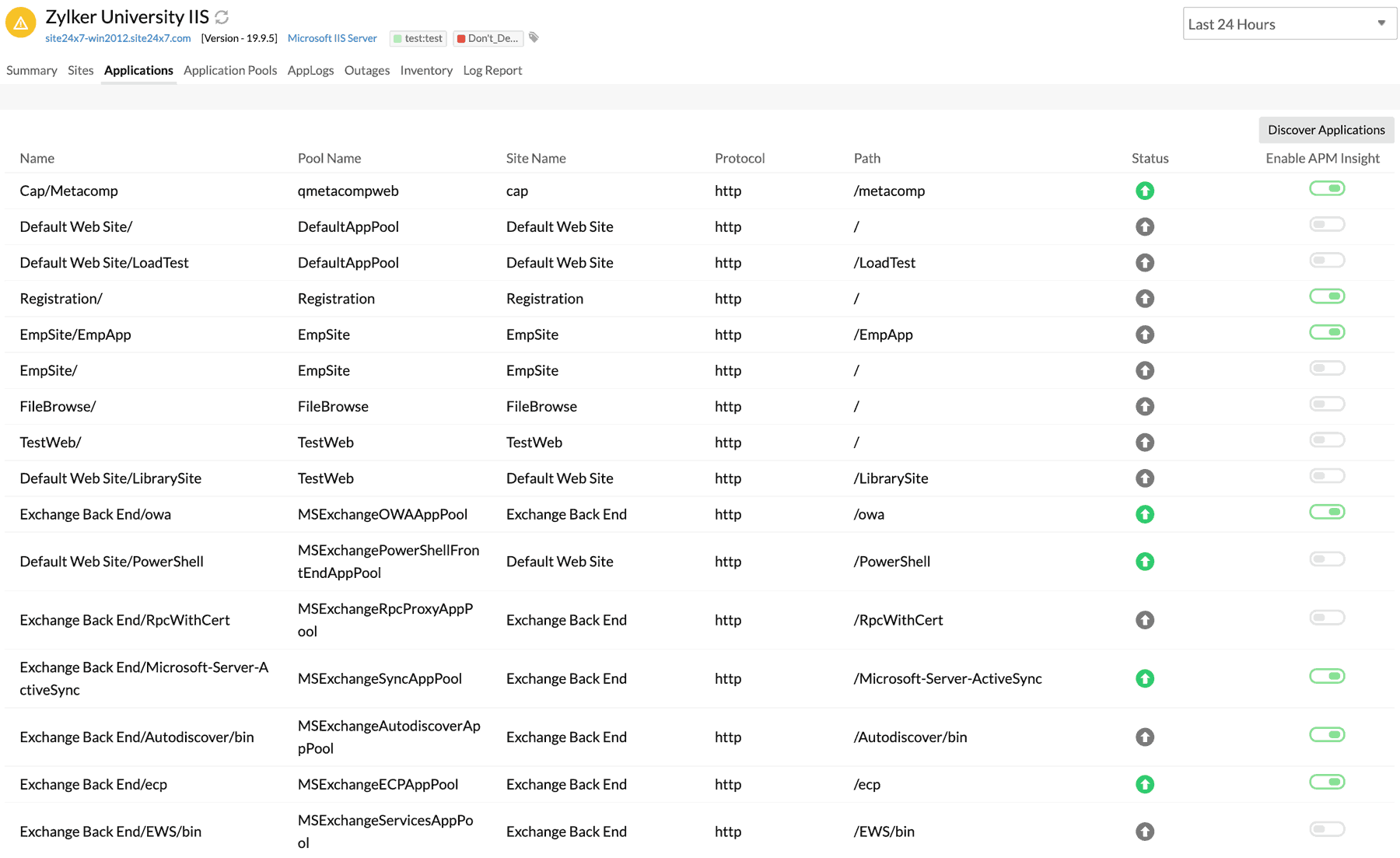 Maintain continuous availability in a mobile-first world
Many people now prefer accessing websites via mobile phones. The availability of your applications via 3G, 4G, or LTE mobile networks is vital. You can solve connectivity issues with Site24x7's Mobile Network Poller, which aids in monitoring websites from mobile networks. Simply install the Mobile Network Poller on any Android phone and set it up to monitor your websites regularly. This way, you can ensure your application is working for mobile users and monitor the quality of all ISP connections that you use on campus.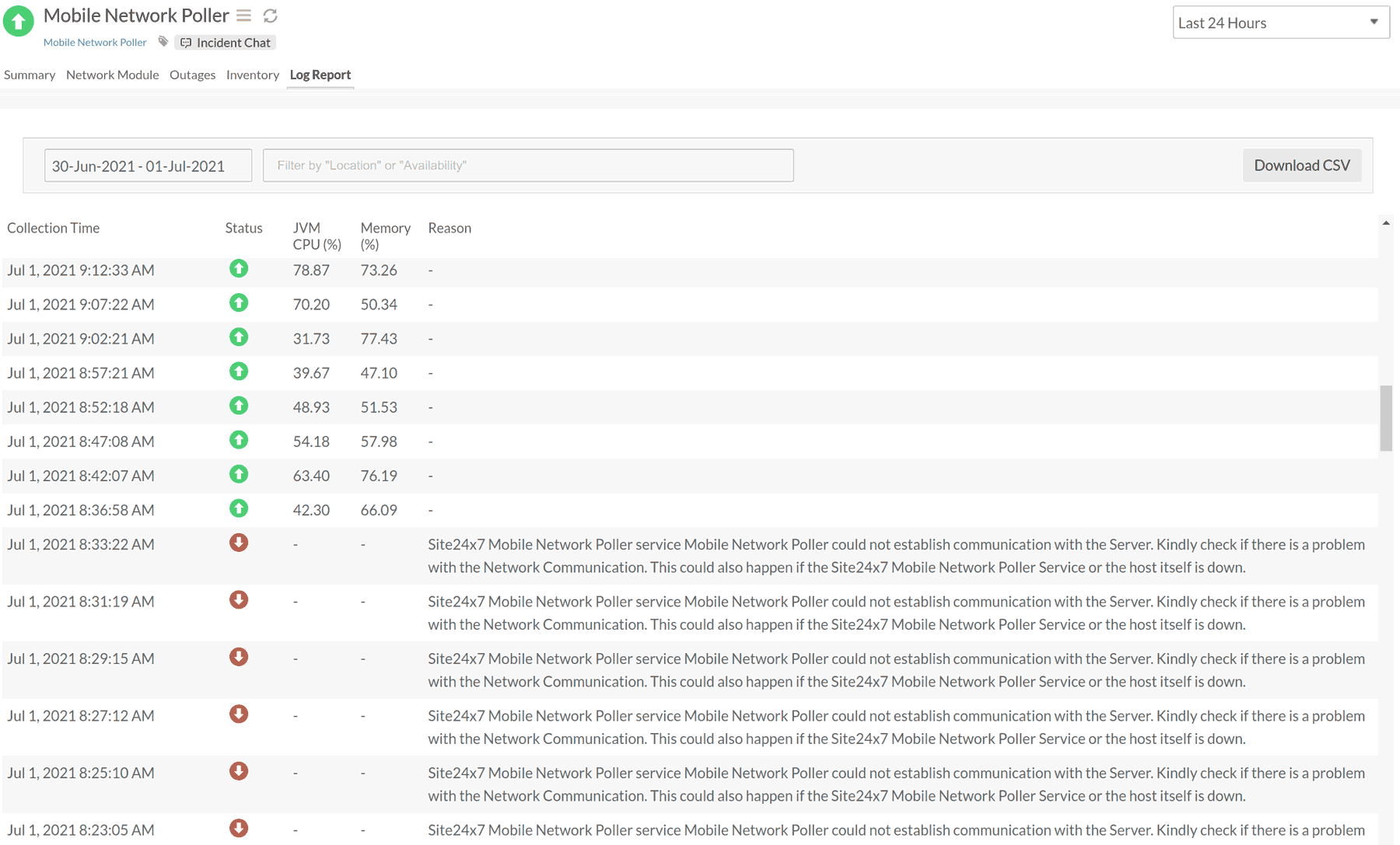 Troubleshoot application performance issues
There are numerous applications needed to maintain student records, take notes, and conduct exams. Application performance depends on the code and the performance of connected components. Problems like slow database queries, infinite looping in the code base, or a slow Redis server can impact end-user requests. Monitor your application performance, trace the exact line of troublesome code, and enhance end-user experience with Site24x7 APM Insight. Take advantage of our out-of-the-box support for Microsoft applications and plugins like MySQL and Apache, or write your own plugin to fit your custom monitoring needs.
Resolve issues with online classes using log analytics
Online classes have played a substantial role in distance education and they've gained even more momentum during the COVID-19 pandemic. Stay on top of all your Zoom sessions with Site24x7's Zoom log analysis. It's critical to ensure that Zoom meetings take place without any complications and also provide data on the average duration, any meeting or webinar issues, and Room Alerts. You can also collect and analyze logs from over 30 servers and applications in one place, enabling you to query and debug from a single console.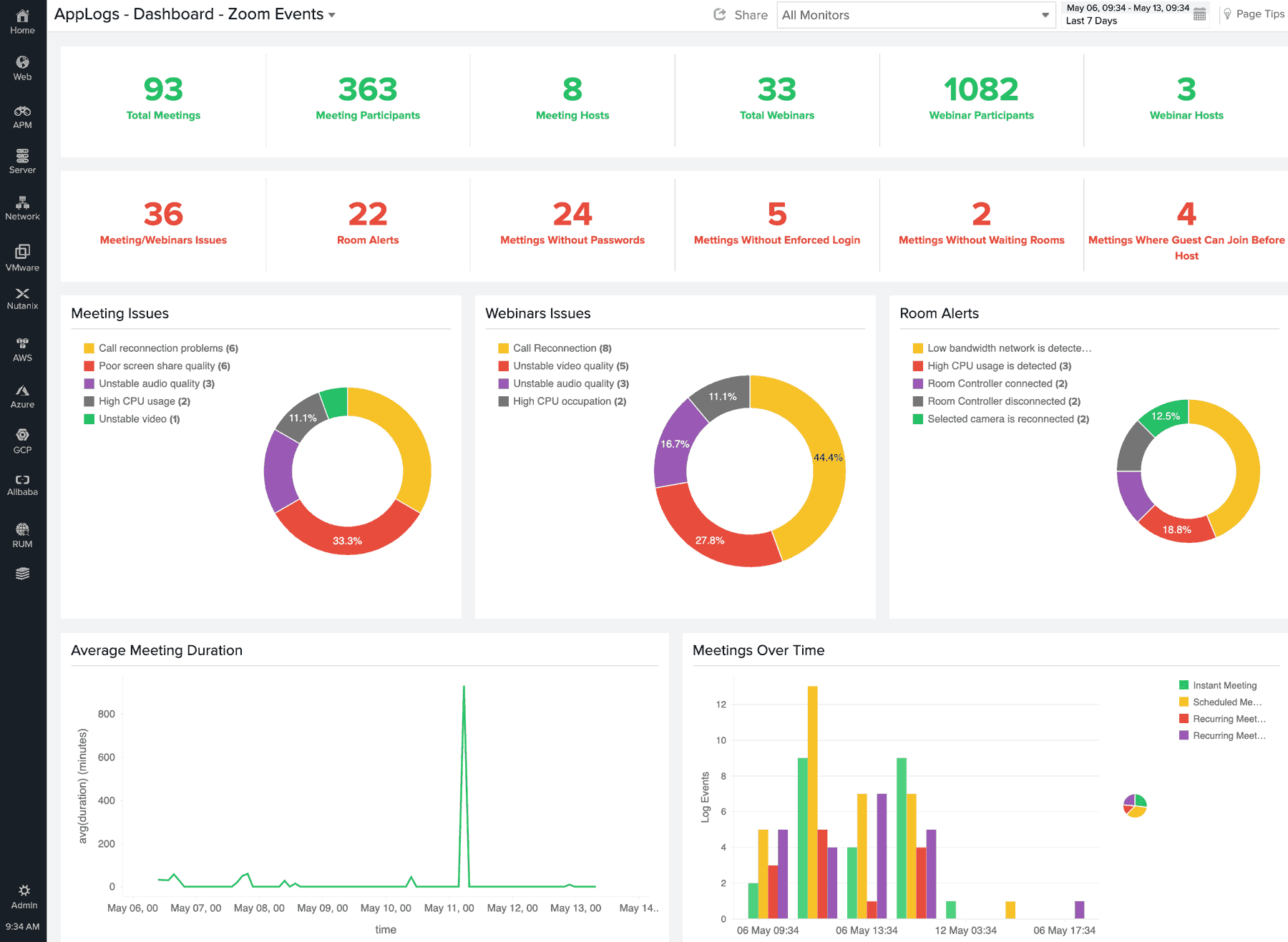 Communicate IT issues transparently
Students may want to know the status of your site when they're unable to access it. Having a dedicated status page with your institution's logo on top is important to keep them informed about outages and downtime. Communicate service disruptions, planned maintenance, and real-time statuses using Site24x7 Status IQ.
It's a fact!
Site24x7 was able to meet these objectives with its initial product offering (Starter pack). It was so affordable, in fact, we were initially skeptical about the quality of the product. But the product proved our skepticism wrong right from day one by providing the best-in-class services we wanted, something on par with AWS and Google Cloud.
Site24x7 helps many schools, universities, and other educational institutions serve millions of students. Sign up for a 30-day, free trial, or schedule a personalized demo to find out how Site24x7 can help your organization.