Uptime monitoring as a complementing service
For any service provider, offering complementary services will add more value and help bring new customers on-board while also making the current customer base cling on to it. For example, a hosting provider will earn more customer patronage if the services they offer are unparalleled and seamless. Needless to say, if they provide real-time operational status of their customers' infrastructure–it will in turn add more value to the service offered and additionally provide major thrust to their business transparency and trust factor.
Site24x7's all-in-one infrastructure monitoring
suite helps you offer a white labelled monitoring, reporting, and alerting solution with real time insights into your customers' infrastructure. You can provide thrust to your business reputation by adding these complementary services to your service portfolio:
Site24x7's uptime monitoring as a key value add on top of your existing service
Integration of customers' uptime data to your own dashboard
Alerts hooked to your system to help keep customers in the loop. Facilitate easy delivery of critical down alerts to your customers.
Better user experience is a critical attribute driving any business and it's always incomplete without a 100 percent website availability. Monitoring availability of websites from world wide locations, and offering granular reports and alerts is an uphill task as it needs to have a feasible technology and infrastructure in place. However, service providers might always not have the right technology and infrastructure to execute this task. For service providers listed below, it becomes all the more important to track uptime of website in equal terms as website performance and security:
Website optimization service providers
DDoS protection service providers
Content Delivery Network (CDN) providers
Website designers
Provide complementary services that your customers would like
By obtaining a Site24x7 account, service providers can easily use Site24x7 REST APIs to manage and monitor the uptime of their customers' infrastructure. Some of the key features offered by Site24x7 include:
Infrastructure monitoring and real time alerting
Intuitive dashboards and indepth monitoring reports
RESTful APIs for management.
Infrastructure monitoring and real time alerting
Site24x7 ensures uninterrupted monitoring from global locations round the clock. The website will be checked every one minute to verify the availability of the website. When a website isn't accessible from a preset location, a preconfigured web hook action will be invoked, which then triggers an alert.
The service provider can use this to notify their customers about any unplanned downtime. Users are further insured from any false alerts based on the recheck logic applied from multiple locations.
Today's digital businesses are built on top of Application Performance Interfaces (APIs). It facilitates creation of custom applications for specific use cases. By utilizing Site24x7's RESTful APIs–service providers can offer reliable monitoring services to customers, without conceding on the stability and security. To achieve this, service providers have to simply subscribe to Site24x7 and start monitoring all customer accounts for uptime.
When a new website is registered with the service provider, they can use Site24x7 APIs to create an uptime monitor for that website in their Site24x7 account. A unique 'Website ID' fetched from the API response must then be stored in their database. This will allow the data retrieved to be displayed in the dashboards.
Intuitive dashboards and indepth monitoring reports
In-depth reporting feature is a critical aspect of any comprehensive monitoring tool. Site24x7 allows easy reuse of default dashboard views and ability to share it with customers. Custom dashboards showcasing the uptime data can be shared with customers.
The following dashboards can be built with Site24x7 API using the Website IDs stored. Other dashboards that can be provided to customers using Site24x7's APIs are:
Website availability from worldwide locations
Website response time from worldwide locations
Current status of the website
Website outages over a period of time.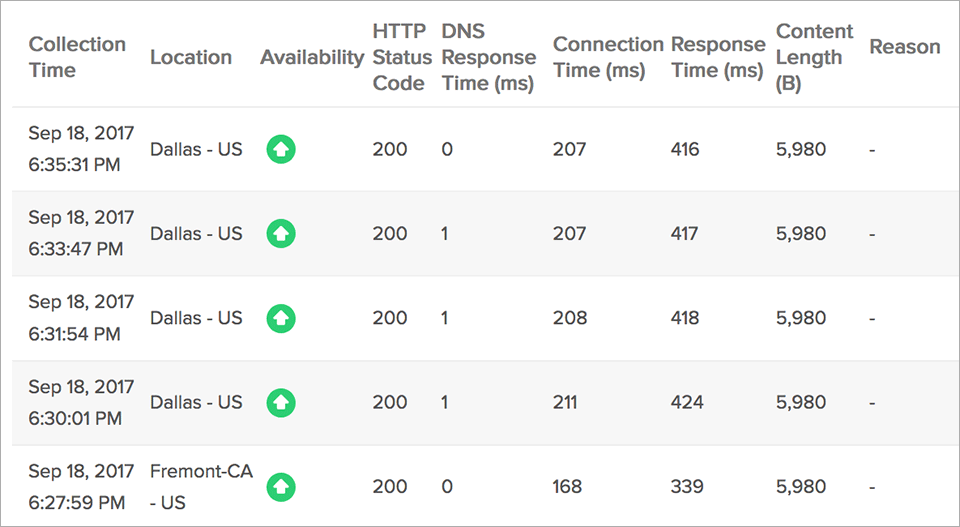 Why should you opt for Site24x7?
Site24x7 is a proven player in the infrastructure monitoring space with in-depth website, server, application, network, and cloud monitoring capabilities. Site24x7 has 90+ worldwide monitoring locations that ensure accurate monitoring data and false alerts prevention. A wide range of customization options are available including registering web hooks for receiving alerts.
Further to its monitoring capabilities, Site24x7 also provides RESTful APIs that help manage the monitoring from remote systems altogether. All these features enable service providers to seamlessly integrate Site24x7 data into their own dashboards and provide complete white labelled uptime service to their customers. Service providers can offer these services at an affordable price, while also helping customers to manage user experience in an effective manner.