At Site24x7, our goal has always been to provide you with the best of monitoring experience and with that very same intention, we've worked on an all new client that will completely change the way you monitor your critical resources. The new client does not just comes with a whole new look and feel, but also with numerous technical enhancements that will drastically improve the way you keep track on metrics that matter the most.
We've just highlighted a few web client enhancements to get you started. Read our blog to learn more.
Notifications badge
Monitor status categorization
New monitor group view
Easy outage tracking
New help assistant
Dynamic heat maps
Integrated benchmarks
Upgraded performance charts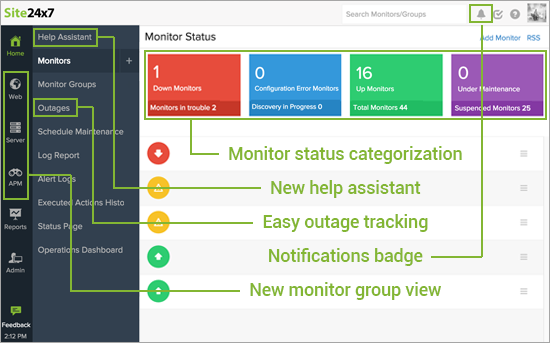 Write to us on our forums if the new client update has made your monitoring more efficient and enjoyable. We're waiting to hear from you. Happy monitoring!
Recommended read: New web client blog.