Mail Delivery Monitoring.
Monitor your Mail Server infrastructure from an end-user perspective. Test every aspect of the email delivery process and measure round-trip time from more than 120+ global monitoring locations.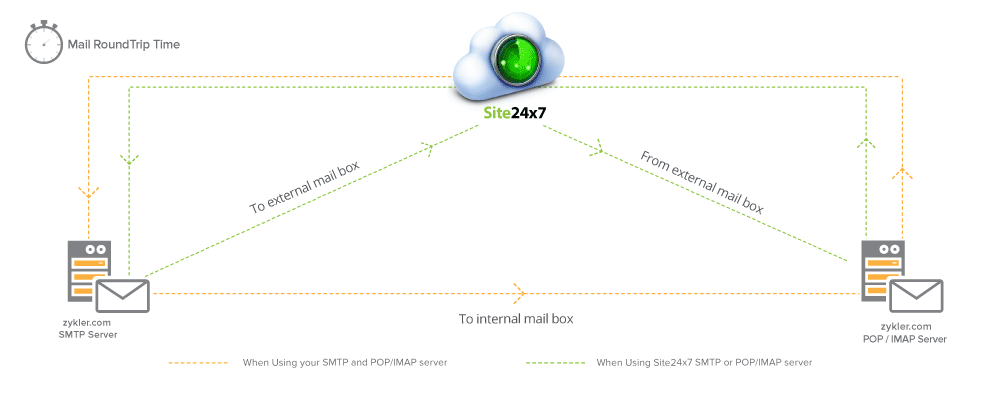 Email delivery mechanism.
Site24x7 acting as an SMTP client opens a secure connection with the SMTP server and performs a basic handshake, once this is established the transmission of the test email occurs. This process is similar to how a webmail or email client works.
The SMTP server checks the domain name of the test mail recipient and transfers the mail to the respective POP/IMAP server.
Site24x7 remotely connects to your incoming mail server, authenticates itself with the username and password provided, scans the mail server for the appropriate subject field name or attachment name and retrieves the test mail via POP/IMAP.
Site24x7 measures the average time delay between, the transmission of the test email and its reception. The test mail deployed will be automatically deleted from the mail server.
Site24x7 will trigger an alert if any one of these aspects in the mail delivery process fails. Securely connect Site24x7 with your SMTP and POP/IMAP server by enabling transport-layer security or SSL encryption and provide a private and authenticated communication over the Internet.
Monitor your SMTP server.
Continuously monitor the availability and performance of your IPv4 and IPv6 enabled SMTP servers from more than 90 global monitoring locations. Site24x7 remotely connects to the designated SMTP port every 1 minute and checks whether the SMTP server is available or not. Monitor the SMTP Server provided by your mail, ISP and hosting providers to ensure SLA compliance.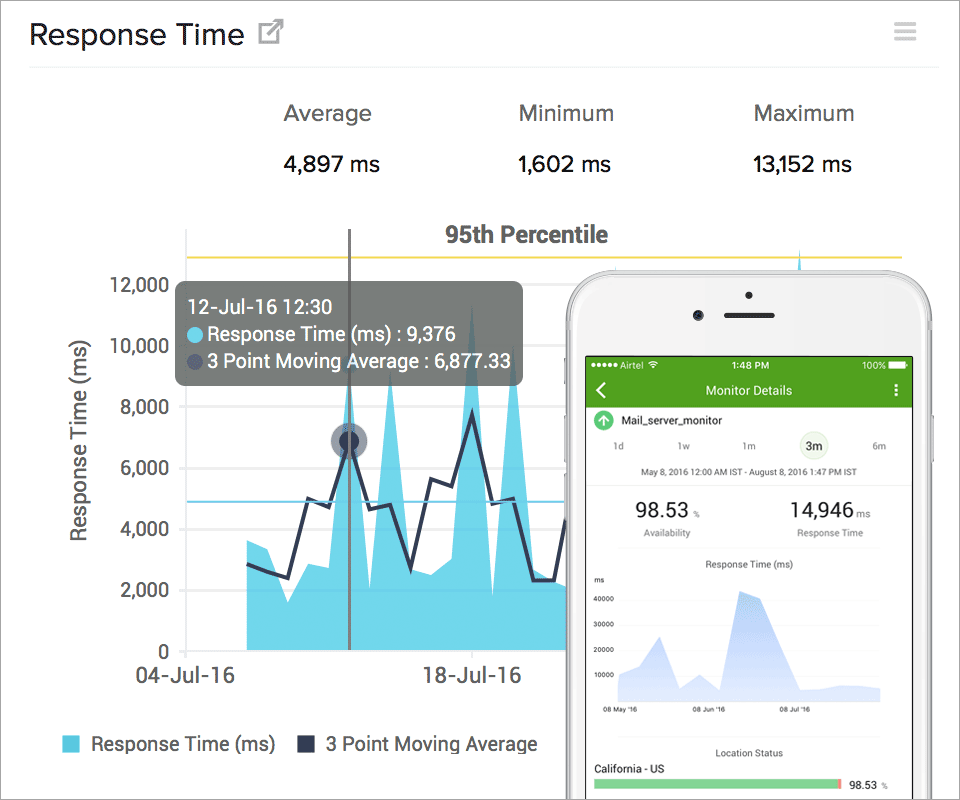 POP/IMAP Server Monitoring.
Post Office Protocol (POP3) Server and Internet Message Access Protocol (IMAP4) Server monitoring checks the availability and response time of both your IPv4 and IPv6 enabled POP and IMAP Servers by connecting with the designated port from global monitoring locations. Site24x7 triggers an alert when there is no response from the server within the set time limit or when the DNS resolution of the SMTP, POP or IMAP Servers fail.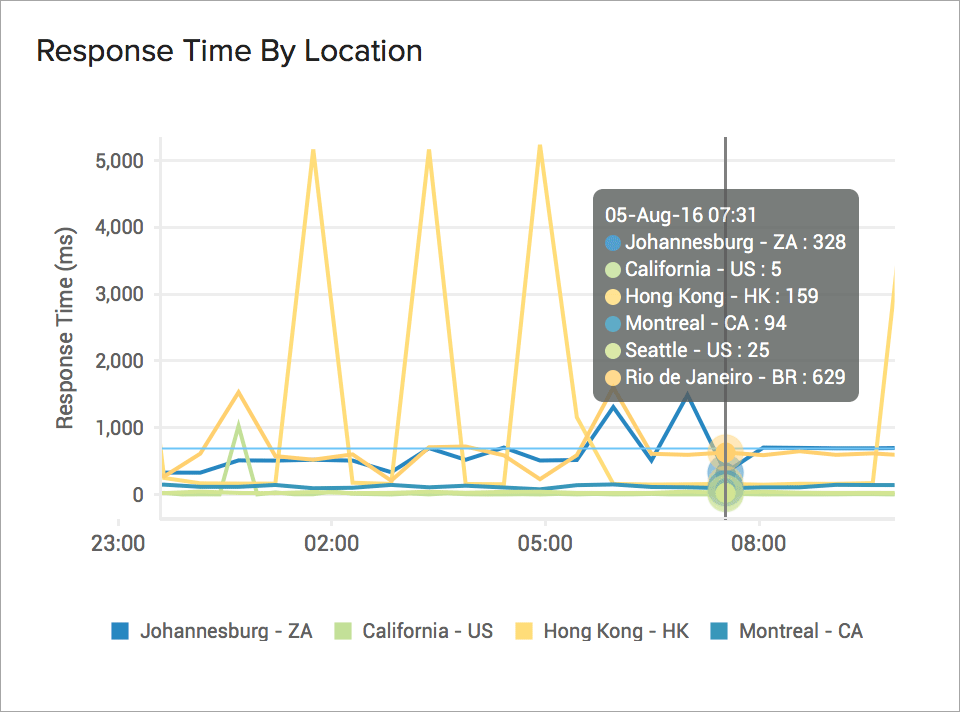 Troubleshoot problems relating to mail servers.
The Mail Delivery monitor helps you identify various errors which may prevent successful mail delivery.
DNS resolution of your mail server- Are the MX records in the DNS server pointing towards the right mail server?
Does the mail server receive incoming mail and forward outgoing mail for delivery to both local and remote users?
Can mail clients and web mail users access the inbox via POP and IMAP?
Checks whether your network connections are in order.
Identify whether the default port address of your SMTP, POP or IMAP server is changed or not.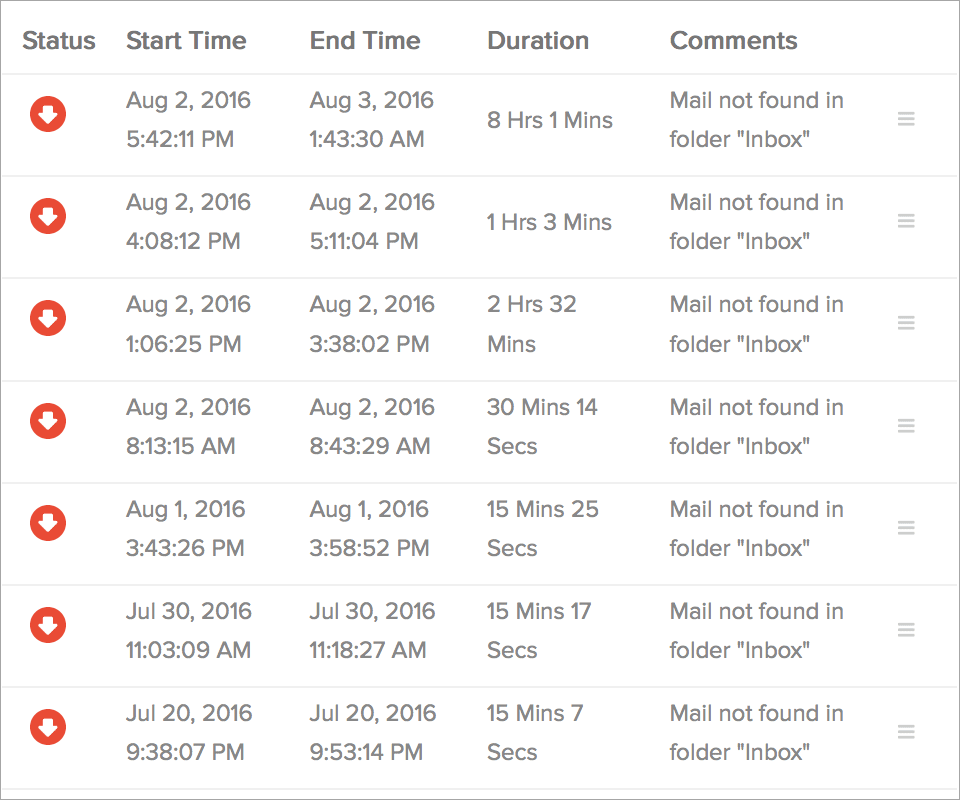 Microsoft Exchange server monitoring.
In addition to mail server monitoring, Site24x7's Windows agent based monitoring for Microsoft infrastructure, allows you to monitor the performance and availability of your on-premise Microsoft exchange environment. Site24x7 automatically discovers all the exchange server roles configured viz., Mailbox, Client Access, Unified Messaging, Hub Transport and Edge Transport and delivers real time data on server health, performance and client usage pattern.
Also, get complete visibility on your entire infrastructure with Site24x7 server monitoring. Monitor your server environment and get in-depth key performance indicators for Windows, Linux, FreeBSD and OS X servers.