Monitor your hybrid cloud infrastructure
Site24x7 offers a centralized approach to monitor your virtual infrastructure, on-premises IT environment, and cloud infrastructure–all on a single platform.
Monitor usage and performance for infrastructure and PaaS running in your Amazon Web Service environment.
Get a comprehesive view into the health of your EC2 server instances.
Monitor resource utilization and operational health of 100+ Azure services.
Analyze virtual machine workloads and host resource utilization on your vSphere environment.
Check status of your Docker containers.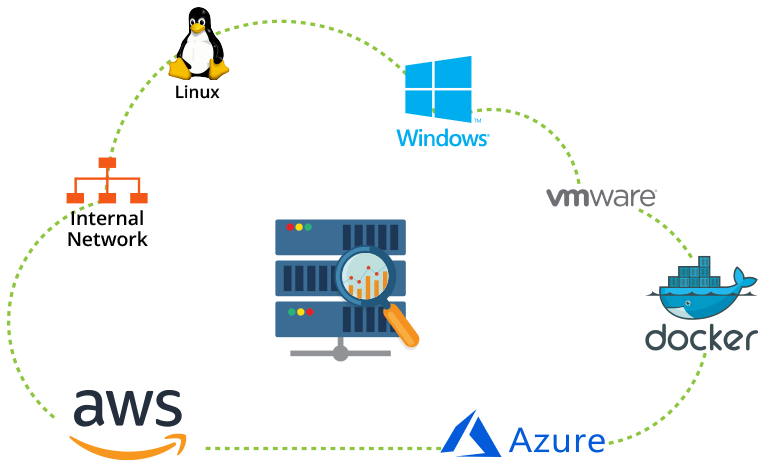 Amazon Web Services
Monitor your AWS resources with CloudWatch
Baseline and analyze performance of native services like EC2, EBS, ELB, RDS, DynamoDB, S3, ElastiCache, CloudFront, SNS and SQS to optimize usage.
Get improved visibility into your EC2 environment
Monitor your EC2 instances from both a hypervisor level and OS level to get deep visibility into the resource usage of your infrastructure.
Performance monitoring for AWS hosted applications
Dill down into each transaction, get critical code level insights to debug performance issues for your distributed application.
Our expanding monitoring support for the Amazon Web Service platform
EC2
ELB
RDS
DynamoDB
Lambda
EBS
Kinesis
CloudFront
ElastiCache
S3
SQS
SNS
Elastic Beanstalk
Direct Connect
VPC-VPN
API Gateway
ECS
Redshift
EFS
SES
Step Functions
WAF
CloudSearch
KMS
Monitor infrastructure, services and application on your AWS platform