We're excited to announce that our Real User Monitoring (RUM) feature is no longer in beta. With RUM, you gain insight into the complete life cycle of a web page and exactly know how real users experience your applications. RUM also gives you in-depth understanding of problems affecting real users and analyzes application performance from every aspect like browser, platform, country and more.
Microscopic Visibility
You get deep insight into key performance metrics right from the initiation of the URL until the request is served back to the browser. Application performance can be split into network, back-end and front-end components, all of which help developers tailor applications to be more fluid to end users.
Tailor App Performance
RUM provides graphical representation of end-user response time and throughput globally that helps you understand how applications behave when accessed from different geographic locations. Browser based metrics help DevOps understand if new application updates affect performance in a specific version of browser and response time captured by device type highlight app performance when accessed via a specific platform, e.g., desktop or mobile. A split-up of statistics related to ISP-based performance is also captured by RUM.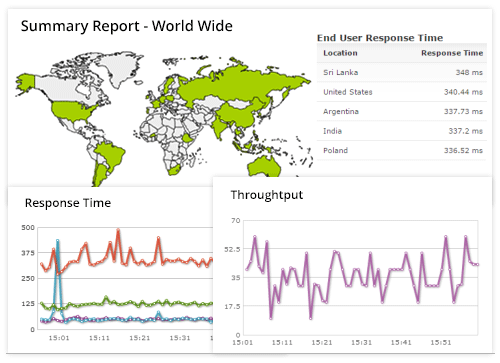 RUM will be included in different proportions in different packs as follows.
Business Pack - 500K page views per month
Advanced Pack - 1M page views per month
Premier Pack - 5M page views per month
For details on pricing. See here.
Learn more about Real User Monitoring (RUM).