To ensure business continuity and high productivity, Internet-facing applications must provide high uptime and optimum performance. However, today, optimum productivity is dependent on the performance of internal applications, because these applications are used for collaboration, production, and delivery.
For example, an outage of your check-in repository when you are about to push that critical bug fix can force your support team break a promise made to the customer. In some cases, a slow-loading CRM application can scuttle the lead nurturing process of your presales teams. Therefore, you need to proactively monitor your key intranet resources.
Site24x7 On-Premise Poller - A Performance Monitoring Solution from the Cloud
On-Premise Poller is a software component that you can install on the intranet. It helps you keep an eye on the uptime and performance of your internal resources. ​Offered from the cloud, On-Premise Poller communicates to the Site24x7 central server via one way HTTP(S). That is, no holes in the firewall and no security risks.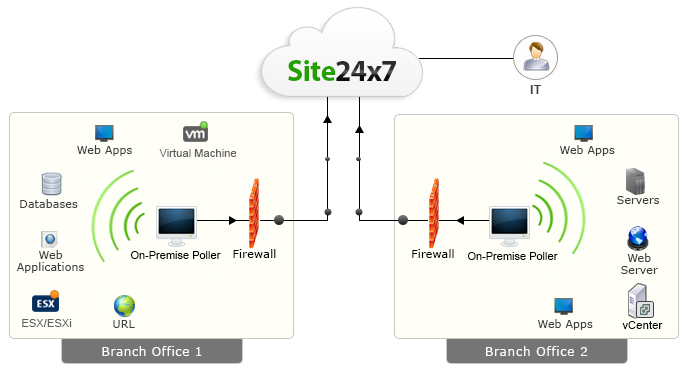 Include Internal Monitoring - Stay Productive
Ensuring maximum availability of the resources used by your internal users, is just as critical as ensuring uptime for your Internet-facing services. Therefore, a strategy to monitor the intranet is essential to complete your IT monitoring setup and stay productive.
Go ahead, add a new On Premise Poller and ensure high productivity. And don't forget to tell us about your experience.