Alerts management and customized reporting.
Receive instant notifications via email/ SMS/ voice/ instant messenger/ Twitter/ RSS/ push notification whenever your website or server goes down.
Get access to various sets of reports like the Summary report giving you details about the average response time, overall availability and number of downtimes–SLA reports for ensuring your hosting provider meets your SLAs. View indepth and exhaustive reports that shed light over the availability and performance metrics that matter the most. Generate reports for a custom time period. View required metrics in clear intutive graphs and heatmap widgets. Measure your competition with inbuild benchmarking widget. Furthermore, define SLAs and proactively monitor its compliance. Reports include:
Availability summary report
Busy hours report
Health trend report
Performance report
Top N report
SLA report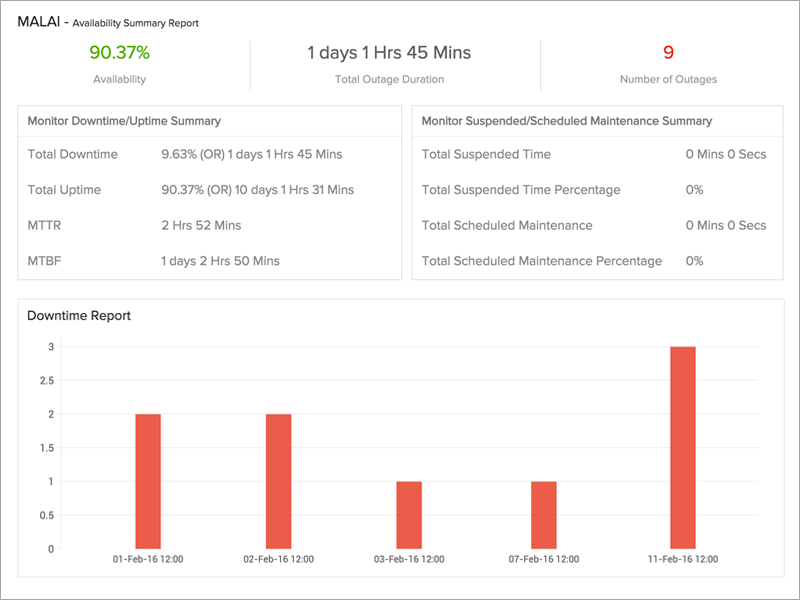 Highlights.
Zero false alerts as we recheck from 3 locations and even take a screenshot from a real browser before notifying you!
Make sure you always stay on top of downtime. Monitor the availability of your websites with check frequency as low as once per minute.
Integrate with third-party applications like Zapier and PagerDuty. Site24x7's integration with Zapier enables you to create powerful workflows on the go. Integrate with PagerDuty to experience superior alerts management and on-call support.
Identify the actual reason behind a downtime with Root Cause Analysis (RCA) that includes detailed dig report, DNS analysis, traceroute, ping results and a screenshot from a real browser showing the errors.
Measure end-user satisfaction with Apdex Scores and identify any performance bottleneck in a specific region.
Perform detailed content checks in a website and get alerted when specified keywords are present or not in the website.
Site24x7 also provides agent based monitoring to analyze performance of File monitoring, Directory monitoring, Windows Event log monitoring and Linux Syslog file monitoring.
Monitor your mobile websites and other online services via wireless carriers (3G, 4G) and enterprise Wi-Fi networks.
Easily track the availability and performance of your websites on the go with Site24x7 iOS and Android apps.
Our monitoring capabilities comprise of website monitoring, webpage analyzer, web application monitoring, web application (real browser) monitoring, SSL certificate, DNS monitor and more. Compare various monitors.