Uptime monitoring for your internet and intranet resources
Monitor the uptime and performance of both IPv4 and IPv6 enabled websites from locations that truly matter for your business. Constantly monitor from more than 120+ global monitoring locations, identify geographies where your website might be experiencing outages and resolve downtime before your end users are affected. Configure an On-Premise Poller to setup a monitoring station behind your firewall.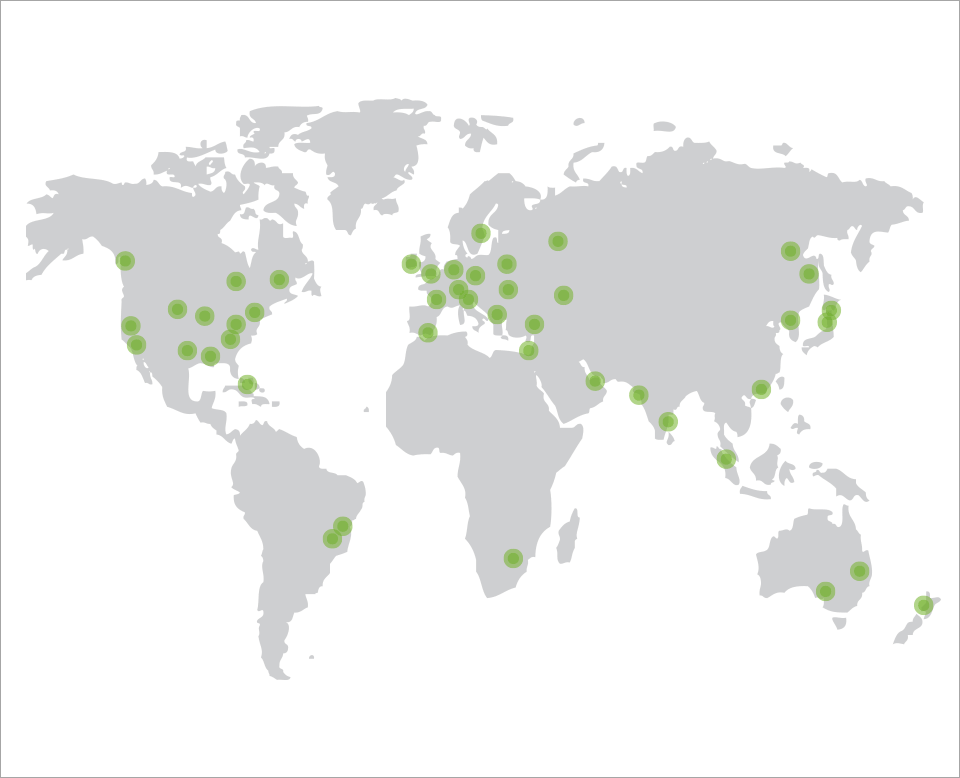 HTTP configuration and data submission methods
Check availability of static and dynamic webpages, select HTTP method options viz., GET, HEAD, POST, PUT, PATCH to customize the requests sent to your website. Site24x7 supports various form submission data formats like XML, JSON, Text for the POST HTTP method. Identify whether your POST request to the targeted resource is successful or not. Specify comma-separated accepted list of HTTP status codes that indicate a successful response.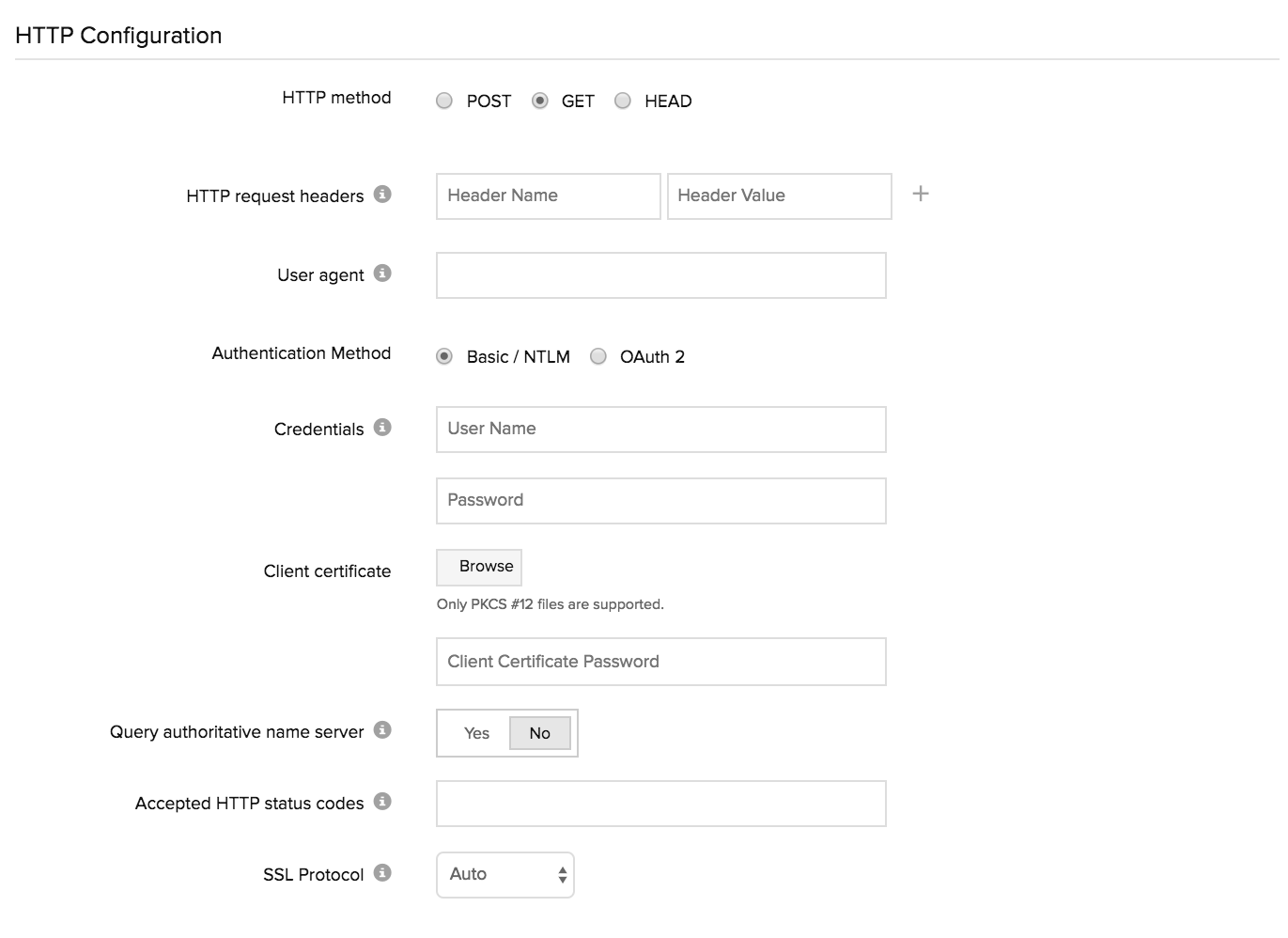 Check uptime every 1 minute
Site24x7 remotely connects to your website or web application every 1 minute from multiple global monitoring locations spanning across continents and checks for uptime. Ensure a foolproof false alerts protection by setting up a dependency configuration to suppress redundant alerts and by provisioning additional checks from secondary monitoring locations in the event of a downtime.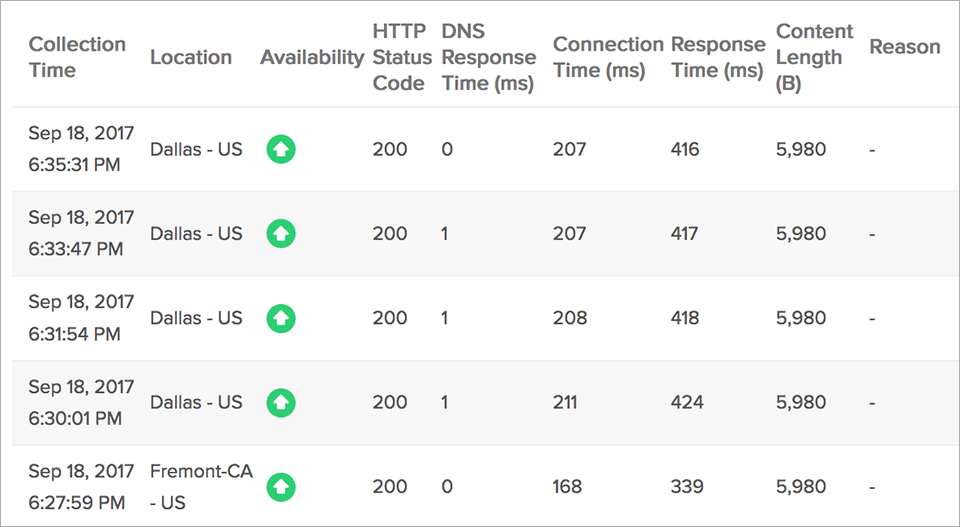 Website redirects and SNI
Site24x7 follows automatic redirects to a different location within the same site or a new site. A maximum number of 10 redirects are done before a website is marked as unavailable. Our SNI compatibility function allows you to monitor the uptime and performance of HTTPS enabled URLs.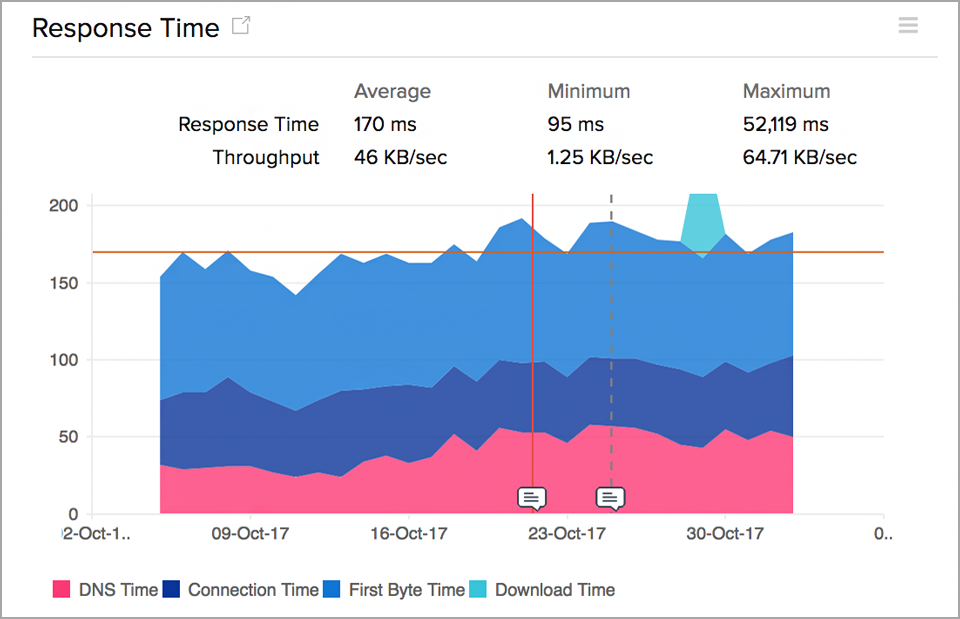 IPv4 and IPv6 compatibility and SSL handshake validation
Monitor the uptime and performance of both IPv4 and IPv6 enabled websites and web applications. Eliminate downtime and ensure 100 percent website uptime for your mission critical online services. Specify the version number of the SSL or TLS protocol (TLSv1.2, TLSv1.1, TLSv1 and SSLv3 supported) that's used by the client to establish a secure communication with the target server.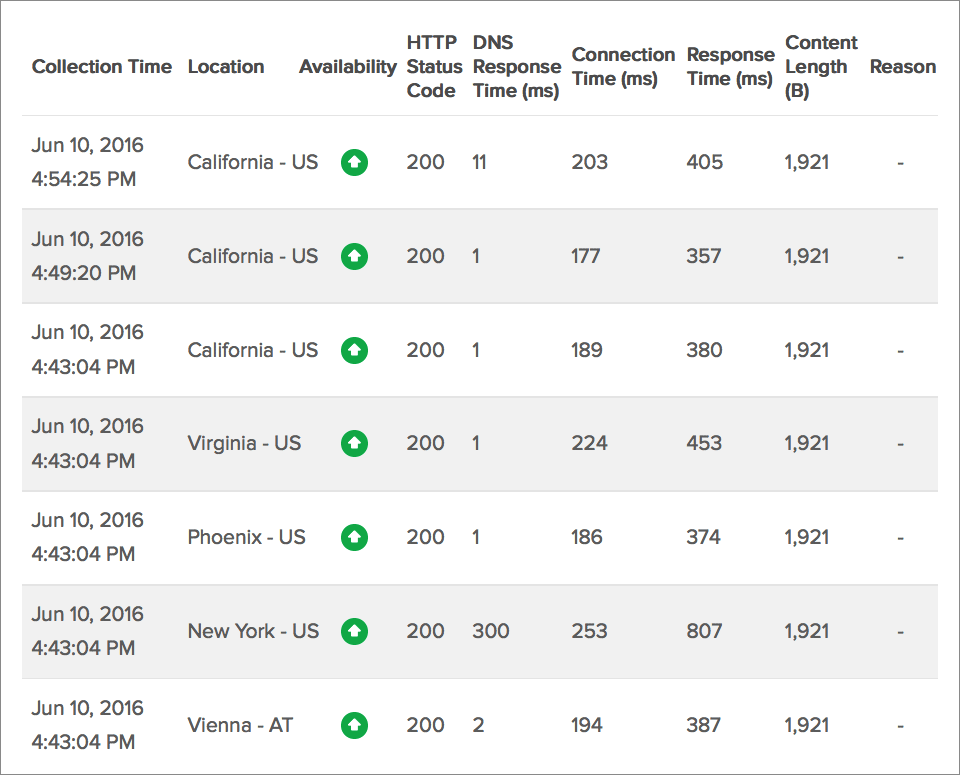 Support for secure authentication protocols
Don't let authentication protocols come in the way of monitoring your Internet or Intranet environments. Site24x7 supports monitoring of resources secured with OAuth 2.0, client certificate or Basic/NTLM authentication protocols.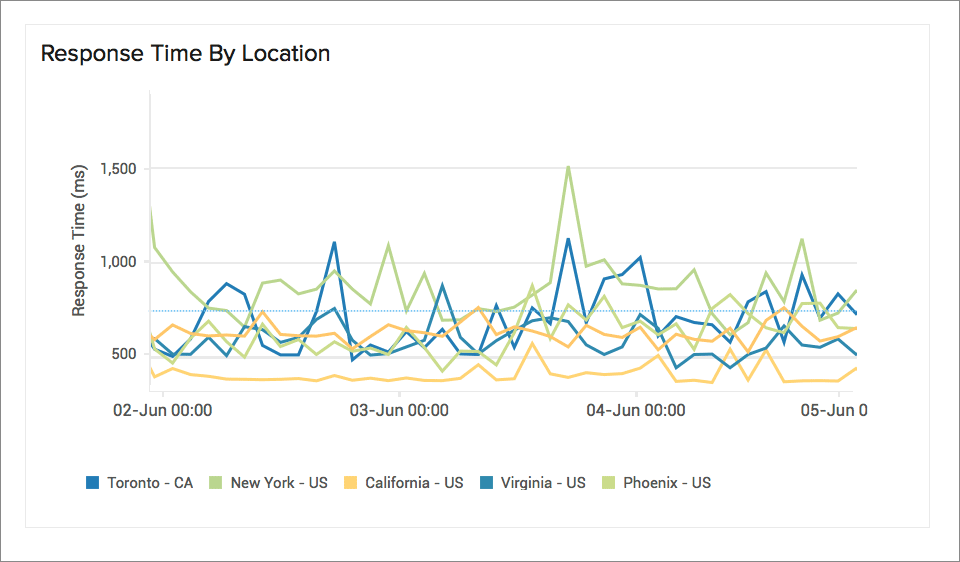 Troubleshoot outages with powerful reporting
Site24x7's uptime monitoring capability gives you all the actionable insights needed to identify and troubleshoot downtime, inducing metrics like DNS record errors, network issues etc. Root cause analysis report in the event of downtime, website response time split-up metric from global monitoring locations help you triage and resolve outages whenever it occurs. Poll Now report offers indepth information on specifics like SSL/TLS protocol version used, Cipher suite details like Key Exchange, Bulk Encryption, and Hash Function. Also, gather critical information like Traceroute output from monitoring locations.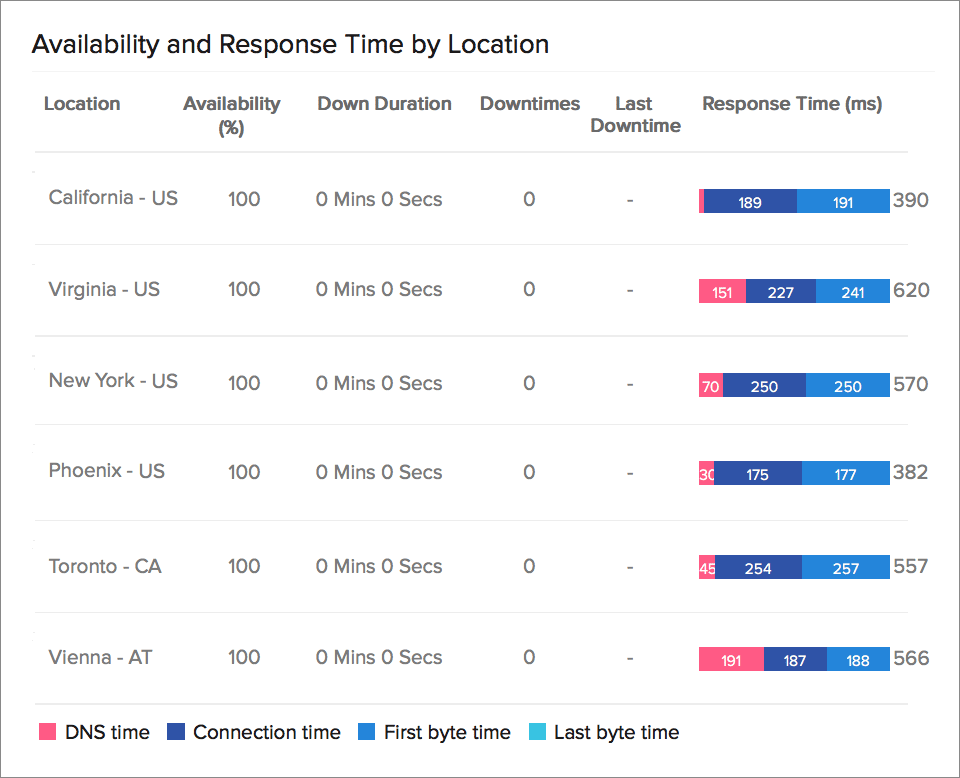 Website content accuracy checks
Identify content changes made to your website using our custom keyword check. Configure keywords pertaining to content violation or timeout errors and check for the existence or non-existence of keywords in the website response. Provide Regular expressions and get notified when an expression fails to validate. Receive alerts via Voice calls, SMS, IM, Email and push notifications (from Android and iOS apps) whenever a breach occurs.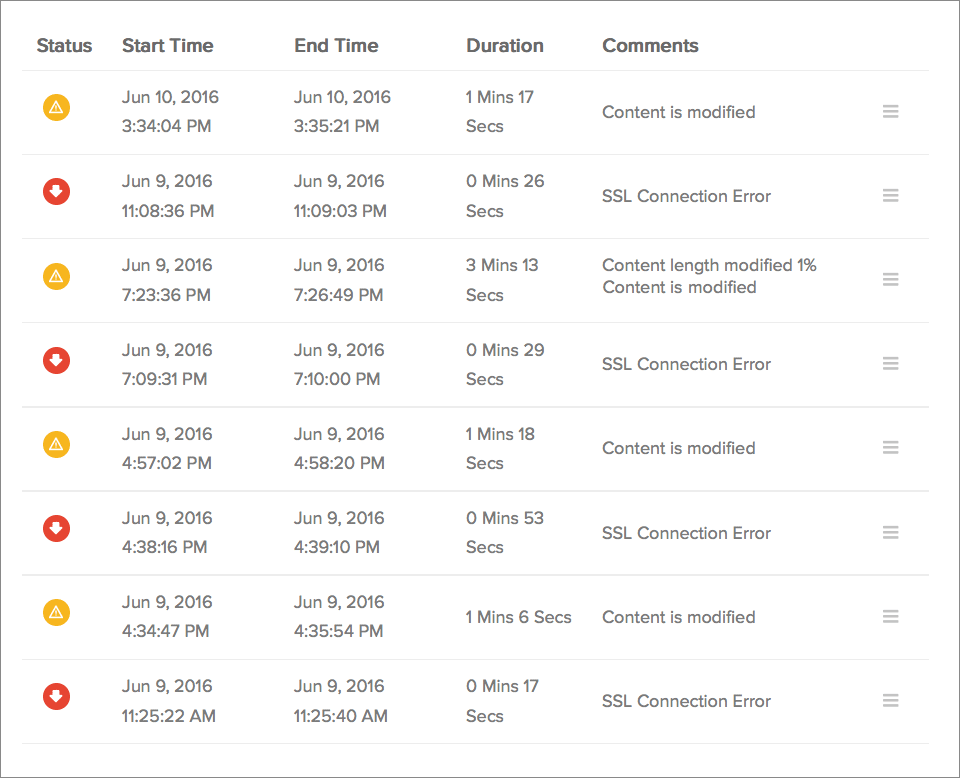 Website availability, summary and busy hours report
Use Site24x7's busy hour reports function to obtain an objective analysis of your website/server during peak traffic hours to identify what part of the day the response was the slowest. Equip your back-end infrastructure to handle the traffic, improve response time and prevent downtime.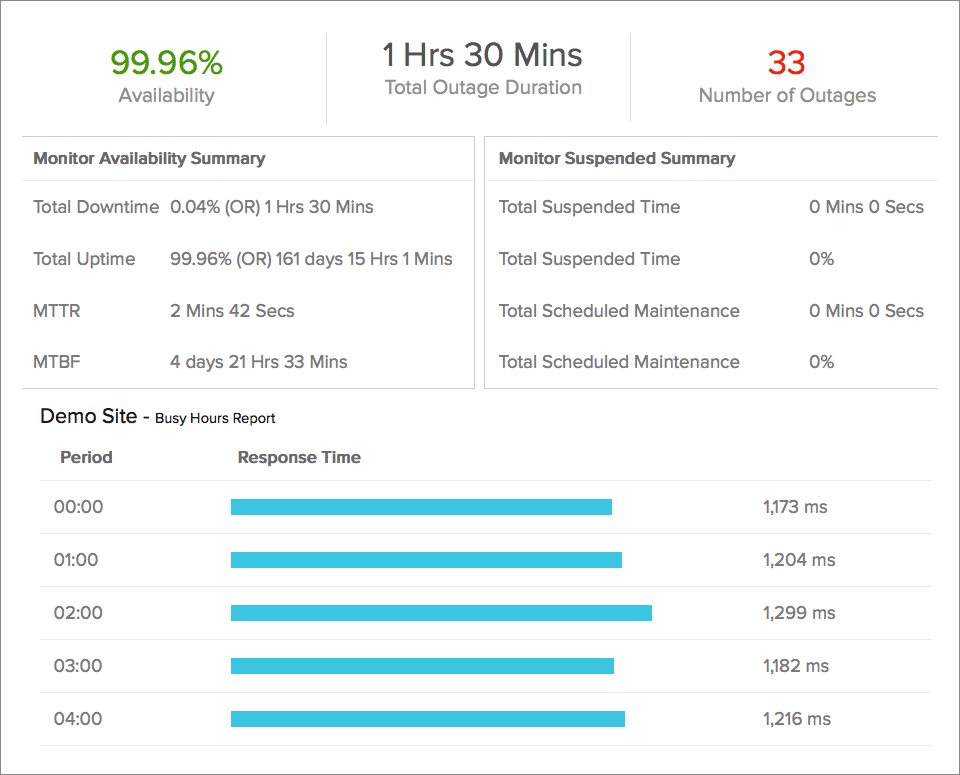 Public status pages
Alas downtime is unavoidable, but don't worry, Site24x7's public status page are your perfect incident communication partner. In the event of outages or downtime, keep your users in the loop by communicating your current status. Be transparent about the operational side of your business and build trust among your customers.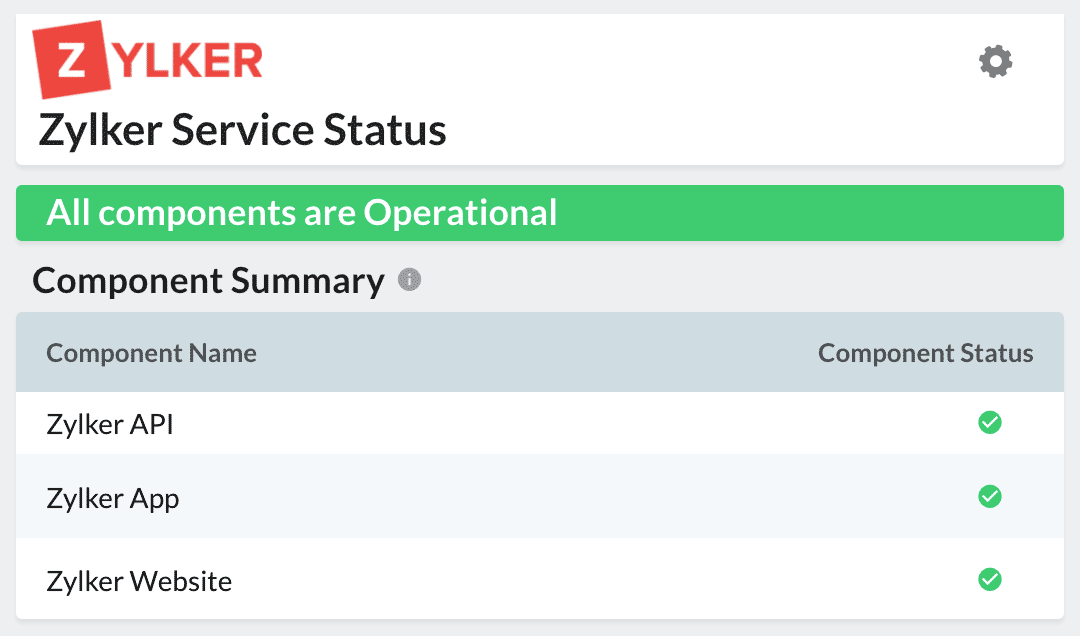 Check the availability and performance of your websites and get alerted in case of downtime with Site24x7 website monitoring.
Monitor uptime from 120+ global locations.