Minimize user frustration
Win customers' trust by providing transparent and timely updates on a status page. Keep them in the loop throughout the resolution process.
Reduce calls to the support desk
Keep customers in the loop
Communicate early and frequently about the status of every incident on your status page to lessen the amount of tickets coming to your support desk.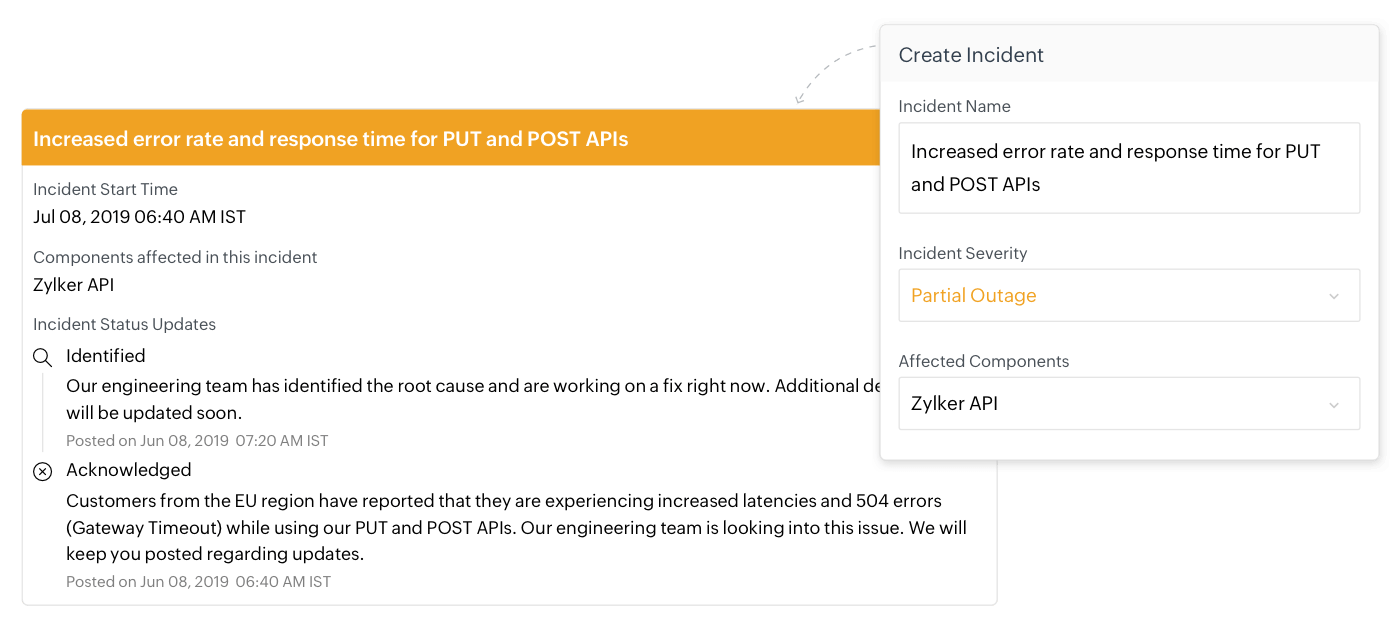 Status Widget
Bring status updates to your customers
Showcase ongoing incidents and upcoming maintenance where your users are most likely to see it—your website pages. You can add status widgets in to your site's header, footer, or you can choose a floating widget that sticks to the page when users scroll across your site.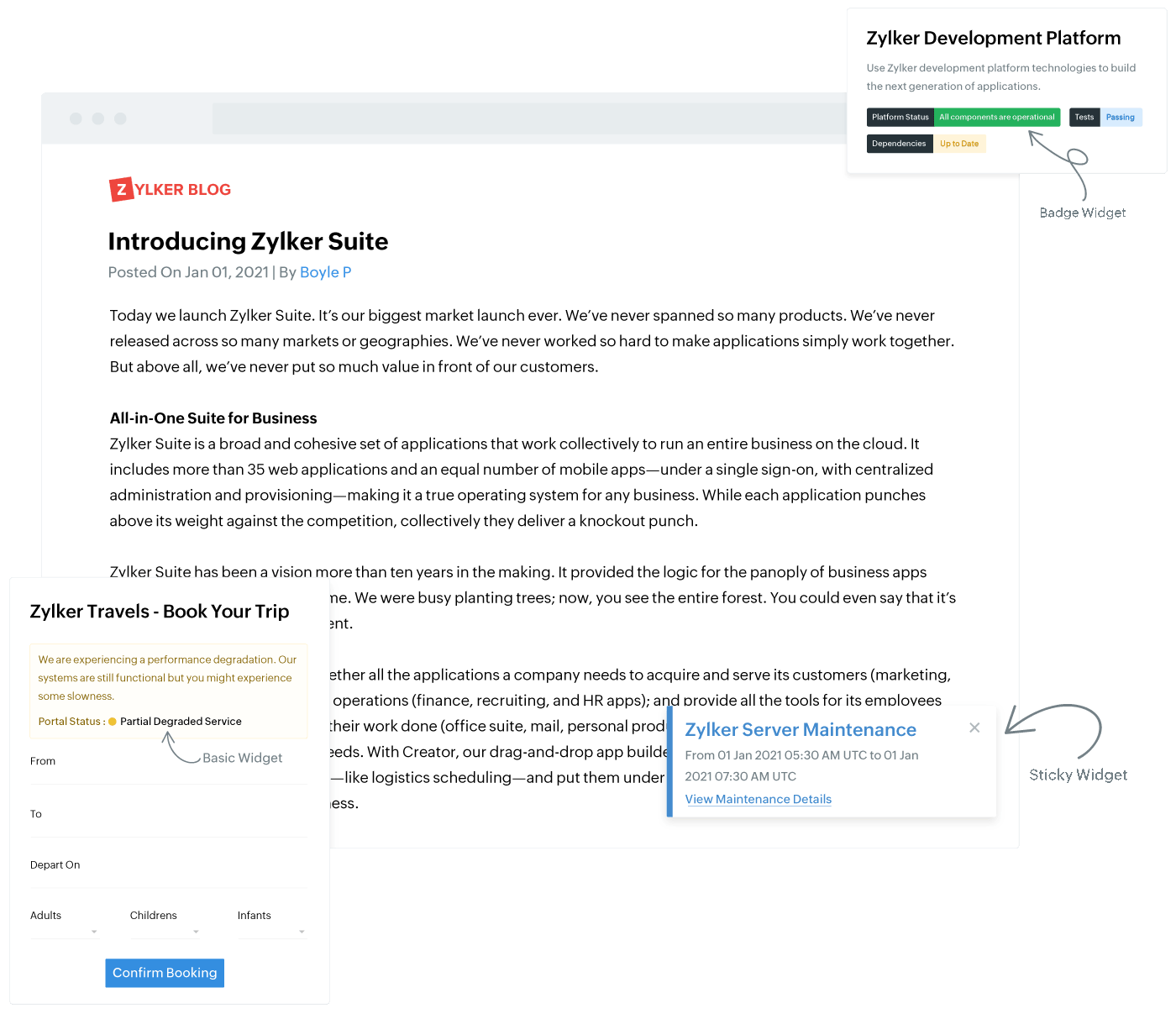 Customization
Create custom status page that reflect your business
Showcase your brand's colors, logo, and favicon, and map custom domains like status.yourbusiness.com to the default address. Authorize StatusIQ to send notifications on behalf of your email domain to improve recognition with your customers.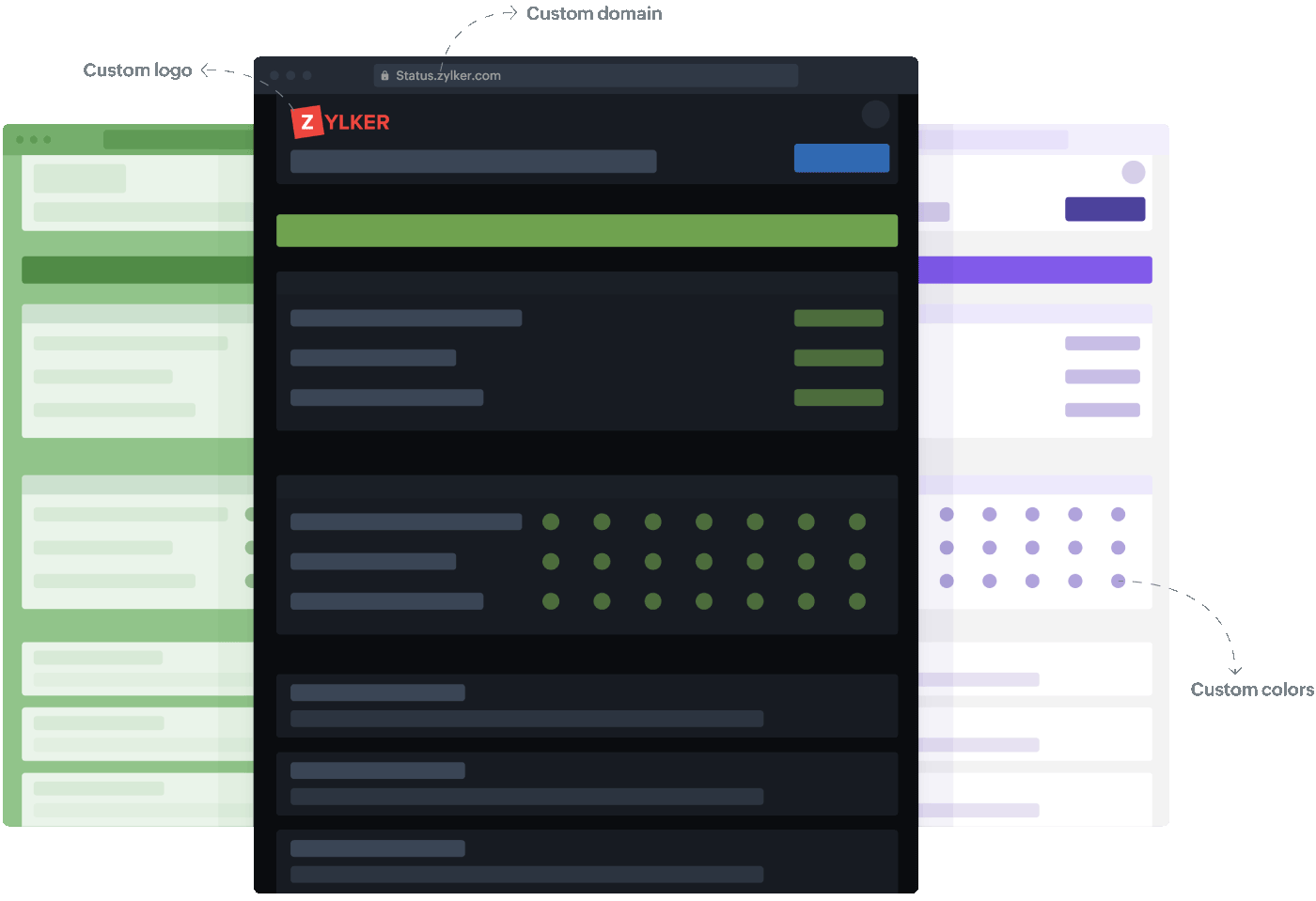 Maintenance
Help your customers plan
Inform your customers about upcoming maintenance events to help them prepare for any potential impact. With StatusIQ, you can create a one-time or recurring maintenance schedule that automatically updates the status page and sends email notifications.

Notifications
Drive down ticket volume during outages
Customers don't want to visit your status page every time they're unable to access your service. Notify them via email or SMS, or enable to access updates via RSS. You can also help your end users avoid alert fatigue by allowing them to opt-in for notifications from the services they care about.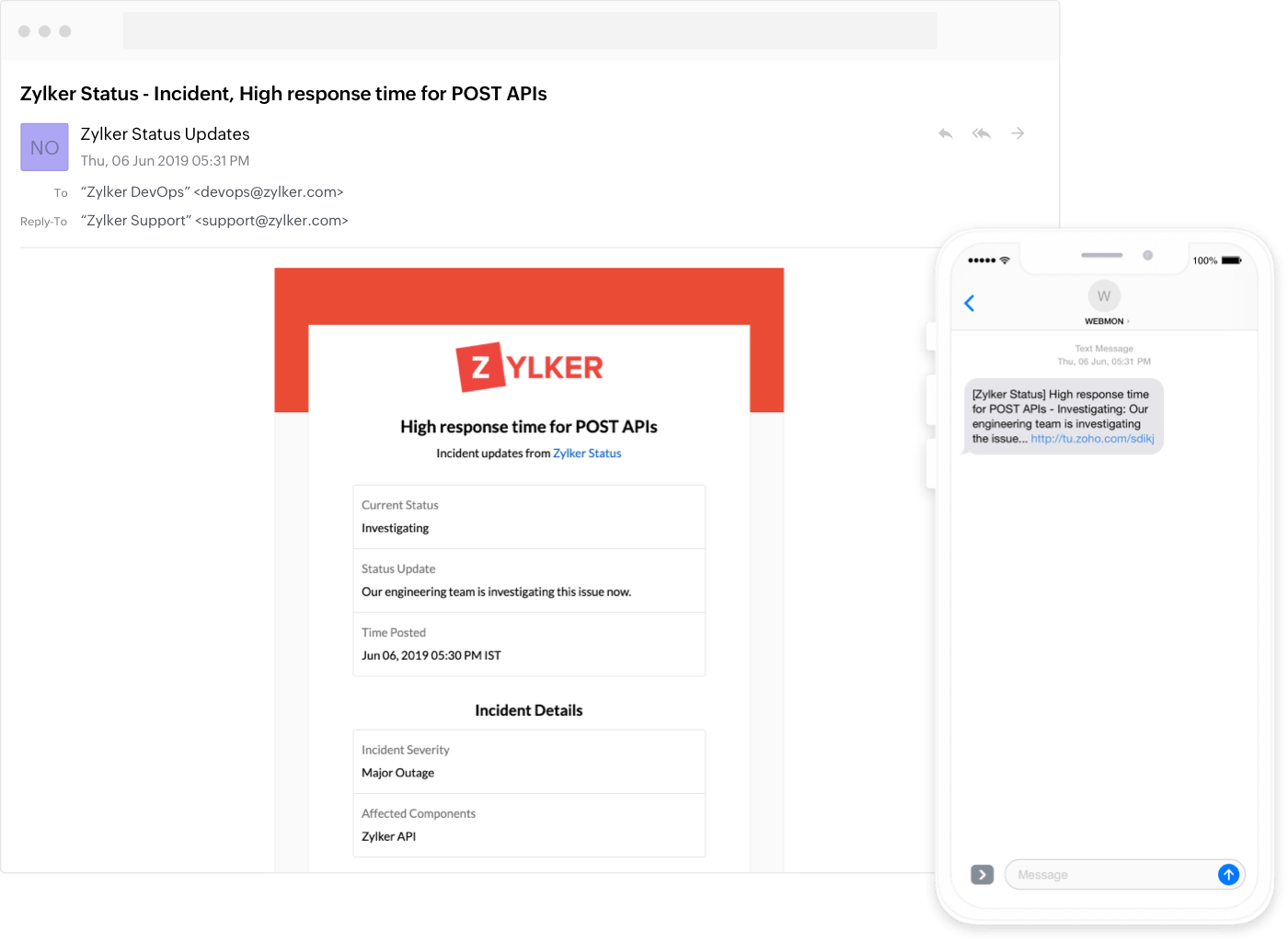 Postmortem
Enhance your customers' trust
Customers need more details about the resolved incident. With postmortem, you can write the root cause of the incident, the fix implemented, and the steps taken to prevent incidents in the future. Using our text editor, you can format text, add tables, and links to emphasize key points.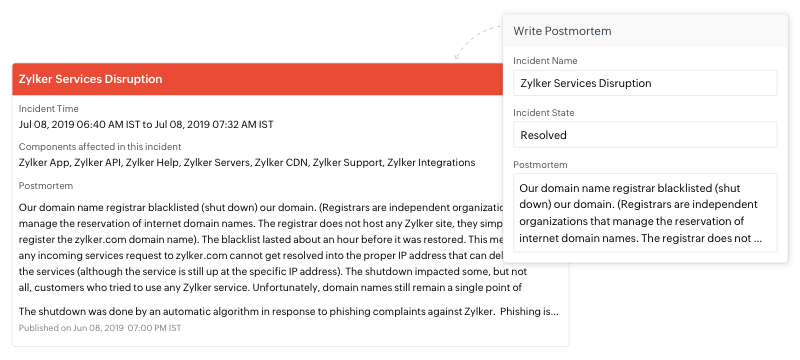 Video
Watch a quick overview
A 2-minute guide through the setup and layout.
How to create a free status page
Follow these simple steps to create a status page:
Click SIGN UP and enter your business email, create a password, and provide your phone number.
You will be taken to the dashboard. Click Set up a Status Page.
Provide a name for your status page description, and click Save.
How Site24x7 StatusIQ hosted status pages help you and your team
Marketing
Tweeting business-as-usual in the midst of a service disruption can be challenging and, if handled inappropriately, can be damaging to your brand.
Ensure your team stays current with ongoing resolution efforts.
Showcase historical uptime and demonstrate reliability to your prospects.
Support
When users aren't able to access your service, they need to know whether the problem is related to their system or yours.
Provide up-to-date information to your customers.
Enable self-diagnosis, so users can confirm if what they're experiencing is related to the service disruption.
Operations
With application workloads deployed across the globe, incident resolution is no longer an individual game, it's a team sport.
Respond faster to outages.
Alert internal team members, stay on the same page, and work together.
Hear it from our customers
We switched to Site24 from UptimeRobot because they could not provide an API to subscribe emails automatically to alerts. The StatusIQ dashboard is also well-designed, and we embed it in our web portal to provide transparency to our customers. The product is also well-priced, and I could configure it easily. Your payment system is also world-class; this is not an understatement.

Overview of status pages
What is a status page?
A status page is a webpage that displays real-time information about the status of a specific service, system, or product. It helps businesses or organizations to keep their customers or users informed about outages that affect their ability to access or use a service.
Besides providing real-time information, a status page builds customer trust by demonstrating transparency and a commitment to keeping them informed. Companies use status pages as part of their incident response and communication strategy to ensure customers are in the loop. Learn more
What are the types of status pages?
The two main types of status pages are public and private. Public status pages are designed to offer real-time updates on services for customers, fostering an environment of trust. Private status pages are designed for internal teams, promoting efficient communication and teamwork within a business. Both play a significant role in enhancing operations, building customer trust, and boosting overall productivity.
Why does a business need status pages?
A status page is essential for any business or organization as it enables them to:
Keep customers informed.
Minimize incidents' impact.
Improve incident communication.
Meet customer expectations.
Create free hosted status pages