Virtualization is one of the hottest and disruptive technologies that has changed the way IT works for modern businesses. But, today's complex virtual environments necessitate comprehensive and pro active monitoring to identify performance bottlenecks, better understand the environment, and ensure optimum end-user experience.
Monitor Your Virtual Infrastructure via vCenter Discovery
VMware vCenter monitoring from Site24x7 automatically discovers the entire VMware virtual infrastructure and categorizes the components as Datacenter, Clusters, ESX/ESXi hosts, Resource Pools and Virtual Machines. With a drilled-down performance metrics for each component, Site24x7 helps your IT teams, get a clear picture of your virtual infrastructure's performance.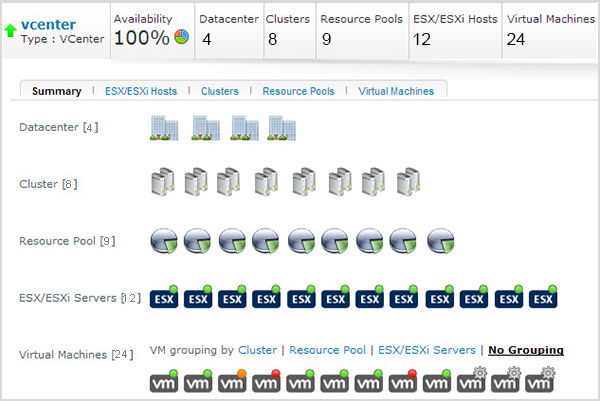 The Site24x7 Advantage
Integrated platform in the cloud - Monitor physical, virtual and cloud infrastructure from a single console, anywhere, anytime
Identify issues – Identify and troubleshoot performance bottle necks in a virtualized server environment with ease
Capacity planning – Aids in proper allocation of virtual and physical resources
Four solutions One console - Website monitoring, server monitoring, public and private cloud monitoring and application performance monitoring in a single console
Instant alerts and reports - Graphical views, thresholds, instant alerts and out-of-the-box reports
Get started with Site24x7 VMware monitoring
Site24x7 establishes connection to VMware vSphere servers through standard APIs via the Site24x7 On-Premise Poller to determine the health of your virtual infrastructure.
Go ahead, do a vCenter discovery and ensure optimum performance of your virtualized environments. And don't forget to tell us about your experience.