It's no secret that website performance goes hand in hand with website success. Visitor expectations on website performance are constantly rising, with studies showing that 40%~ of people admit to abandoning sites that take more than three seconds~ to load. A shocking statistic considering that the average web page takes 7.25 seconds to load, over double the expectation.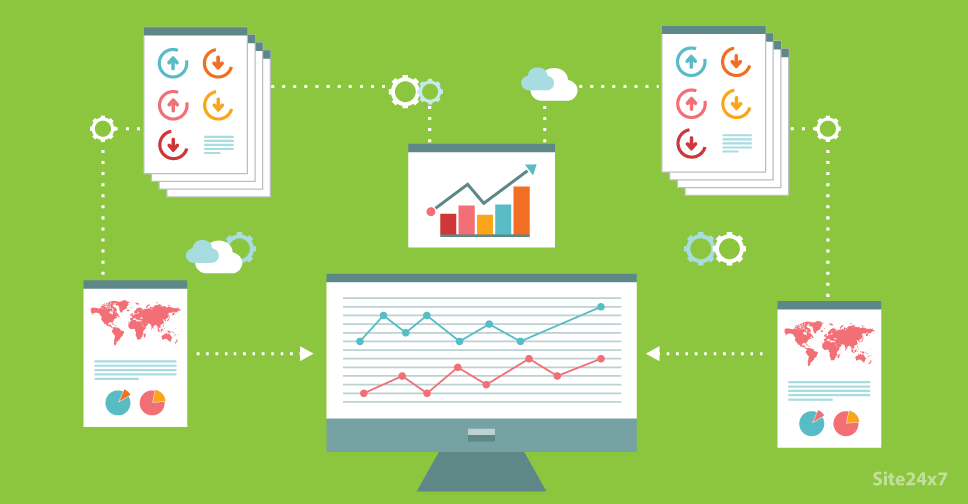 Here at Site24x7 we~ specialize in unified website monitoring from the cloud. In this blog~ post we're going to talk you through our powerful Website Performance~ Benchmarks tool, and why Site24x7 is the perfect choice to improve your~ site performance!
Website Performance Benchmarks help answer all of the questions you may have about your own, and even competitors websites. Our Website Performance Benchmarks tool traces mealtime results across websites, and showcases results from the top twenty global websites on our Global benchmark view page.
We~ currently conduct our studies across five countries: USA, UK, China,~ France, and Germany. As well presenting results geographically, the~ results from twenty different industries can also be viewed in separate~ tables. We cover websites in any category, from finance to social media,~ health care to gaming. And all of the websites are polled regularly, at three hour intervals, using our unique Web Page Analyzer, and a real Firefox browser for rendering results.
Our~ easy to read results bars reflect average response times and~ availability ratings across the industries allowing users to stay~ updated on website performance industry wise and globally.
Our~ monitoring support extends to more than 50 locations globally giving~ you holistic visibility into your website performance and availability. The wide range of alerting mechanism keep you updated on downtime and unavailability via email, SMS, RSS,~ or Twitter and the iPhone and Android Apps help you take corrective~ action from anywhere, anytime before end-users are affected.
Site24x7's~ exhaustive report set give you a complete picture on website~ performance, the three main useful reports available are:
Outage Report – This is useful for capacity planning and ensuring your hosting provider meets their Service-Level Agreements
Log Report –~ The log report assists webmasters in checking the performance of your~ configured websites and servers across each of your configured~ locations.
Summary Report~ – This allows you to capture critical statistics with regards to the~ average response time, overall availability, and number of downtimes.

The~ performance of your website impacts the experience of your end-users.~ If the performance of your website is poor this will inevitably result~ in an increase in bounce rates, and a loss of revenue.
Site24x7~ allows you to intricately analyze every aspect of your website and with~ this information at your fingertips you can learn what upgrades have~ increased your average response time, or whether your availability is as~ high as your competitors.