For any~ successful IT Team, it is vital that the server monitoring solution should be top-notch. But have you ever wondered what capabilities to check when evaluating a cloud based server monitoring vendor, apart from the usual monitoring and alerting?
Try asking the following questions.
1) Will your architecture need me to punch holes in my firewall?
2) How secure is my data stored at your end?
3) How do you avert false alerts when there is a network problem in your data center or when there is a problem in our end?
4) How quickly are corrective or On-demand actions in the server carried out?
5) Will there be cost surprises when I have to scale up?
6) Being a cloud service, do you have a usable mobile app?
Be assured that we have several measures in place to tackle these problems and more!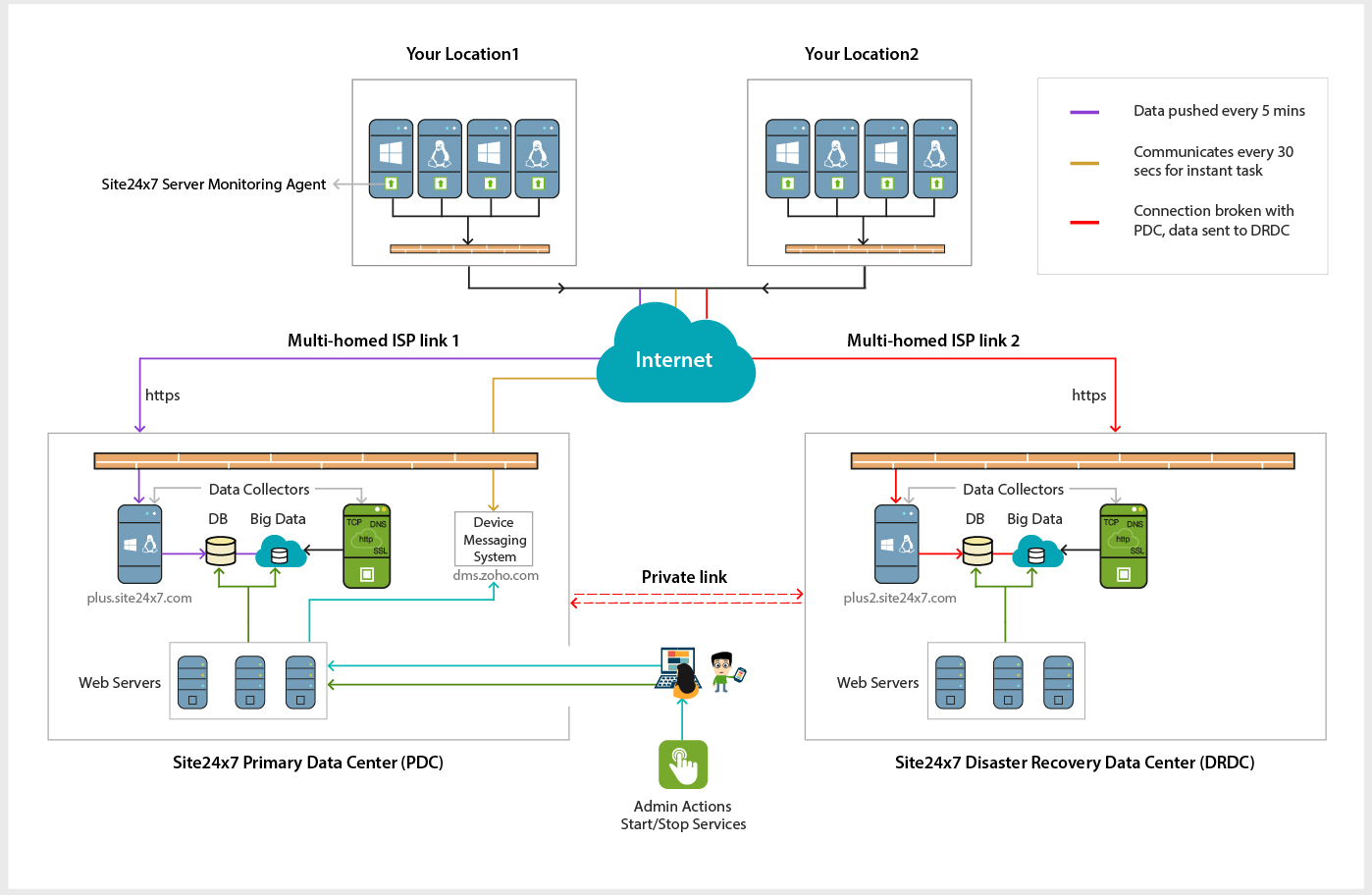 How does Site24x7 decide if a server is down?
First of all, Site24x7 Server Monitoring works by installing an agent (software) on every machine that needs to be monitored. The agent sends out status info to Site24x7 every minute (we call this a hearbeat) and complete performance metrics every five minutes. This is the basic mechanism.
Site24x7 decides a server is down if there is no heartbeat received for more than 2 minutes and even faster when there is a reliable information that the server is down.
The High Availability Construct
Being a cloud solution, problems can rise in different parts of the system. If there is a problem in the~ Site24x7 Primary Data Center(PDC), the agents send out heartbeat info to the main servers via the Site24x7 Disaster Recovery Data Center (DRDC) so that our algorithms work fine in indicating the server is actually up.
~Under normal circumstances if the server is shutdown, the agent naturally notifies Site24x7 of a server shutdown and clearly communicates its status.
In order to make sure there are no issues in our own datacenter, we have also introduced additional "network sanity algorithms" to make sure random occurrences of up and down alerts do not happen.
Instant Corrective Actions
Agent based monitoring tools need real time communication mechanisms with the monitored server for efficient and effective functioning. Site24x7's Device Messaging System (DMS) ensures that! The DMS ensures any corrective actions like "Start or Stop" services triggered by the user via the Web Client or Mobile Client securely goes to our datacenter and from there communicates to the agent on the monitored server and gets back responses - all in seconds giving almost near real time experience!
BTW Site24x7 has expended a lot of efforts in the last one year and has succeeded in providing a great user experience for the Server Monitoring Capability. This is showcased by the 10x growth in amount of data that we process in the last 1 year alone.
A secure architecture is critical
The server monitoring agent uses only a one-way HTTPS connection which is firewall friendly. All you need to do is to open up (outward) port 443 and provide access to the domains dms.zoho.com, plus.site24x7.com and plus2.site24x7.com to ensure proper communication. HTTPS is used for all communication and the data is encrypted.
Truly a SaaS Based Service
Site24x7's agent based Server Monitoring from the cloud~ allows you to access and view reports anytime, anywhere and is built on the same platform as Zoho.com that serves millions of users worldwide. Being built with cloud best practices in mind, we are able to offer the most competitive pricing when compared to any other cloud, On-Premise or even free server monitoring solutions! With Site24x7 you can monitor 40 servers at $35 per month.
APIs make in-house integration easy
Site24x7 provides restful APIs for integration with your internal tools and processes making it a compelling solution. Options to export dashboards to your internal employees too make it easy to communicate status of your services.
Access on the move:
Access status and performance stats on the move with our mobile app for iOS and Android. You can even take corrective actions like restarting a service from the phone.
In short, Site24x7 has got your back! So stop worrying and ensure you have the right solution for keep tabs on your servers.
Still have doubts? Go ahead, have a shot at our jaw-dropping Site24x7 Server Monitoring feature.~ Try it out now!~