Retailers needed to pull out more tricks in 2014 to get shoppers in the virtual aisles, relying more on IT and less on traditional strategies of years past, and the strategies worked in a big way. Record numbers for e-commerce, with holiday shopping across US and Europe approaching $130 billion (Source: Forrester Research). Online sales, particularly of the mobile variety, ruled the 2014 holiday shopping season, bringing hungry consumers in droves to retailers' websites.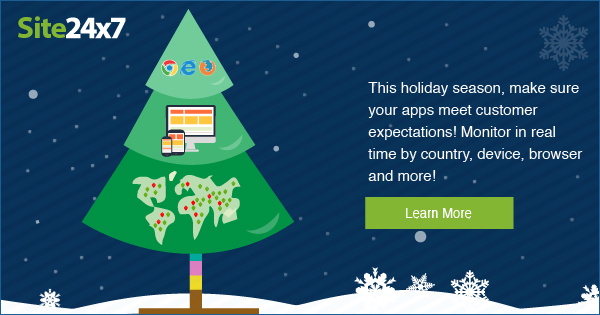 Let's take a look at the past year's holiday season performance – by the numbers.
Black Friday Turns Into "Black Week"
The 2014 season flipped around camping outdoors for the best bargains during one day into week-long, extended bargains catering to "those who want to shop on their own schedules, rather than set times prescribed by retailers (Source: Wall Street Journal)."
For example, Walmart turned its annual Black Friday shopping event into a five-day affair beginning in the last week of November into early December. Target also kicked off its sales earlier than ever and ran a presale on the Wednesday before Thanksgiving, and Best Buy spread out in-store deals over Thanksgiving and Black Friday, and offered online-exclusive deals on Turkey Day.
The Landscape
While sales expectations were already high during the 2013 holiday season, they rose to unchartered levels in 2014, despite an initial rough start to the year. Specifically:
Sales in November and December of 2014 were expected to increase a healthy 1% to $616.9 billion, higher than 2013's actual 3.1% increase during that same time frame (Source: National Retail Federation).
Making up these sales include key US retail shopping days in Black Friday and Cyber Monday, where the latter especially was expected to see explosive growth double-digit growth of 0% (Source: IbisWorld)
Online sales as a whole were projected to grow 8-11% to $105 billion (Source: Shop.org).
US Results are In: Online Continues to Surge and Outpace Brick-and-Mortar
Similar to 2013, online sales continued to overpower physical retail. Online sales were up 17% versus the same period between Black Friday and Cyber Monday last year (Source: IBM). But the good news for online sales comes as the bigger picture for retail is not so bright, with the National Retail Federation reporting that sales across physical stores actually down 11%, to $50.9 billion from $57.4 billion a year ago.
As a whole:
Web sales rose 14% from Nov. 27 to Dec. 21 (Channel Advisor Corp)
Thanksgiving Day itself actually saw the biggest gains with ecommerce sales jumping 32% (Source: comScore)
And mobile took on an even bigger slice of the online pie than ever before according to marketing analytics provider Custora:

For the period Dec. 2-14, the share of sales completed on a smartphone jumped 6% YoY to 14% in 2014.
Sales from tablet increased slightly from 10% to 11%
Sales completed on a desktop computer shrank to 75% from 82% in 2013

Amazon even reported 60% total sales coming from mobile users, including its native apps and mobile websites (Source: TechCrunch).
Rising Sales Didn't Equate to Smooth Online Experiences Thought
Despite the initial positive estimates for the online holiday shopping season, many retailers saw it as a time for major blows to their brand and reputation.
Best Buy, one of the largest electronics retailers in the United States, arguably took the brunt of criticisms this holiday season. It saw massive failures and downtime for its website on one of the biggest shopping days of the year – Black Friday. In fact, the site was down for nearly 3 hours, crashing twice, and leading users to hammer them relentlessly with their frustrations on Twitter and Facebook.
Additionally, other major retailers had their fair share of issues. Specialty retailer Topshop took to social media to apologize for problems that prevented its website from loading, and Tesco experienced technical difficulties. Major outdoor retailer Cabela's also had a few hard outages on Black Friday, and Foot Locker experienced some configuration issues that caused glitches in its site, including load times lasting over 20 seconds in some instances (Source: CNBC).
Get the pulse on Website average response time across US retailers right now with free Site24x7 Benchmarks, and see how you compare with your peers.
For IT Professionals, the Stakes Couldn't Be Higher
As evidenced by the gains online, retailers continue to make over traditional brick-and-mortar. The unrelenting nature of online consumers when something goes wrong (see Best Buy) means that your company's success depends on your ability to ensure quality Web and mobile experiences at all times, across ALL devices, regardless of who, when, where from and how many people hit your site.
Monitor the performance and availability of Web and mobile sites and be alerted on downtime before your loyal customers become impatient customers. With Site24x7, our cloud-based Web performance monitoring service, you'll be able to track the availability and response time of your websites from more than 50 locations globally and get alerted in case of performance degradation via email/SMS/RSS. You can even turn your mobile device into a monitoring location and gain real-time insight into mobile user experience. If there is a lull in the transaction process, you'll know about it…before your customers let you know about it.
No software to install and maintain. No long-term commitments. No credit card needed. Get instant value and results in minutes. Sign up for a trial of Site 24x7 today – free for 30 days!
Good luck for 2015!
~