Monitoring intranet and internet URLs, services, servers and applications behind the firewall is possible using a tech handy tool like Site24x7 On-Premise Poller. The tool gathers metrics such as availability, response time, performance metrics and through put from the services running in your intranet or private network.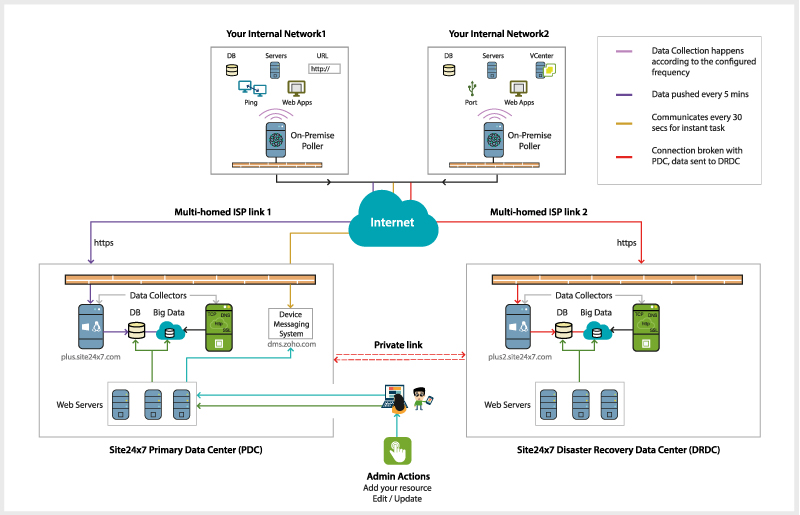 Four reasons why you need On-Premise Poller
Monitor critical applications from behind the firewall
Start monitoring services behind the firewall. Install the Site24x7 On-Premise Poller within the intranet, and it acts as a monitoring~ location.
For example, say you want to monitor a payroll portal which is accessible from only within the intranet. You can install an On-Premise Poller~ and monitor it using the web application monitoring feature.
Monitor the availability of your~ network components
Track the availability of your network components like Switches or Routers by running a ping test using the On-Premise Poller. Also monitor the availability of any critical service (TCP Ports) hosted on TCP Port using the Poller. (for example, Mysql server running on port 3306) and report it in to the Site24x7 Central Console.
Monitor from geographical locations that are complimentary to Site24x7
Site24x7 provide over 50 points of presence to monitor from. However if you would like to include your own cities or private networks in to that list, you can use the On-Premise Poller.
Once the Poller~ is added, it will be listed as a new monitoring~ location in the Administrative interface inside~ Site24x7.
Monitor VMware infrastructure using the On-Premise Poller
~Yes! You can monitor your
VMware infrastructure
using the On-Premise Poller. Site24x7 vCenter Monitor discovers the entire VMware infrastructure, including the Datacenters, Clusters, Resource Pools, ESX/ESXi hosts and VMs. Installing the On-Premise Poller in the intranet network allows you to keep track of the availability and performance of your virtual infrastructure.
How secure is the On-Premise Poller Architecutre?
The On-Premise Poller communicates with Site24x7 server through port 443 and uses a one-way secured communication. This is firewall friendly and you do not have to open inbound ports in your firewall.
So go ahead and start monitoring your resources behind the~ firewall,. We are~ constantly trying to increase the capabilities of the On-Premise Poller, so that~ you can achieve much more.Sign up now!