Visitors' expectations are high when it comes to performance – speed matters and every millisecond counts. Did you know that fewer users will visit a Website if it is a mere 250 milliseconds slower than a competitor (Source: New York Times)?
One of the best ways to gain market share and stay ahead of your competitors is to ensure fast, quality experiences for Web desktop and mobile users. After all, 67% of consumers will abandon a Website if it's slow (Source: National Retail Federation). Therefore, IT pros should consider an additional weapon for their 2014 Web operations: competitive benchmarking against key industry peers and competitors. That way you can build performance optimization plans with realistic and tangible goals.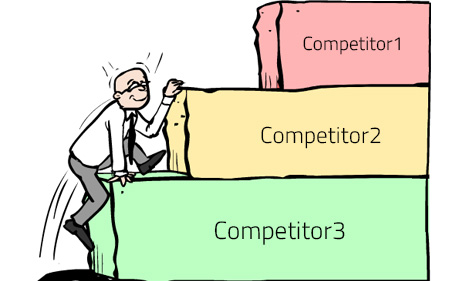 At a minimum, benchmark your competitors' homepages to gauge how your performance stacks up. However it is an ultra-competitive world out there and a growing number of organizations are getting more sophisticated and benchmarking performance for other areas such as:
Why? Generally, product pages have direct links to "buy", "sign-up for a free trial" or "sign-up for a product demo", so there is a direct correlation between optimal Web performance and business revenue. If your product pages underperform, you can bet that frustrated visitors will leave your site and buy/evaluate from your competitors instead.
Why? The second most popular online activity is searching for product or service information (Source: US Department of Commerce). In addition, In addition, 88% of consumers "web room" or screen a product online and then buy in a store (Source: Accenture survey), so your website search function is a key source of leads and prospects that fuels your business. For example, 70% of mobile searches are followed up by consumer action in 1 hour (Source: Bing). When your search functions are slower than your competitors, your prospects will leave and go to your competitors resulting in potential revenue lost for you.
Why? Social Media influences purchase behaviors. After researching online, visitors will turn next to product reviews and Social Media pages to move along in the decision buying process. In fact, 72% of consumers trust online reviews as much as personal recommendations (Source: Search Engine Journal), and 78% of consumers say that the posts made by companies on social media influence their purchases (Source: Forbes). Therefore, if your Social Media pages fall behind in speed, you are opening up the door for competitors to steal buyers away from you, a costly mistake for your organization.
So what are you waiting for? See how your Web performance stacks up against your competitor!
Here at Site24x7 we have a free tool that lets you test your Web performance, and your competitors in seconds: Instant Web Response Time Test. Take it for a spin-- it is Software-as-a-Service, so you don't have to install or configure anything. Just type in a URL and get instant results. In fact, we have other 16 free Site24x7 tools, just check out our Free Tools.
If you are looking for a complete solution that includes real-time alerting, historical reports, code-level visibility and complete control over your datacenter/cloud-based infrastructure, check out instead our powerful Site24x7 SaaS solution, and sign up for a free trial.
Good luck in your Web performance benchmarking endeavors!