At Site24x7, we've embarked on a journey to provide you the most flexible monitoring and alerting solution for your entire IT stack. Thus, we understand the importance of delivering actionable alerts that would inform and empower you to assess the severity and the urgency of the issue at hand. Today, we're glad to introduce you to one of our coolest new features: Alarms View! With this new feature, you can gain better control over your alerts and effectively trim down redundant noises that cause serious fatigue to your operational staff.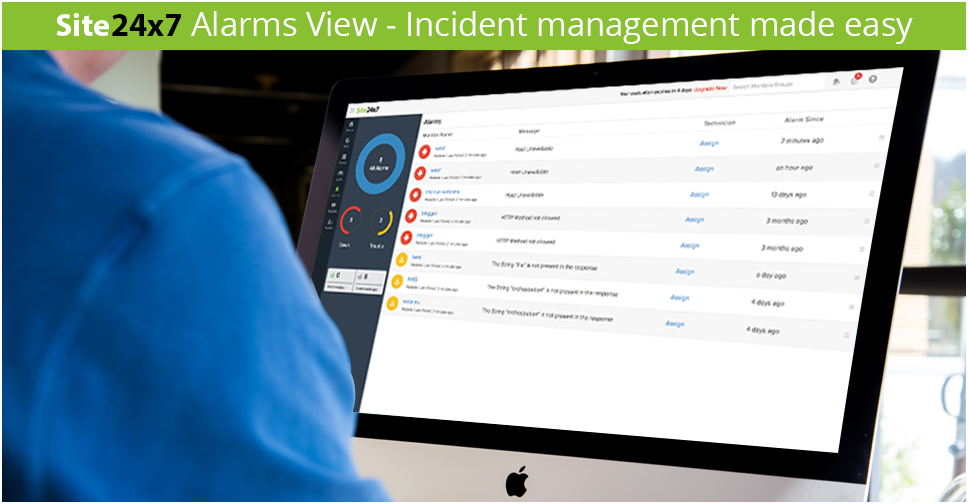 Let's get you familiarized with the core features of the Alarms View to help you effectively streamline and manage all your alerts.
Incident management via a unified dashboard
It's a fact that all of us want complete control over alerting to reduce redundant noise and increase productivity. Especially, if you're a managed service provider, the Alarms View gives you a real-time picture about all the down/trouble alerts in your entire IT environment. A unified dashboard portrays all down/trouble alerts in a neatly curated list view with specific details about individual incidents. All alerts are categorized based on their monitor display name and alert severity, where down monitors are grouped at the top and trouble monitors are clubbed at the bottom half of the dashboard. Further, you can also access the hamburger icon on each alert ribbon to schedule a maintenance, assign an incident to a technician or even delete an alert from the list altogether.
Ability to assign alerts to specific technicians in your user group leads to better incident resolution capability within your account, as it offers better transparency in the handling of alerts. It lets you identify the technician~who is working on resolving a specific issue.
Sorting alerts using the Donut chart
The Alarms view facilitates easy identification of incidents that need the most attention. Cool widgets like the Donut Chart ? segregates individual alerts based on their monitor type, trouble or down status. Further, the Alarms filter allows you to narrow in on those alerts that need the most attention from you. It helps you categorize alerts based on severity levels. Filters and Donut Charts thus make~filtering alerts a breeze.
Acknowledge alarms
Alarms View dashboard renders a list comprising all attended and unattended alerts in a single view. It becomes really tough to isolate critical alerts from the rest, when the alert count spikes though. Thus, It's imperative for you to be able to isolate and prioritize critical bottleneck issues affecting your services. Wait! Don't worry, we've you covered.
The ability to acknowledge alarms is an important feature in the Alarms View dashboard that lets you easily pick and resolve issues swiftly. You can either pick an alarm yourself or else assign it to another technician. This would allow you to promptly respond to other critical issues at hand and also monitor the real time status or resolution status of a particular alert throughout.~In the event of an alert being assigned to a technician,~those alerts can be easily filtered out from the rest using the acknowledgement filter.
Gather useful, actionable information
It's really important that throughout the incident life cycle, your front line technicians must be able to effectively collect critical insights on the issues and then successfully diagnose and even resolve the incident. With our brand new Alarm Details View, you can drill down each alarm to gain better visibility on the issues ? access quick summary of the alert, know more about outages, gather inventory details, alert and log reports. You can review root cause of issues with comprehensive RCA reporting and also gather Ping Analysis reports from your preselected locations. For quicker alert resolution, you can even add comments to the incident to facilitate effective collaboration with other technicians.
Incident focused~collaboration
The Summary dashboard in the Alarm Details View has a comments section that empowers your~teams to stay connected and collaborate in real-time to respond to incidents~efficiently. A technician can share critical insights on the issue~with other technicians via~the comments section, thus helping the team take prompt~corrective actions. However, the key takeaway is the knowledge acquired during the entire process~that helps in resolving issues, while a~similar problem crops up the next time.
So ready for a tactful approach to incident resolution? Get on board Site24x7 to negotiate incidents like never before!