Monitoring isn't just about metrics
Powerful features of our AWS monitoring tools
Optimize your cloud ecosystem
AWS monitoring best practices
Deploy and configure cloud resources as per best practices suggested by our AWS monitoring solution. With 150+ recommendation checks, our Guidance Report inspects your AWS environment and finds opportunities to reduce costs, increase fault tolerance, and close security gaps. Besides, Instance Type recommendations help you identify a better instance category based on your instance usage.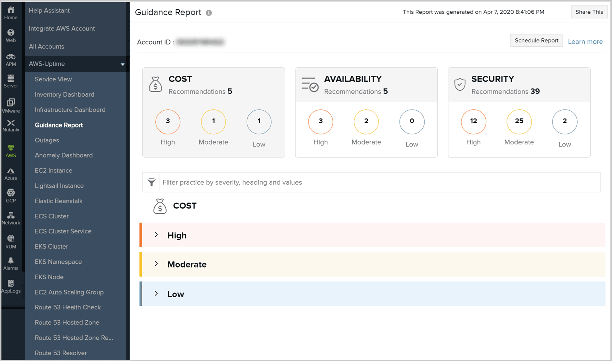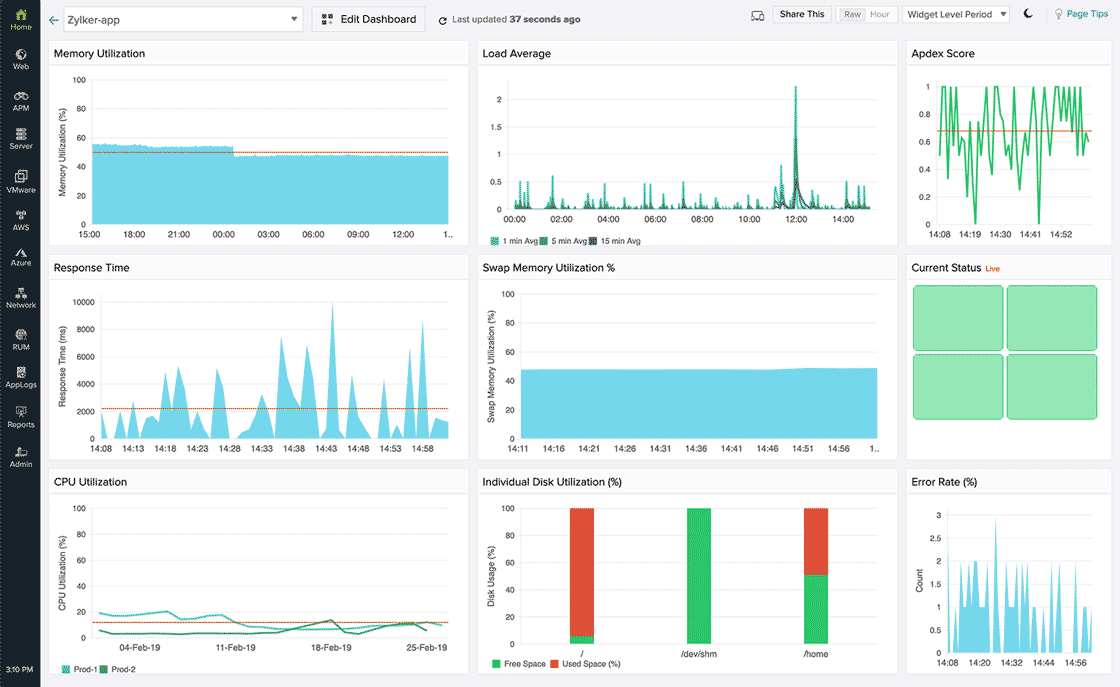 Gain insight into resource usage
Custom dashboards and reports
See how your infrastructure is performing over time. Use our simple drag-and-drop interface and numerous visualization widgets to bring metrics into a single view. Our AWS monitoring service provides out-of-the box reports to give you comprehensive insights into your AWS ecosystem.
Remediate incidents quickly
Schedule automations
Automatically execute repetitive manual tasks across AWS resources, plus schedule the automation(s) to take place one after the other when an incident occurs. In response to an alert, stop idle RDS instances, restart runaway EC2 instances, invoke Lambda workflows, rebuild a WorkSpace, and many more.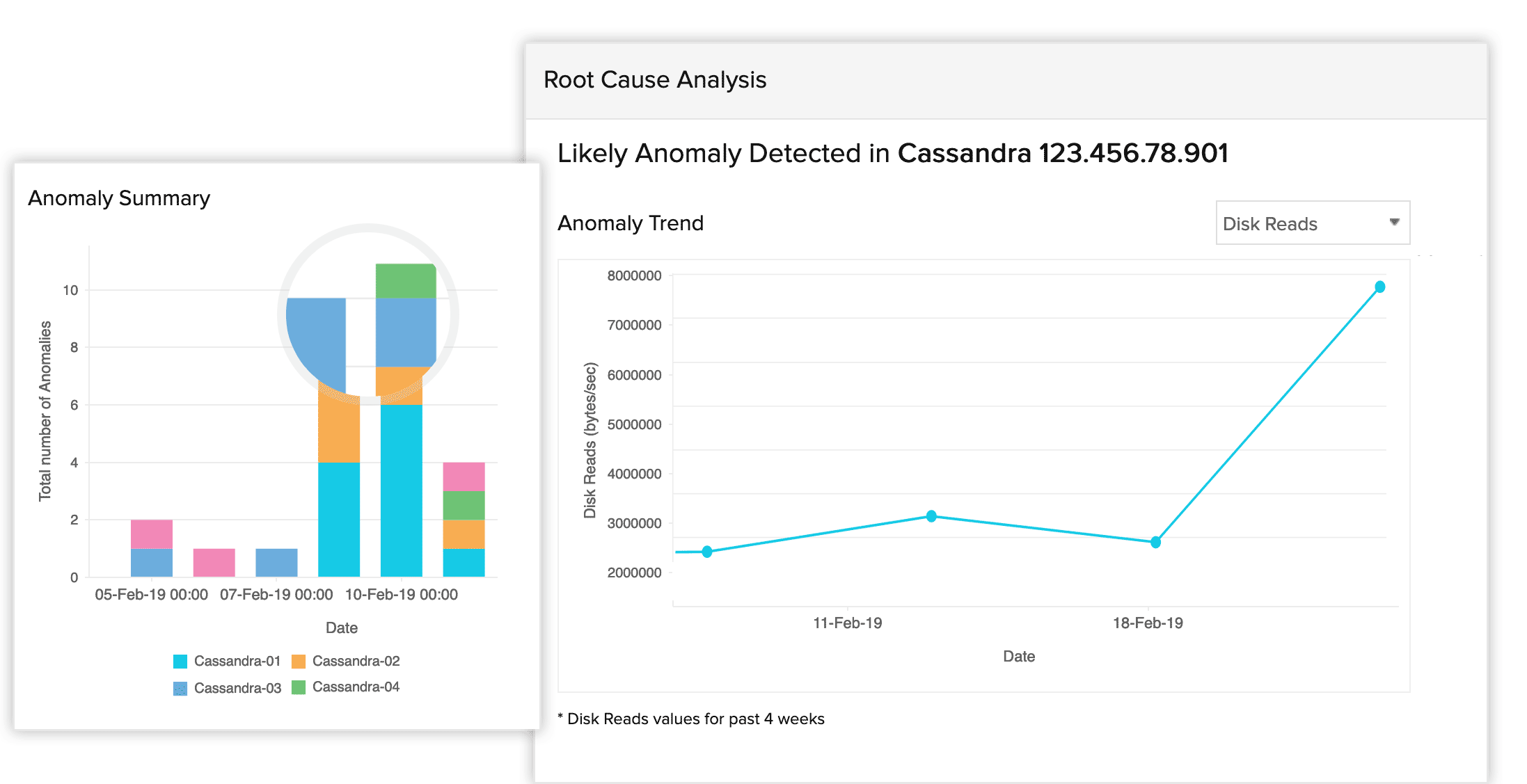 Detect anomalous behaviour
AI-powered insights
With each day the systems that power our apps and the metrics they emit are getting more complex. Identify metric values that don't conform with expected behavior using our machine learning powered anomaly detection and forecasting engine to preempt resource constraints and prevent potential issues.
Manage AWS resources
Inventory dashboard
Get a precise picture of your self-service cloud usage. View a breakdown of monitored resource type count across your AWS account, and see how each resource type has evolved over a particular period. For example, you can compare this week's EC2 numbers with last week's to identify patterns in scaling.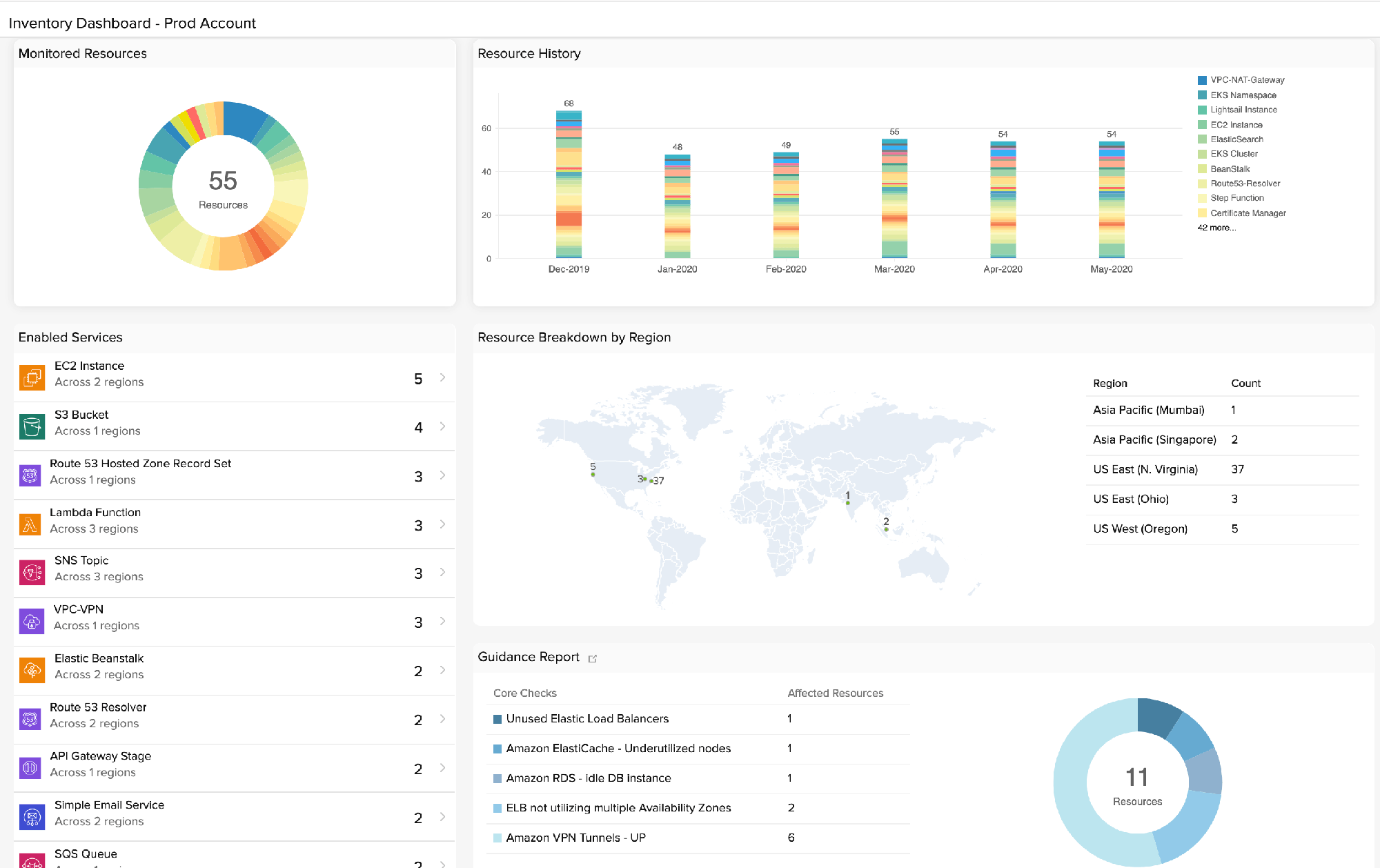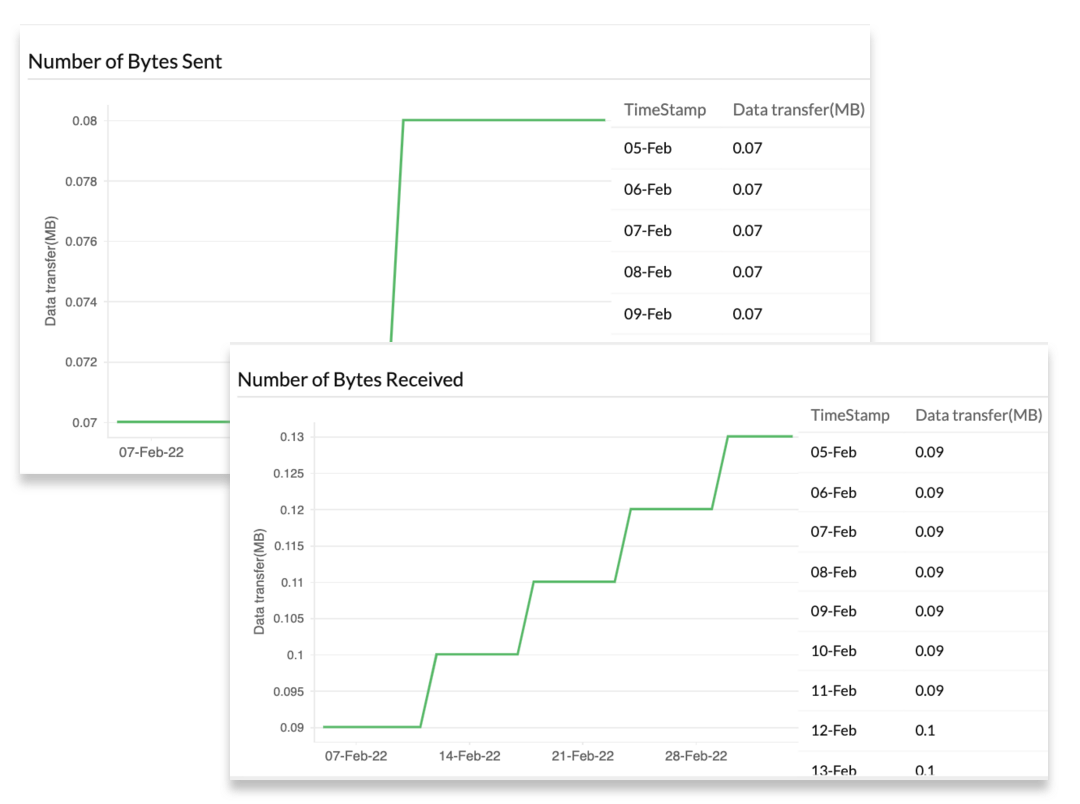 Predict future points of your AWS performance metrics
KPI forecasts
Predict the future points of an AWS service performance metric based on historical observations with Site24x7's AI and ML engine. Forecasts are available for over 30 AWS services to help you manage and optimize resources.
Troubleshoot faster
Log analytics for AWS monitoring service
Centralize and manage AWS logs from VMs, application services and services including VPC, CloudFront and S3 buckets into a single place. Run interactive analysis using our search query language. Visualize results and configure alerts to monitor the occurrence of a specific condition or term.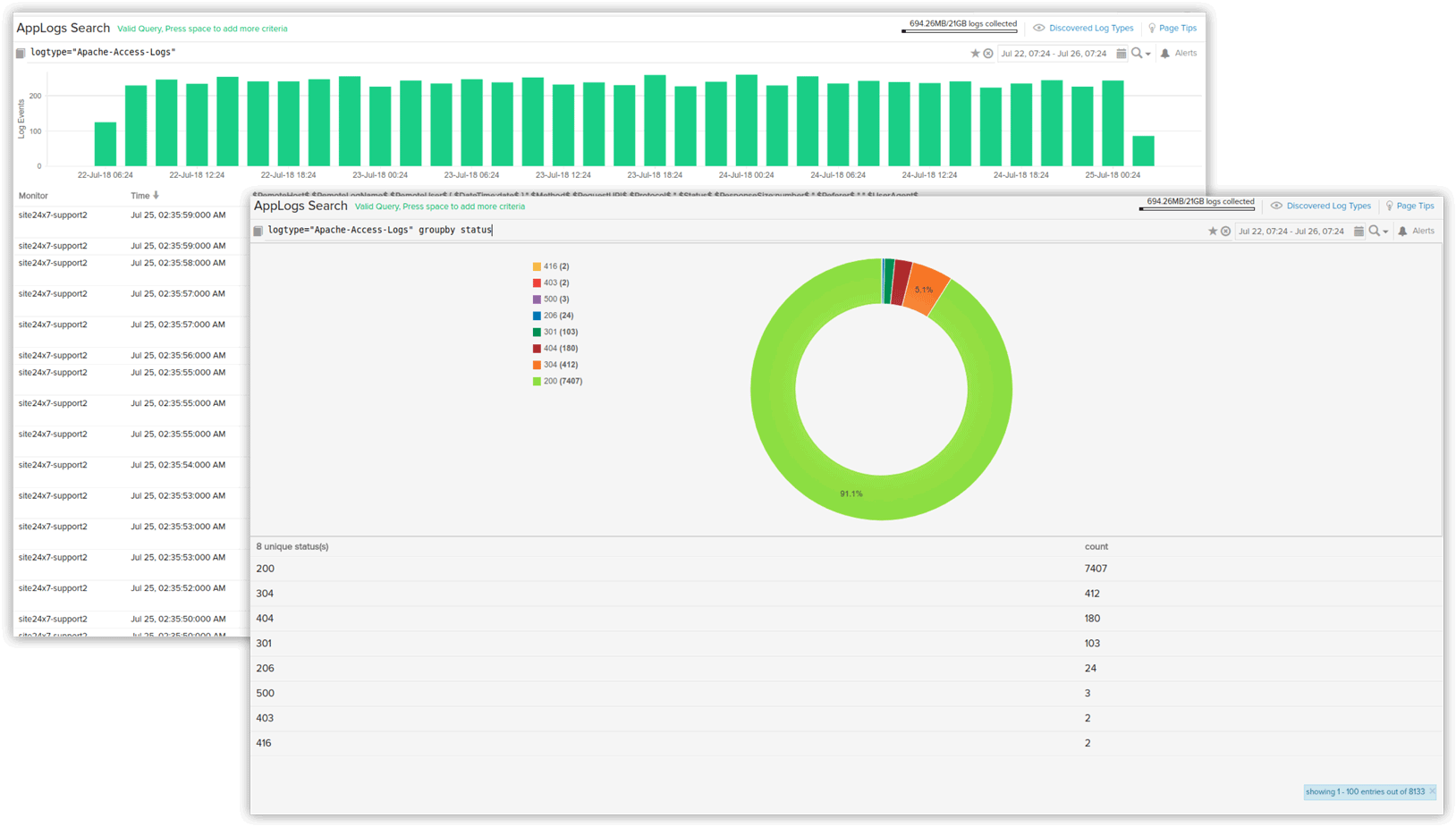 Visualize AWS spending
With Site24x7's AWS monitoring platform, you can easily track your organization's cloud spending patterns and optimize costs. The platform allows you to visualize your AWS billing costs, allocate AWS budgets, utilize tags, and create business units for cloud costs. This comprehensive approach helps you to stay on top of your AWS cost optimization journey from a single platform.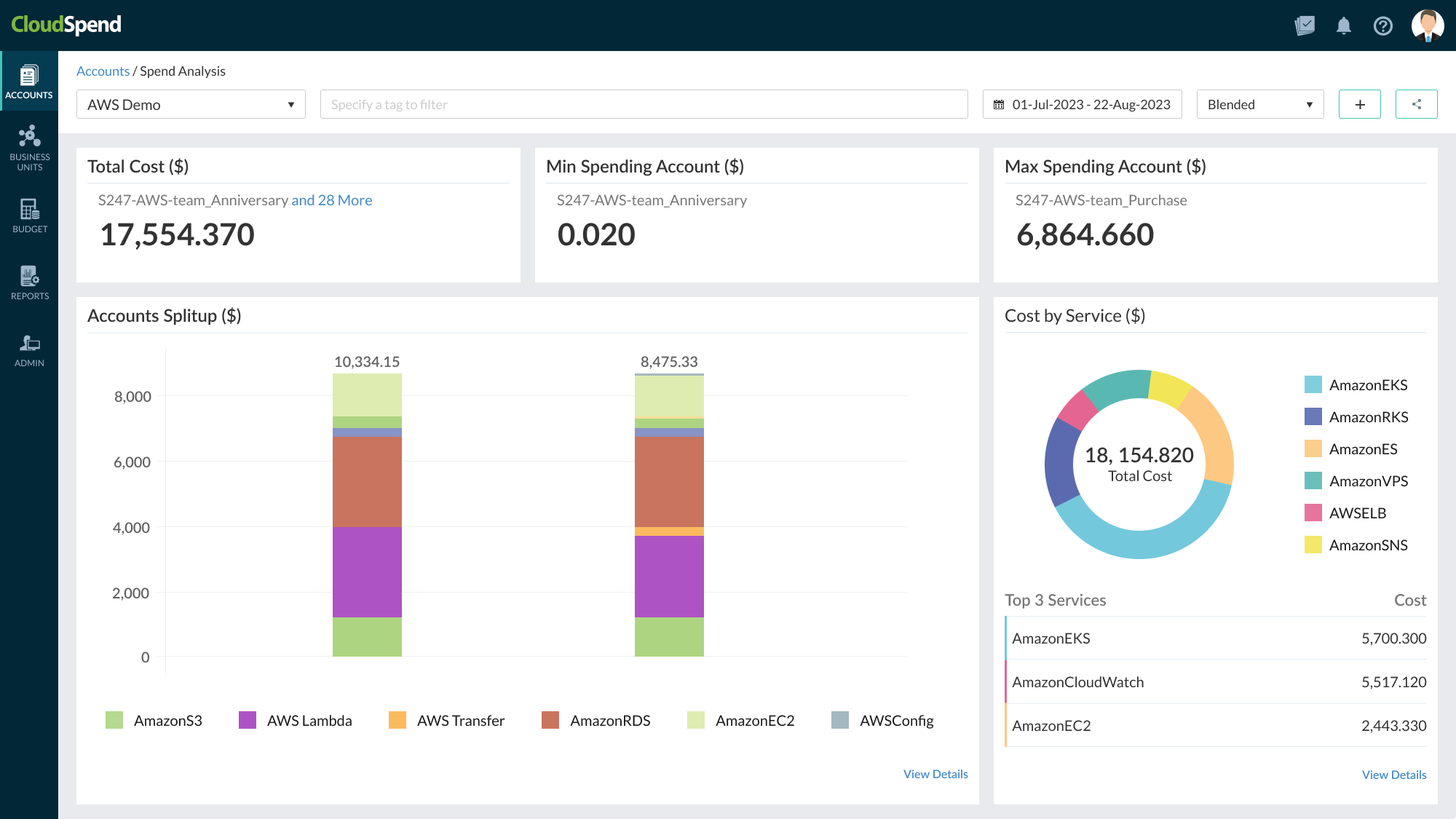 Expand your MSP practice
Proactive AWS performance monitoring tools for service providers
In addition to our AWS monitoring capabilities, AWS Managed Service Partners can avail our full-stack AWS monitoring capabilities as a value-added service. This will help customers to optimize their production workloads running in on-premises and multi-cloud platforms. Achieve your remote monitoring needs (RMM) with our flexible monitoring solution available as iOS and Android mobile apps.
Multitenancy
Manage multiple customers' cloud environments with full data segregation using a single Site24x7 subscription license.
White label
Create a custom monitoring portal for each client using your company name to boost your brand and reputation.
Purely SaaS
With no hardware to buy or systems to maintain, MSPs/CSPs can concentrate on helping their customers navigate the cloud.
Secure
Site24x7 is designed to protect personal and business data, and is AICPA SOC 2 and ISO 27001 certified.
Hear it from our customer
As a team of cloud architects offering solutions on the Amazon Web Services platform, we feel monitoring forms a vital aspect in delivering value to our customers. Up until then, we were using Ansible playbooks to configure CloudWatch Alarms and metrics; then we started using Site24x7, the perfect full stack monitoring partner, that provided the all-important extra layer of functionality above CloudWatch. Robust APIs, alert integrations, strong focus on AWS monitoring and a great relationship with the people at Site24x7 have helped us lower costs for customers and provided us with a satisfying experience.


Overview of AWS monitoring
Gain visibility across all your applications, systems, and services.