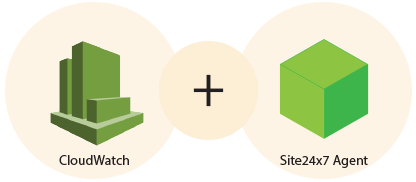 Unified monitoring for Amazon EC2 instances
Full stack visibility – From CloudWatch, system level metrics to deep-dive APM, all in a single unified console.
Sign Up Now

30-days Free Trial
Gain more visibility into your dynamic EC2 infrastructure.
Everything in one place.​
Remove the silo approach of monitoring EC2 instances – Combine instance metadata with the system level metrics to mitigate the inefficiencies present in both CloudWatch and standalone server agents and​ effectively monitor your dynamic AWS environment. ​
Simplified service discovery​.
Spend less time on manual configuration – Site24x7 leverages the CloudWatch API to auto discover all your running EC2 instances from each availability zone in a matter of minutes​.
Get up and running.​
Setting up and monitoring your EC2 platform is easy. Select key based access to connect your AWS account with Site24x7, then download and install the agent on your EC2 instance – that's all there is to it.
How it works?

No more performance blind spots.
Combine metrics from two different perspectives - hypervisor level and systems level​, to augment your CloudWatch data with the OS context.
| Performance Metrics | CloudWatch | Agent |
| --- | --- | --- |
| Instance CPU utilization | | |
| Physical CPU utilization | | |
| CPU credits usage/balance | | |
| CPU utilization by cores | | |
| Performance counters for EBS volumes | | |
| Disk i/o performance for instance store volumes | | |
| EBS volume capacity free/used | | |
| Memory breakup free/used | | |
| Swap usage(page in/page out) &amp page faults | | |
| Other AWS services | | |
| Network bandwidth statistics | | |
| Application metrics via plugins | | |
| Process level granularity | | |
Get the best of both worlds - Site24x7 gathers basic infrastrcuture metrics via the native CloudWatch integration and system level performance counters from the agent.
Analyze resource usage to optimize your EC2 environment.
Is the instance under utilized or over taxed? Is the instance type right for my application workload? Gather critical performance metrics to see how the computational resources in your instances are being used.
Get more granularity into your elastic cloud environment.
Identity and troubleshoot issues by fully understanding your EC2 environment and its underlying components.